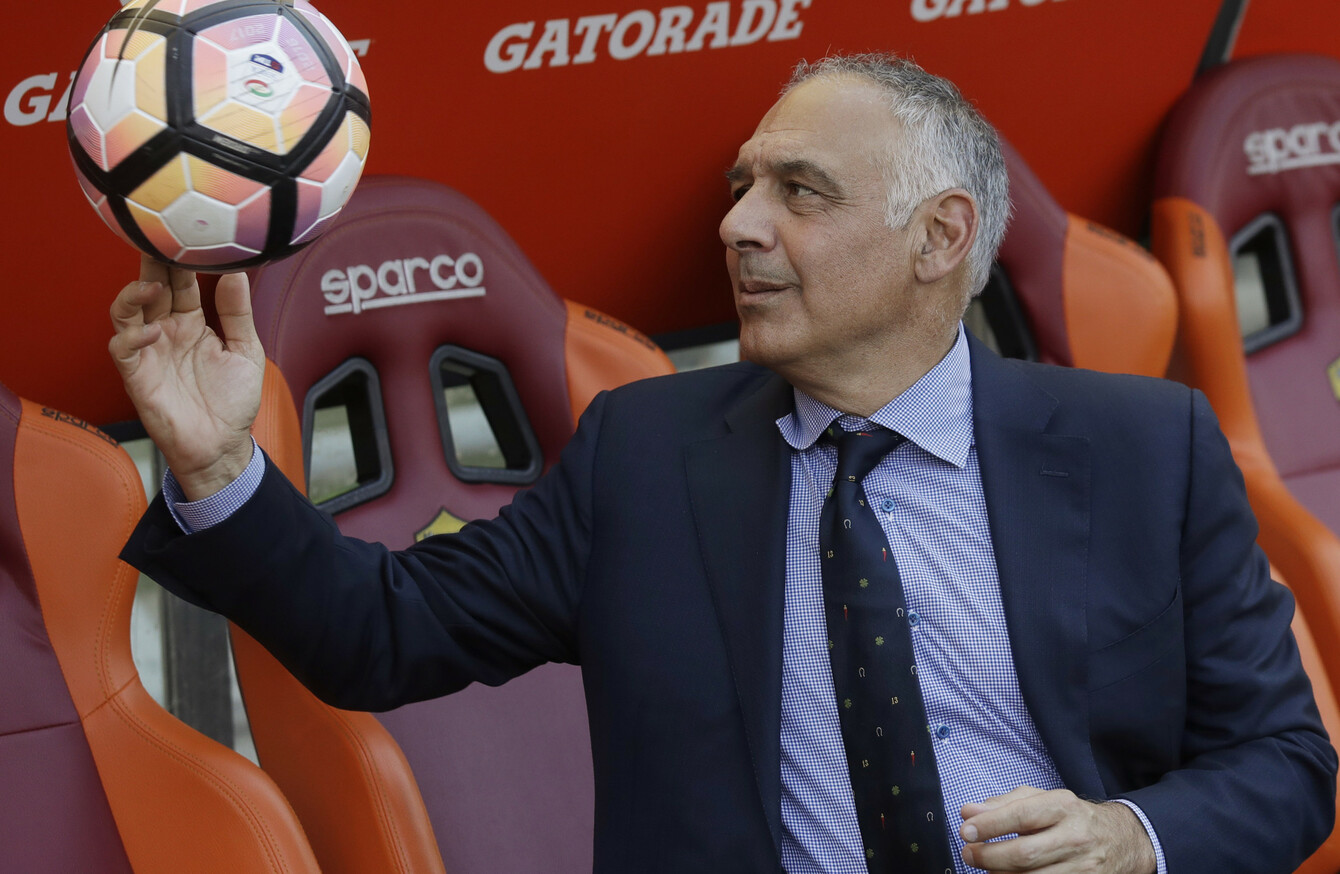 Image: AP/PA Images
Image: AP/PA Images
AS ROMA PRESIDENT James Pallotta has blasted UEFA's Financial Fair Play rules and claimed AC Milan are 'losing their minds' having borrowed a huge sum of money in order to recruit new players.
American businessman Pallotta spoke to Sirius XM FC in his native land on Thursday evening, and evidently has not taken kindly to Milan's €210m spending spree following their takeover by Yonghong Li.
Aggrieved that Roma had steadied their own ship 'by the book', Pallotta said: "UEFA, in terms of Financial Fair Play, has been a complete shit-show for us. We should be the poster boy for turning things around from the previous ownership.
"When you relate it to AC Milan, I have no idea what's going on there. It makes zero sense. The amount of spending – they didn't have the money in the first place to buy the team, as they borrowed almost €300m from some people that I know in London, at a pretty high interest rate.
"They are spending, or at least making some significant down-payments, for players and they're going to have to pay the piper at some point down the road.
They say it's about qualifying for the Champions League, but that won't be enough. When the salary seems about equal to the revenues, I don't know what the heck is going on. That's the only one in Serie A who are losing their minds!
Milan's new recruits include Leonardo Bonucci from Juventus (€39m), Andre Silva from Porto (€36m), Andre Conti from Atalanta (€23.5m), Hakan Calhanoglu from Bayer Leverkusen (€20m), Ricardo Rodriguez from Wolfsburg (€17m), Matteo Musacchio from Villareal (€17m), and Lucas Biglia from Lazio (€17m).
They remain linked to a number of high-profile players, with RB Leipzig winger Emil Forsberg having been linked with a move to the San Siro in recent days.
Pallotta, meanwhile, remains incredulous as to how Milan can spend so much money in line with UEFA's rules.
"Maybe they have this grand masterplan that we'll all figure out someday, but the rest of the teams are being somewhat rational," he said.
"If you can explain Milan to me, [do] because I don't get it…"
Financial Fair Play dictates that clubs can spend up to €5m more than they earn within a three-year assessment period. They can however exceed that limit by €30m (previously €45m), if it is entirely covered by a direct contribution from either the club's owner or a related party.
Investment in stadiums, training facilities, youth development and women's football are excluded from what UEFA describe as 'the break-even calculation'.
The42 is on Instagram! Tap the button below on your phone to follow us!