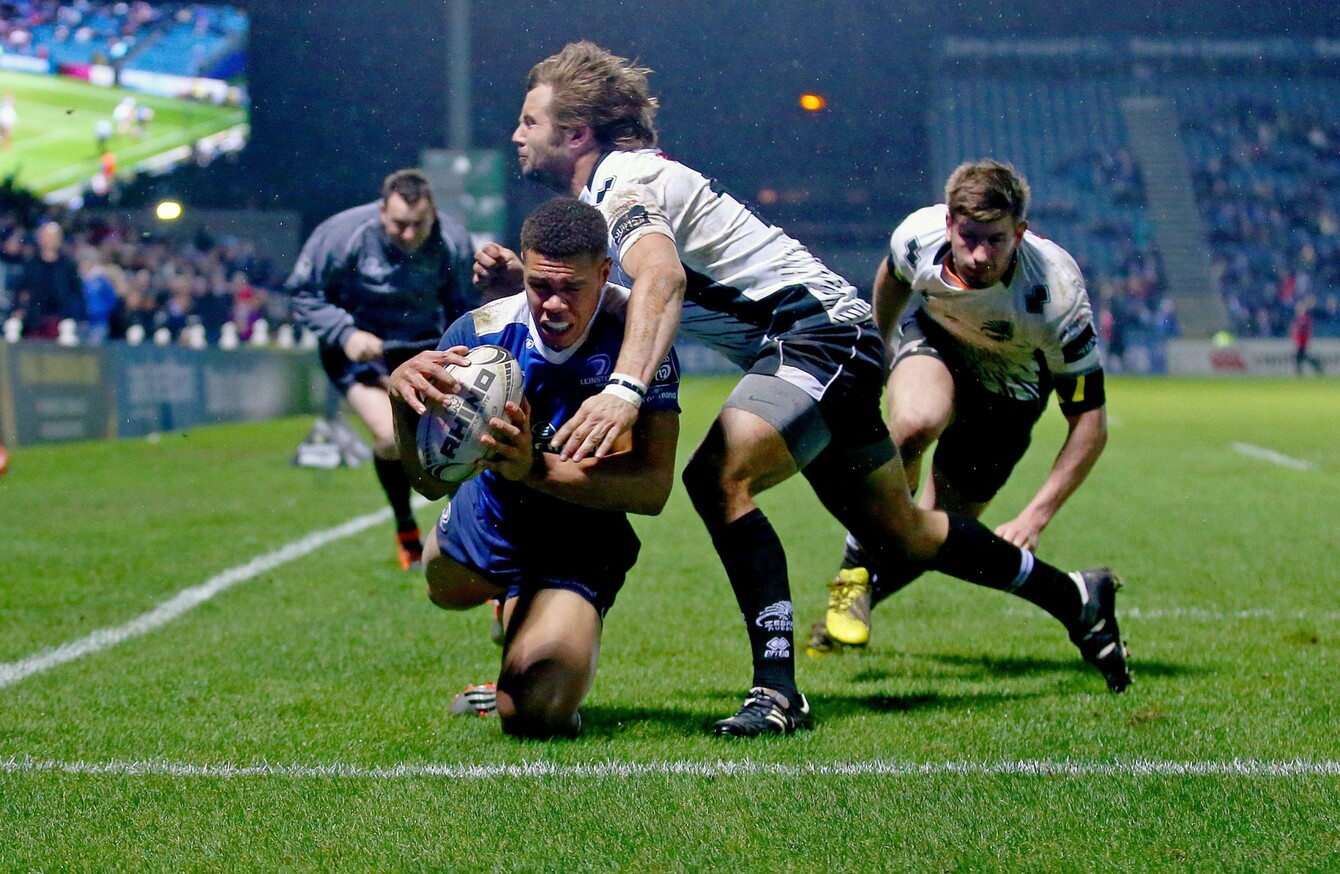 Byrne goes over to score against Zebre.
Byrne goes over to score against Zebre.
ANYONE WHO HAS seen Adam Byrne on a rugby pitch will appreciate his natural athleticism – so it comes as no surprise to learn he was a bit of an all-rounder when he was younger.
The 21-year-old from Kill, in Co Kildare, made his Leinster debut three years about but has really made an impression this season when given his chance.
Byrne was handed his second start for the province in the recent win over Zebre at the RDS and the flying winger marked the occasion with his first senior try to set his side on their way.
In one move, all his attributes – nimble footwork, quick hands and pure power – were demonstrated as he touched down in the corner.
"Growing up, I played soccer and Gaelic and I only really came to rugby quite late," he explained. "I remember begging my mum not to send me to a rugby school because I wanted to play Gaelic.
"I just loved missing a few classes and getting out in the fresh air to play anything really.
"In the end, I liked the professional side of it and the opportunities that come from it. Around times of World Cup and Six Nations and it's always on TV and you're looking at guys like Brian O'Driscoll and I just kind of thought if I could have a shot at that one day it would be great.
"But I must say I love Gaelic and would have loved to play in Croke Park, that would have been a big dream, a packed house at Croke Park."
Byrne spent his early years in Dublin before his family upped sticks and headed south to Naas, where he first took up rugby. His talent for the sport was almost instantaneous as he caught the eye of regional coaches playing for Naas Rugby Club.
His game developed and progressed in a short period of time and Byrne soon found himself in the Leinster academy where his prodigious talent was nurtured.
But he's not the only member of his family playing sport at a professional level.
His younger brother, Sam, is currently on the books at Everton and has represented Ireland at underage level right up to the U21 age group.
"We both grew up in Dublin and I played soccer with him and he's obviously a little bit smaller than me and younger so when we moved to Kildare, I loved Gaelic and he stuck with the football and ended up being pretty good at it.
"Now he's working hard and he's really enjoying living in Liverpool and he's going well. It's funny, we never really think about it too much but hopefully things will go well for him.
"We kind of buzz off each other. It's great to have him back at times like Christmas, although I didn't realise how much I missed him as there's only a year and three months between us.
"It's not cool when you're 10 or whatever to be hanging around with your younger brother but we'd have played on the same Gaelic and soccer teams. I didn't realise I was going to miss him so much but it's great to talk to him when he comes back.
"A lot of our friends and family wouldn't maybe understand the kind of stuff you deal with when you play sport at a high level so to have him is great and hopefully he feels the same way."
20-year-old Sam started his youth career at Man United after starring for St Joseph's Boys in Sallynoggin. During his time at Old Trafford, the forward went to Carlisle United on loan and made 13 senior apperances in League One.
Although he was released by United in 2014, Everton were quick to bring him to Goodison Park.
"There's no rivarly between us at all," Byrne insists. "We just wish each other best. My mum is always giving out to me, I should be over a bit more to watch him but it's tough because I'm nearly doing something every weekend here because I'm in college too.
"I did actually get over at the start of this year, we had a few days off in September, so I dragged my house mate Peter Dooley and Paeder Timmins as well and the three of us went over for a night.
"It was great to see Liverpool and I went to see him in Manchester when he was there. I'll try and get over a bit more but he seems to get home a bit more as well.
"He's home at the moment so I better see him at some stage."
Although Byrne will have his own playing commitments on Sunday, with Leinster's Pro12 charge continuing in Italy.
The42 is on Snapchat! Tap the button below on your phone to add!