IT'S THE CONFERENCE that is likely to provide the losing Super Bowl XLIX team but, even with Tom Brady and Petyon Manning both entering the twilight of their careers, the Patriots and Broncos look like they'll continue to be the franchises to beat this year.
AFC East
Tom Brady will hope to pull the strings for New England again this year. Source: Charles Krupa
1. New England Patriots
Tom Brady is 37, Rob Gronkowski's body is one more injury from completely giving up on him and they've never really established a run game under Bill Belichick. Yet the Patriots are still firm favourites to win the division for the sixth season in succession because, as yet, the rest of the AFC East have failed to catch up with New England.
2. New York Jets
The Jets were better than billed last year and their 8-8 record probably caught a lot of people by surprise. The addition of Michael Vick, Chris Johnson and Eric Decker will all improve Gang Green but they still lack the weapons over 16 games to threaten the Patriots' control of the East.
3. Miami Dolphins
This is a big year for both Ryan Tannehill at quarterback and Joe Philbin as head coach. It's difficult to see how the up tempo offence the 'fins are likely to run under Bill Lazor will be helped by Knowshon Moreno's addition and third in the East looks as good as it'll get for Miami.
4. Buffalo Bills
The Bills have not reached the playoffs in 14 seasons. Next year, I'll write the Bills have not reached playoffs in 15 seasons. Sammy Watkins will be exciting to watch but the loss of Kiko Alonso at middle linebacker is huge for a defence that gave up 24 points a game last year.
AFC North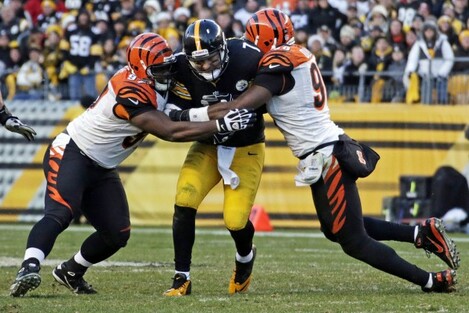 The Bengals defence remain a formidable force. Source: Gene J. Puskar/AP/Press Association Images
1. Pittsburgh Steelers
Up until the weekend, the Steelers were probably comfortbale favourites to win the division thanks to the addition of a genuine run threat from 'le'backfield'. However, Le'Veon Bell's off the field indiscretions are not what Mike Tomlin and company need right now. However, the addition of Mike Munchak as offensive line coach is huge for both pass protection and blocking and could be the key to their return to the playoffs.
2. Cincinnati Bengals
Say what you want about Andy Dalton in the postseason, but he is gets the job done through games 1-16 and, with targets like AJ Green and Tyler Eifert, the Bengals offence should continue to tick over. Losing Mike Zimmer as defensive coordinator is big for last year's fourth ranked defence but they're still the most fearsome XI in the division.
3. Baltimore Ravens
There's no skirting around it, the Ravens were awful last year. Joe Flacco was brutal, Ray Rice turned old before our eyes and their entire offence ranked ahead of only the Jags, Rams and Buccs in yards per game. And yet Baltimore still finished with a .500 record, narrowly missing out on the playoffs. The Ravens are usually there or thereabouts and will be this year.
4. Cleveland Browns
The addition of Johnny Manziel means there has been a lot of talk about the Browns in preseason but when any coach begins to talk about using a two quarterback system you know his team hasn't a clue what they're doing. If they have less than 10 losses I'll be surprised.
AFC South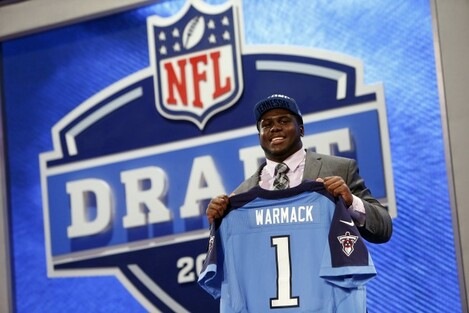 The Titans expect big things from Chance Warmack. Source: AP/Press Association Images
1. Indianapolis Colts
It's hard to believe the Colts finished with a 2-14 record just two seasons ago but back-to-back 11-5 records have made them genuine AFC contenders again, albeit in the weakest division in the conference. There are question marks over Indy this year – how bad will Trent Richardson be; how will the defence cope during Robert Mathis' suspension, etc – but they should still top the division with relative ease.
2. Houston Texans
The Texans were the worst team in football last season – some achievement considering how bad the Jags, Raiders and Bills were – and no team starting Ryan Fitzpatrick at quarterback can harbour hopes of reaching the playoffs. JJ Watt remains the best thing in Houston and will be assisted by the addition of Jadeveon Clowney but they can't hope to win every game 3-0.
3. Tennessee Titans
The Titans are moving in the right direction having rebuilt their offensive line with the likes of Andy Levitre and Chance Warmack. However, no matter how much protection they give their quarterback – and Jake Locker has impressed in preseason – they don't have the depth at wide receiver to pose a consistent threat in the passing game.
4. Jacksonville Jaguars
I like the moves the Jags have made this off-season to strengthen a defence that has been unable to put pressure on quarterbacks and they benefit from one of the easiest schedules in the NFL this season. The problem for Jacksonville is so too do the Colts, Titans and Texans meaning they're unlikely to make much forward progress.
What are they
really like?
Rare insights on sport's biggest names from the writers who know them best. Listen to Behind the Lines podcast.
Become a Member
AFC West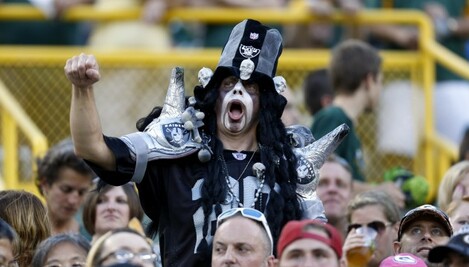 This Raiders fan is probably a better option at quarterback than Matt Schaub. Source: Mike Roemer/AP/Press Association Images
1. Denver Broncos
It tells you how hard the Bronco's schedule is that they get to play the Oakland Raiders twice and still have the second hardest strength of schedule in the NFL. Peyton Manning has most of his weapons back on offence though and Denver are the class team in the division and will do enough to win but maybe without last year's record-breaking fireworks.
2. San Diego Chargers
If we get the San Diego team that looked unstoppable in the last four games of the 2013 regular season, they have a genuine shot at making the postseason. However, the problem for the Chargers is they not only have to face two playoff teams in their own division, but also the four teams that make up the NFC West. That's never going to be easy.
3. Kansas City Chiefs
Kansas were never a 9-0 team and their capitulation to the Colts in the playoffs showed just how fragile their franchise actually was last year. Their defence remains their biggest asset but the loss of Brandon Albert on the O-Line will have a major impact on Jamaal Charles and Alex Smith. An over-reliance on running the football will cost them a playoff spot.
4. Oakland Raiders
As a long, long, suffering Raiders fan, I was very excited after Oakland drafted Khalil Mack this season. However, he can't throw the football which means he has a lot in common with his starting quarterback Matt Schaub. If the Raiders get to four wins there won't be a cow milked in Raider Nation next January.
Playoffs
Patriots
Colts
Broncos
Steelers
Bengals
Ravens
Disagree? Of course you do. Let us know your thoughts in the comments below.