IN RECENT YEARS, Irish women's football has been full of peaks and troughs.
Just under three years ago, Ireland international Stephanie Roche attended the Ballon D'Or ceremony and finished as a runner-up in the Fifa Puskas (best goal) Award, drawing global media attention in the process.
Yet until recently, Roche and her colleagues were forced to train in and out of their team kit in airport toilets, as the tracksuits were also being used by Ireland underage teams.
Consequently, the decision made by the Irish women's team last April to voice their dissatisfaction with the treatment they received under the watch of the Football Association of Ireland was not a hasty reaction.
The issues had first been brought up privately to the association two years before the press conference took place.
A subsequent booklet outlining the team's frustration also failed to prompt the association to take decisive action.
Professional Footballers' Association of Ireland solicitor Stuart Gilhooly subsequently described the women's side as "the dirt off the FAI's shoe".
The press conference will hopefully be looked back on in time to come as a turning point for women's soccer in Ireland and the scenes at Liberty Hall were the culmination of many years and even decades of poor treatment.
As former Ireland women's international and the team's all-time record scorer Olivia O'Toole

told The Irish Examiner

 amid the angry reaction to the women's team's revelations: "I could see exactly where Emma (Byrne) was coming from in the press conference. I played alongside her for close to 15 years. We've seen everything. We used to sit down and talk and say, 'This is fucking disgraceful, what can we do about it?' But the impression we got was that if you spoke up you'd be banished from the team. There were plenty of times when I, and another few girls, did speak up and we were basically told to sit down and shut up. 'There's nothing we can do about it, there's no money.'"
The unacceptable working conditions that the team spoke about at the press conference were also nothing new: "One time, we were staying in a hotel in Minsk," O'Toole continued. "I thought it was a brothel. The bed sheets were covered in blood and I slept in my clothes. The toilets were manky. You know the pole that's attached to a shower head? Well, that was the actual shower. But we were told, 'It doesn't matter what facilities you're in, all you have to do is train and play your football — we'll look after the rest'. But they didn't look after the rest."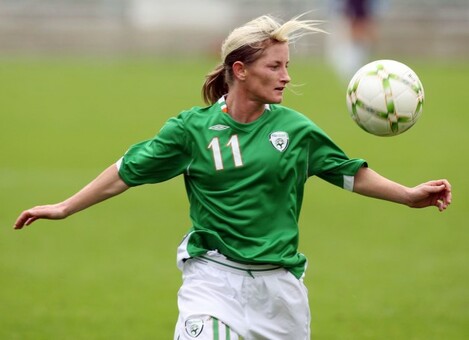 Former Ireland international Olivia O'Toole was among those to speak out about the dreadful conditions the team were subjected to. Source: Lorraine O'Sullivan/INPHO
While the above instances are particularly shocking, Irish women's teams have undoubtedly been subjected to similar indignities on countless occasions.
But there were signs of change this year. As a result of the protest, after overnight talks, a deal was reached with the FAI.
It seemed the only sensible solution. After all, as an opinion piece in The42 by Elaine Buckley and Emily Glen noted, it was not as if the players' demands were particularly outlandish.
"The list of issues that the players and the FAI have been unable to resolve during two years of negotiations are astounding in their pettiness – it would be hard to argue that the squad are 'gold-digging' when the primary issues include the access to a nutritionist, gym membership, and strength and conditioning programmes that come as standard with many amateur club teams around the country."
Players also requested that the non-professional members of the squad would receive loss of earnings documented from their employers. It seemed particularly egregious that many of the players were effectively expected to sacrifice their earnings to represent their country.
During that illuminating press conference, it was telling that three of the team's most experienced players, Stephanie Roche, Áine O'Gorman and Emma Byrne were among those sitting centrally.
It sent out a message that even the team's senior players, who have achieved considerable success in the game, were disillusioned with proceedings and had been for quite some time.
As a group of players, we knew things had to change to fulfil our potential on and off the pitch," O'Gorman tells The42, eight months on from the controversy.
"It was an ongoing (issue) over years. Things built up. It was disappointing to have to go to those extreme lengths, but we're happy we did it, as we're looked after better now.
"We weren't making much progress in our negotiations and the PFAI helped us along the way. Without them, we probably wouldn't have achieved what we did off the pitch, which is what has helped us on the pitch.
Senior players always have a bit more responsibility, having been around longer. We have to represent, not just for us, but for the girls of the future, so we can progress and be successful as a team and as a country."
Of course, the situation is now better, but it is by no means fixed. There have been embarrassing incidents in the past, which highlight the lack of respect afforded to the women's game in this country — think of the 2015 Women's FAI Cup final. A thrilling game that went to penalties was completely undermined amid the tense climax by men's players casually warming up on the pitch while the shootout was taking place.
Even after the national team's protest, there are signs that the women's game still has a long way to go before authorities can consistently afford female players the level of respect and professionalism they deserve.
Last September, a Women's National League match between UCD Waves and Kilkenny United was abandoned after no referee showed up.
"We just felt worthless… It's just disgraceful really," UCD Waves defender Emily Cahill told The42 at the time.
There was also the incredible and similarly troubled year that Irish centre-back Louise Quinn experienced at club level.
A turbulent few months saw Irish international Louise Quinn leave Notts County after the club went out of existence, before securing a move to Arsenal. Source: Tommy Dickson/INPHO
After moving from Swedish side Eskilstuna United closer to home with Notts County Ladies, Quinn — who previously captained Peamount United to the last 32 of the Champions League — faced an extraordinary situation.
Before her career in England had really begun, the club folded. "We don't know when we'll be asked to leave the houses. It's a massive shock," Quinn told The42, hours after learning of the bad news.
She continued: "There have been talks about it before, but from my point of view, I got signed, another one of the girls got signed. Basically, the chairman led us to believe that it was going to be okay, even for the girls that had been in the club for a while, he led them to believe that everything was going to be sorted. It's really devastating. A lot of people have their lives here. Some of them work part-time, they study, they're settled."
Fortunately, everything worked out okay for the Blessington native. She earned a move to another top team, Arsenal Ladies, and found herself sharing a gym with the world-renowned stars like Mesut Ozil and Alexis Sanchez.
"I think everyone has really sorted themselves out and landed on their feet in a way that they wanted to," she said, in reference to the other players who were affected by the Notts County fiasco.
There was agony and ecstasy too for another Irish international, Megan Campbell. The Drogheda native, known for her insanely long throws, played a starring role in Man City's first-ever FA Cup triumph. Yet an excellent 2017 turned sour for Campbell in November, when she suffered a serious injury during a Champions League match. The 24-year-old subsequently revealed that she had ruptured anterior cruciate ligaments in her right knee and needed surgery, meaning she will be out of action for a considerable period.
Campbell's Ireland team-mate O'Gorman suffered similar frustration, after picking up a bad injury during the national team's World Cup qualification match with the North at Mourneview Park in Lurgan, which the visitors ultimately won 2-0 back in September.
"It was in the 20th minute. I went in for a tackle and my leg only made the tackle — the other girl had her bodyweight behind the ball and my knee extended back," she recalls.
I had a pain in my knee. I tried to play on, and I could run straight, but as soon as I went sideways, I was in a lot of pain. It was a Grade 2 medial ligament. It could have been a lot worse, so it was fortunate in a way.
"I probably knew straight away (the seriousness of the injury), but with the adrenaline of it, I thought I could play on. As I tried to continue then, I remember passing the ball with my foot and I got a shoot in my leg. After that, I knew it was game over."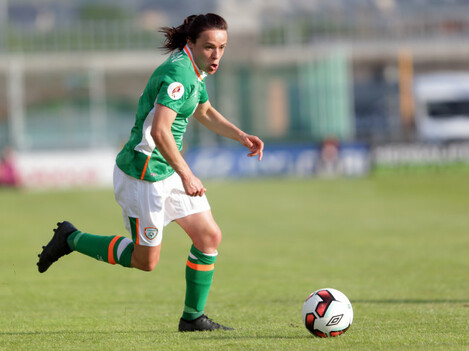 It was a mixed year for Aine O'Gorman, who suffered a season-ending injury playing for Ireland before completing a move to Peamount. Source: Tommy Dickson/INPHO
O'Gorman, who has moved from UCD to Peamount in the off-season and combines football with her work as a personal trainer and fitness instructor, adds: "It's the most serious injury I've ever had, but I've overcame it now so I suppose it's going to make me stronger in the long run.
"I'm fully recovered, so I just have to get back to contact. We'll be back in pre-season training in January, so it's kind of a fresh start for me."
The fact that Ireland were without both O'Gorman and Campbell, as well as Stephanie Roche, made their achievement in going unbeaten in competitive games throughout 2017 all the more remarkable.
Colin Bell, a coach with Champions League-winning experience, who was appointed last February, deserves plenty of credit, while the improved post-protest conditions have also helped matters significantly.
What he's brought in is (the idea) that we're going to be defensively solid," O'Gorman says. "We haven't conceded many goals since he's come in and results have gone our way.
"We're obviously (also) a huge threat from set pieces and we have good attacking players in the team."
The highlight for Bell and co so far was undoubtedly the 0-0 draw away against reigning European champions the Netherlands — a result that showed the team's potential to compete with the very best sides in the world, after years of disappointments and setbacks.
"That was a massive moment for us," says O'Gorman, who was unfortunate to miss out on the occasion through injury. "It really keeps us in the running for the World Cup and gives everyone a little glimpse of what we can achieve. It adds belief to the squad as to what we can go on and do.
Next year's going to be an exciting year — there's going to be lots of competition to get into the team. It keeps everyone on their toes."
It was a women's football year filled with inspirational moments too, perhaps none more so than the story of Chloe Mustaki, the UCD Waves player who lined out in the FAI Cup final at the Aviva Stadium three years after being diagnosed with Hodgkin's lymphoma.
"You're never faced with the possibility of dying when you're so young. You don't think about it," she told The42 earlier this year.
Mustaki and her UCD team-mates ultimately lost out to Cork City Women in the season's showpiece game at the Aviva, and the Leesiders themselves had a great backstory behind their success.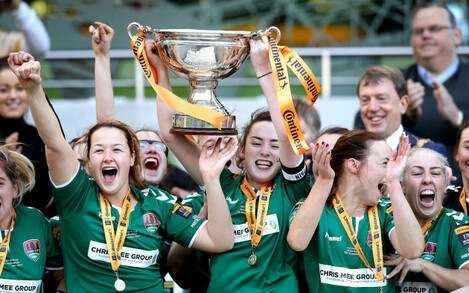 Cork City's Ciara McNamara lifts The Continental Tyres Women's FAI Senior Cup. Source: Ryan Byrne/INPHO
With star players including Saoirse Noonan, also a highly talented GAA player, and Ireland international Clare Shine, Cork deservedly won out 1-0 on the day thanks to a goal by the latter.
Frank Kelleher's side, who also beat WNL champions Wexford Youths on their way to the final, have made remarkable progress in a relatively short space of time.
As Noonan noted in an interview with The42 ahead of the final:
Maggie Duncliffe, a centre-back, has been with Cork City Women six years, since day one, when they were getting hammered 8-0 and 9-0, and now she's playing in a cup final.
"They're all players that are ready to stand up on the day and they deserve to be there."
Noonan's words are no exaggeration. During the 2013-14 season, in 21 matches, Cork registered 0 points and scored only two goals, while conceding 109. Their worst defeat was a 13-0 loss to Peamount United.
In 2015, the side, who only formed in 2011, earned their first league victory in two years. Since then, they have slowly prospered, and are now FAI Cup holders, having delivered an accomplished display on national TV in the biggest game of the women's club season.
Such development is another sign of the continuing progress of women's soccer in Ireland.
2018, therefore, has much to live up to after what has been, for so many reasons, a remarkable 12 months.
The42 has just published its first book, Behind The Lines, a collection of some of the year's best sports stories. Pick up your copy in Eason's, or order it here today (€10):