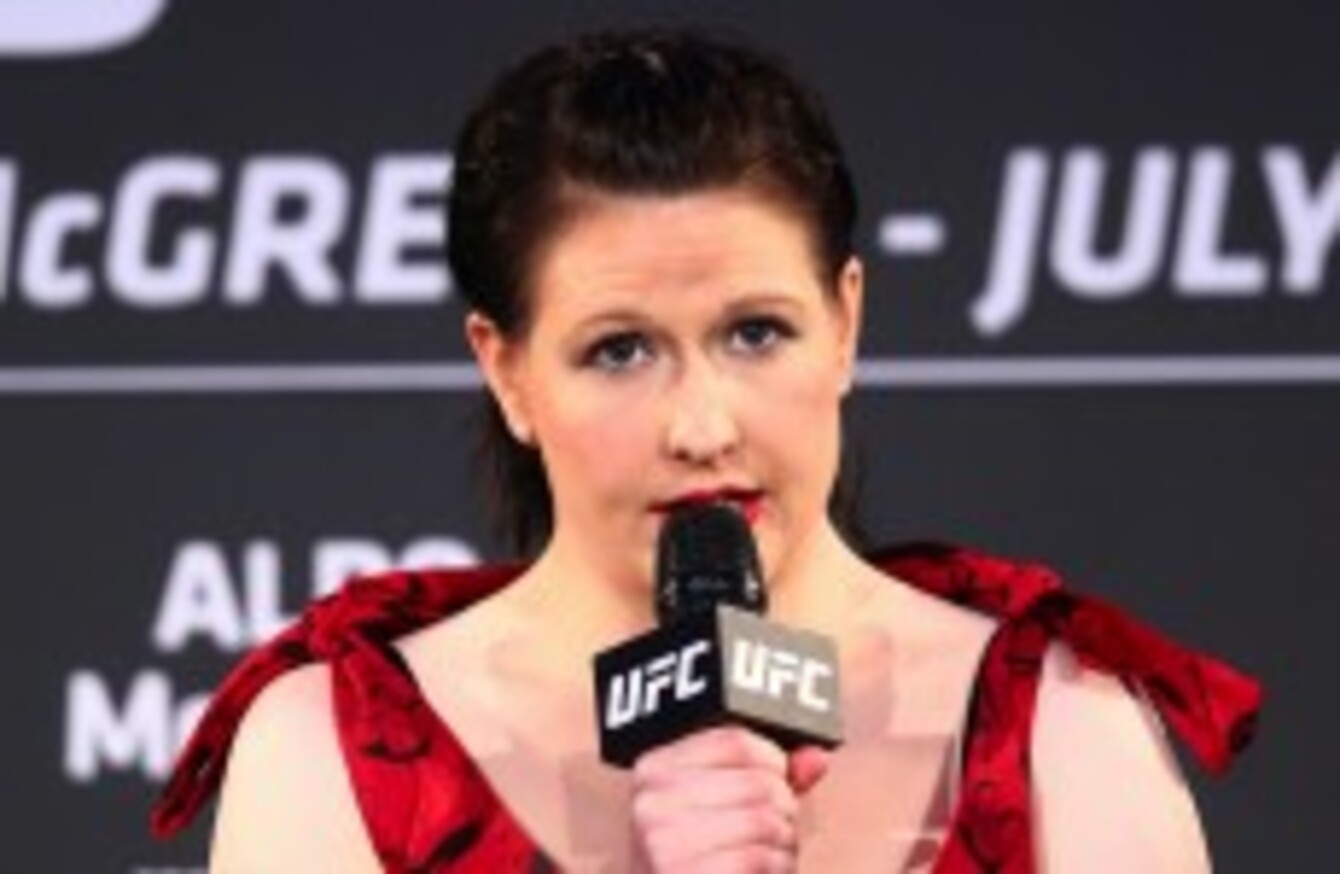 Irish UFC strawweight Aisling Daly.
Image: ©INPHO/Cathal Noonan
Irish UFC strawweight Aisling Daly.
Image: ©INPHO/Cathal Noonan
NEXT SATURDAY NIGHT, Aisling Daly will fight in Dublin.
It's something she's done many times before. In fact, the meeting with Ericka Almeida will be her 10th professional bout in her hometown.
Competing on home ground is nothing new for Daly, but this fight won't be like anything she has experienced before.
Daly is a pioneer for MMA in Ireland — not merely for women, but for the sport as a whole. She made her debut in 2007 and most of her early fights took place in Dublin. More often than not, the venue was the modest surrounds of the hall at Good Counsel GAA club.
Opponents for female fighters on the European mixed martial arts circuit still aren't easy to source these days. But eight years ago, Daly had to make some significant sacrifices in order to find any sort of competition.
For those first few fights, Daly wasn't paid. Instead, she told promoters to put the money towards the cost of bringing opponents in from the continent — France, Germany, Holland, Belgium, Finland. And it was all in aid of her pursuit of a dream that didn't even exist.
However, that dream became tangible in 2013 when female fighters finally set foot in the UFC's octagon. Aisling Daly joined the show last December, debuting with a first-round submission win over Alex Chambers in Las Vegas.
Competing for MMA's biggest promotion in the fight capital of the world was special, but doing so in the city where she was born and raised will be unparalleled. That's what awaits Daly next weekend. Only a UFC title shot could match this.
The MMA world will be watching when the Dubliner faces her Brazilian opponent next Saturday night at UFC Fight Night 76. Daly will have almost 10,000 Irish fans behind her at the 3Arena. A long way from a GAA hall in Drimnagh.
"I'm just super excited for this. I realise how big an opportunity it is. I always do well in Dublin, I always feed off the home crowd so I'm really looking forward to that. I'm just grateful to be able to have this experience, considering that when I started, there were no UFC women's divisions at all," Daly explained to The42.
"This is a dream come true for me. I've been feeling so positive every morning I wake up, knowing that this is getting closer. It's a long time since I felt this good about a fight.
"I'm super happy and a happy fighter is a dangerous fighter. I'm just so happy right now that I feel unstoppable. I was sick that I missed the last one so I just want to give it everything."
When the UFC came to Dublin in July of last year, Daly had to watch the show on TV from the confines of The Ultimate Fighter House in Vegas, where she was busy proving her worth to the UFC before being handed a contract at the end of the season.
That was a landmark event in the Irish capital, as Conor McGregor, Gunnar Nelson, Cathal Pendred and Paddy Holohan — friends and team-mates of Daly's at Straight Blast Gym on the Naas Road — all picked up important wins. Now it's Daly's turn.
By Saturday, Daly will have completed a 16-week training camp for this bout. Having missed out before, such was her appetite to play a part this time that she kicked off her preparations as soon as the show was announced — despite the fact that the UFC didn't confirm her involvement until six weeks later.
Having lost to Randa Markos in her most recent outing — at UFC 186 in Montreal back in April — there's pressure on Aisling Daly to return to winning ways next weekend. If she's feeling the strain, however, the 27-year-old is performing a flawless job of disguising it.
Daly has previously opened up about her struggles with depression and anxiety. Competing at the highest level in MMA is already challenging enough when you've got a skilled professional fighter standing across from you on the other side of the cage. Simultaneously fighting a second battle from within makes it an unconquerable task.
The anxiety has had a detrimental impact on some of her performances in the past, and while it's still something that needs to be managed, Daly appears to be in a good place right now. Maybe it's down to the imminent prospect of fulfilling a lifelong dream, but she exudes genuine confidence and enthusiasm. Whatever the case may be, it seems that Ericka Almeida is the only opponent Aisling Daly will face in seven days' time.
"When you're dealing with issues like that, it's hard to fight your opponent and yourself at the same time. You're dealing with all these negative thoughts, with this black cloud following you around all the time," Daly said.
"Even when you're in training, you're just going through the motions. You're in a haze the whole time so you're taking nothing out of it. You learn nothing. It's very hard and I've definitely fought through that in the past. I've turned up on fight night and started to wonder, what the hell am I doing here?
"You go out and you fight, but again, you're just going through the motions because your biggest opponent is yourself and then there's someone else there as well trying to punch you in the face.
"One of the most important things about fighting is that you have to be completely switched off to everything else, because if there's something other than the fight on your mind, your opponent will capitalise. You can't be arguing with yourself while you're in there.
"I've done quite a bit since the last fight. I was on anti-depressants and stuff like that, but I've come off those since that fight. I'm doing a lot more CBT [cognitive behavioural therapy] stuff for how I think about things and thought patterns, and just being grateful for the whole experience.
"I'm inspiring people with what I do so I have to appreciate these opportunities. Being grateful and appreciative instead of focusing on the negatives has become a big thing for me."
Aisling Daly believes she's capable of reaching the summit of the UFC's strawweight division. However, she knows that her last performance won't be good enough to get her there. Despite dislocating her collar bone in the second round of her defeat to Randa Markos, Daly refuses to offer it as an excuse.
The display wasn't worthy of world title contention and it didn't come close to reaching the standards she has set for herself. Daly has subsequently made some changes for this fight, particularly when it comes to her strength and conditioning programme.
In the women's 115lbs division, Joanna Jedrzejczyk has installed herself as a dominant champion recently, with few contenders in the chasing pack giving the Polish star cause to be concerned that her reign may be in danger.
Daly's loss to Markos was a setback — she's now 15th in the rankings — but the strawweight division is small and a couple of solid victories in succession would catapult her back to where she's aiming to be. If she's capable of standing out from the crowd, now is the time to make a statement.
Daly: "To me, in my mind, I'm the best in the world in that weight class, no matter who you put up against me. Sometimes I don't show it in fights but I know what I can do.
"It needs to arrive come fight time and I'm super confident that this will be the fight where I get to show all the skills that I've developed over the years. There have been a lot of changes this time so I'm really excited to put them into practice.
"I definitely would like to be fighting for the belt soon. A lot can happen in a year and I've got a new training regime going which will allow me to take short-notice fights if they're available.
"I'd love to fight Joanna [Jedrzejczyk]. Stylistically I think I'm a very bad match-up for her. Some of the girls she's fought previously are very one-dimensional and haven't been able to test her in certain ways.
"I think she needs to fight somebody who's tough and well-rounded. Nobody has been able to take her down, hold her down and see what she has on the ground."
For now, however, Daly's focus is on ensuring that she puts together a winning run, starting with next Saturday's bout against Ericka Almeida. Daly's eight-year career as a professional fighter has taken her all over the world, but those experiences won't compare to what awaits her at UFC Dublin. There's no place quite like home.
"Honestly, the fact that I'm going to be fighting on a UFC show in Dublin, I can't even process it. I think it'll probably be one of those things I'll sit down and look back on when I'm an old lady. Maybe then it'll finally sink in," she said.
"This whole thing has gotten so big so fast — in the space of a year, basically. It's been a quantum leap, with people stopping you when you're walking down the street, which has never happened before. It's insane to me to see how much the sport has progressed.
"I haven't been able to imagine what it's going to be like to walk out in front of that crowd. I've tried to picture myself making that walk but it's impossible to imagine it. All I know is that I want to record it in my memory as well as I can, so I'm going to take my time.
"My walk-out will probably take about four hours so the UFC might be a bit pissed off with me for messing up the schedule! But I really just want to take it all in. It's going to be an experience to savour for the rest of my life."
And she'll even get paid for it too.