IF THERE WAS a suggestion that Cork City's recent run of poor form might create a sense of anti-climax when they finally wrapped up the title, it was promptly dismissed by Alan Bennett's reaction after the full-time whistle sounded at Turner's Cross on Tuesday.
Bennett shed a tear when City won the FAI Cup at Dundalk's expense last November, and the veteran defender didn't hide his emotions again when their goalless draw with Derry City at Turner's Cross confirmed the club as Premier Division champions for 2017.
He was at the heart of City's defence when they last reached the summit in the SSE Airtricity League, but the Corkman didn't expect back in 2005 that the club would be waiting 12 years to repeat the achievement. They've finally done so, and it was worth the wait.
"It's a nice feeling," Bennett said. "We hit our bad patch at the very end, but it's been an amazing season. The standards we set, we were chasing records from the early 1900s. That's the level of expectancy we've brought with us as a team. I'm just really happy."
Bennett knows what it's like to taste league and cup success, but never both in the same season — although there was one missed opportunity. Sixteen days after they defeated Derry City to win the Premier Division title in 2005, the Leesiders failed to deliver a performance as they lost 2-0 to Drogheda United in the FAI Cup final.
Members of that Cork City team have since spoken of how the celebrations that followed the league triumph went on for too long. There's a chance to make amends in this year's decider against Dundalk on 5 November. They celebrated into the early hours on Tuesday night, but Bennett is eager to ensure that this team doesn't make the same mistake.
"It was a mistake in hindsight," he said. "But at the time I was quite young [24] and I didn't know any different. At least now we have a little bit more time so that will be good in terms of recovery. We'll crack on from there."
Bennett turned 36 earlier this month, and although he has been forced to sit out several games this season, his value to this Cork City team was illustrated by his man-of-the-match display against Derry on Tuesday. His contract expires at the end of this season, but he's ready to go again if required by manager John Caulfield in 2018.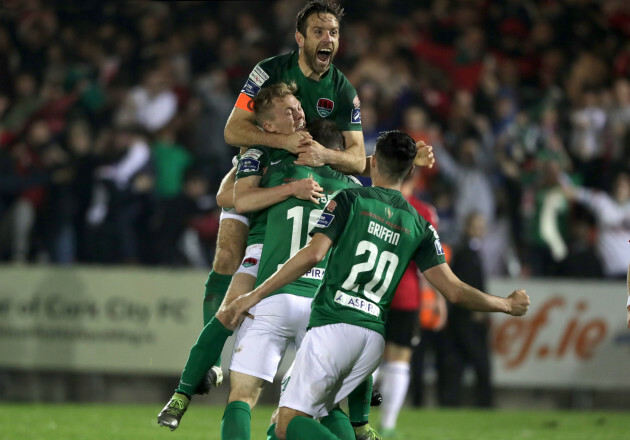 Morgan Treacy / INPHO Morgan Treacy / INPHO / INPHO
"It's hard to walk away when the team is going so well," said Bennett, who won a League Two medal with Brentford during the eight-year spell in England that separated his two stints with Cork City.
"We obviously have Champions League football next year to look forward to. Me personally, right now, I'd love to stay on. I feel good. The defensive record is quite good, I hope that proves that I'm doing the job.
"Obviously I have another league winners medal, which is great to say, so I'd like to think I'll stay on for another year but it's kind of out of my hands."
Contract talks may soon be on the agenda for Bennett, but the priority in the meantime for the twice-capped Ireland international is the next chapter of Cork City's rivalry with Dundalk at Lansdowne Road in just over a fortnight.
"We got the opportunity to win a double in 2005. We didn't take it and it's a regret. I speak to some of the ex-players and they say these opportunities don't come around too often. I can testify to that now myself."
He added: "If we could do the double it would be amazing because this club has been massive for me as a person. It gave me my chance. Now if it could give me that at the very end, it would just be the perfect season for me."