ALAN CAMPBELL'S INITIAL reaction to being asked about his time in La Liga and facing the world's greatest players on a weekly basis says a lot about him.
"It was so long ago," he replies, attempting to brush the entire story off.
Remarkably, he wonders just why anyone would care.
After some persuasion, he finally relents and begins to delve into the tale. Eventually, he even begins to enjoy himself.
Campbell had made his debut for Shamrock Rovers as a teenager in the late-1970s. On the fringes under John Giles, he began to inch his way towards a starting role and in his first season as a first-choice attacker, he struck 22 goals and finished as the League of Ireland's top-scorer thanks to a magical display on the last day of the campaign when he put four past UCD. Still, Rovers drew far too many games that year and finished fourth.
But Campbell's performances had won him many fans, not just in Milltown, and he came close to swapping the green and white hoops of one storied club for another.
"Playing with Rovers at the time was really, really great," he says.
"I loved the club and followed them as a kid with my Dad and so to play for them was a dream come true. I was about 19 or 20 when I was leading goalscorer and Celtic were interested in me and I met Billy McNeill, who was managing them at the time. But it fell through in the end. There were no English clubs in for me, as far as I was aware, and I was happy to keep going at Rovers and I signed a new contract and then everything changed overnight."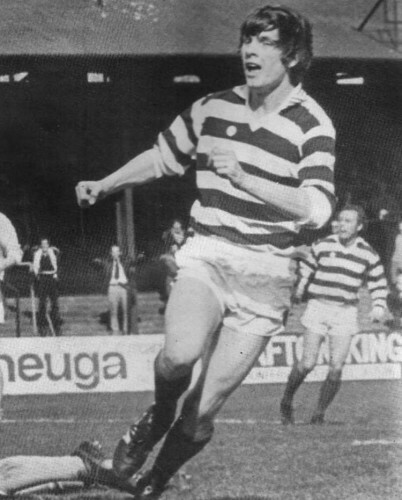 Over the next few seasons, Campbell was usurped as Rovers' top scorer by his strike partner Liam Buckley but there was still no sign of silverware, despite the side boasting some excellent personnel. The closest the club got was finishing as runners-up to Jim McLaughlin's Dundalk in 1982 but in June the following year, McLaughlin arrived as Rovers' new boss and it proved the seismic shift.
Campbell struck 24 times in the top-flight as Rovers claimed a league success for the first time in 20 years.
Afterwards, there was a transition. Buckley signed for Belgian club Waragem and his agent, Fernand Goyvaerts, got in touch with Campbell too. There was some interest in him from clubs in the Spanish top-flight.
"I said that I'd listen and see what opportunities there were," Campbell says.
"He mentioned a couple of clubs, Sporting Gijon and also Racing Santander, and inside a couple of weeks it was all done and dusted. Myself, Jim McLoughlin and (Rovers' owner) Louis Kilcoyne flew to Madrid and met with representatives from Racing and that's how it happened. It was so quick. It was a fantastic opportunity. I'd just got married in June and bought a house close to Dun Laoghaire and we'd only moved in. I think it was August when we headed away to Santander."
The club had just been promoted to the Primera Division and despite having little time to prepare or acclimatise to his new surroundings, Campbell was thrown straight in for the opening game of the season: a home clash against Sporting Gijon, the other La Liga outfit who'd been keen on signing him.
It should have been overwhelming.
Newly-married, Campbell had just turned 24. He was in a strange country that he knew nothing about and where he didn't speak the language. He was a long way from home.
"I'd never watched a Spanish game in my life, unless there was a European match on TV and one of the big teams like Barcelona or Real Madrid were playing," he says.
I know it sounds crazy now but I'd never heard of Santander. It may have been a bank in Spain but it wasn't a bank everywhere else. I had to look at a map to see where Santander was – that's being honest. But I couldn't have gone to a nicer city. It's a fabulous place and I really got to enjoy my time there.
But going over there first was so strange because we played Gijon on the first day of the season and we won 1-0 and I scored the winner. So my start to my career in Spain was superb".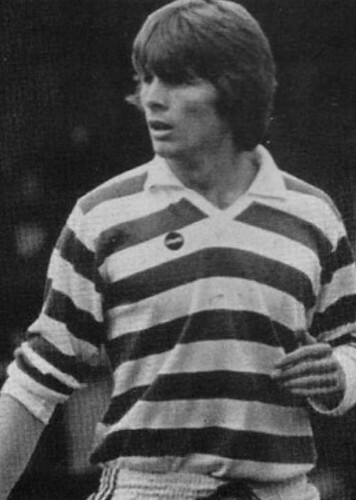 Unnerved by the whole experience, Campbell struck just before half-time and played the entire game. It was remarkable. Unable to properly communicate with his team-mates or the coaching staff, it mattered little. He'd done exactly what he'd been brought to the club for and Racing were up and running.
Still, as well as things started on the pitch, it was difficult day-to-day.
"Myself and my wife, Nora, were given a flat but I wasn't driving so you had to rely on other people at the start," he says.
The club got an interpreter for me – a young kid who was about 16 or 17 – and he was in the dressing-room with me. Spain has changed a lot – like everywhere else – over the last 30-odd years. When we were there, we didn't know many people who spoke English. Nowadays, a lot of Spaniards do but, at the time, there were very few. So it was like being thrown in at the deep end. The club arranged for the both of us to take some Spanish classes and that helped a lot regarding the dressing room. Santander is deep in northern Spain and every second week we'd head off to play in Malaga or Sevilla or Valencia and they were long trips on a bus. You might be going away on a Thursday or Friday and coming back on a Monday. So it was a long way to go without being able to speak the language."
"Also, communication wasn't anything like it is now. Nowadays, you can access football from everywhere: Spanish league, Serie A. But it wasn't always like that. Like, I'd have to ring my Dad from Spain with the results. The internet wasn't around and after the games, I'd call him and tell him exactly how it had gone. There was no chance it would be on the telly. Even the newspapers in Santander going back 30-odd years ago…you'd go out on a Friday and you'd be reading Thursday's paper. I'd call home a few times a week and chat with the family and tell them how things were going but now you'd have Skype and other technology. It was just completely different."
The fixture list proved rather unkind for Campbell and his Racing team-mates early on in the 84/85 campaign. After their opening day victory, there quickly followed back-to-back visits to reigning champions Athletic Club and Real Madrid.
Campbell (bottom row, far right), and his Racing Santander team-mates during the 1984/85 La Liga season.
Campbell was quickly coming to terms with how different the game was in Spain. The narrow win over Gijon had been followed by a narrow defeat in Valladolid. Things weren't exactly expansive and open and free-flowing. It was careful, considered and he needed to tailor himself accordingly.
"In Spain, it was very defensive, especially when you went away from home," he says.
You'd always play one up front. And one up front for me was unheard of. You were left all alone up there and the whole objective going away from home was get a draw or snatch a goal. That's what you'd set out trying to do from the very start. Even at home it was very seldom that we played two up front. We went through a little run with Santander where it was six or seven games unbeaten with a 0-0 draw away and a 1-0 win at home. You were picking up points all the way along and it was a great run we went on and really helped us that season.
At Rovers, playing with Liam up front was great because he was so good in the air and could knock it in behind and I'd use my pace to get in. But in Spain, you had to have good control. The ball had to stick every time because if you lost it, you may not get another kick for the next 10 minutes. It was all about possession over there for teams. When you had it, you had to make sure you didn't lose it. It was so important to hold it up for your midfielders to run through."
Campbell also noticed one other notable difference between Irish and Spanish domestic football: the damage inflicted by defenders.
The trip to Bilbao ensured Campbell came face-to-face with the notorious figure of Andoni Goikoetxea. A year previous, the centre-half nearly ended Diego Maradona's career and was banned for seven games after a vicious assault that ripped the Argentine's ankle ligaments asunder. 'Goika' quickly became 'The Butcher of Bilbao' and, considering he'd also damaged Bernd Schuster's cruciate ligament in 1982 (the German, then also at Barca, spent nine months recovering), Campbell was acutely aware of what to expect.
"I played against him a few times, actually," he says.
Peter Robinson Andoni Goikoetxea, 'The Butcher of Bilbao', who left his mark on Diego Maradona and Alan Campbell. Peter Robinson
"One of those games was Ireland against Spain down at Flower Lodge in Cork and he head-butted me off the ball and I needed six stitches in the back of my head. The ball was at the other end of the park! But he was one of the world-renowned players for that stuff. His philosophy was 'the ball can go by me but you won't'. Like, he'd kill you. But, incredibly, we had a drink together one time and he was a really nice guy, believe it or not. But on the park he was unbelievable."
Writing in the New York Times in December 1983, John Darnton drew this conclusion about the climate in La Liga at the time.
"Spain is a country that tolerates violence in soccer," he opined.
"It isn't customarily carried out by the fans after the game, contrary to what is often the case in Britain; it occurs on the field, by the players, in full view of referees and fans."
Going by Campbell's recollections, the picture Darnton painted was pretty accurate.
"That was one of the shocks," he says.
It wasn't only Goikoetxea. Every defender would basically batter you, especially off-the-ball as well. Things like that are caught on camera now but it wasn't like that in those days and they could get away with murder, really. They absolutely battered you. They didn't take any prisoners, that's for sure and I wasn't used to that type of treatment."
Regardless, Campbell's first season was immense. The game against Athletic Club ended in a narrow loss and despite a 3-0 defeat at the Bernabeu, Campbell netted his second league goal in his fifth game – a home clash with Malaga. There were nine goals overall, including a brace against Hercules, more winners against Sevilla and Valladolid and a memorable strike in a game against Atletico Madrid.
Along the way, Racing also beat Athletic in the return game at home and held both Real Madrid and Barcelona at the Estadio El Sardinero too.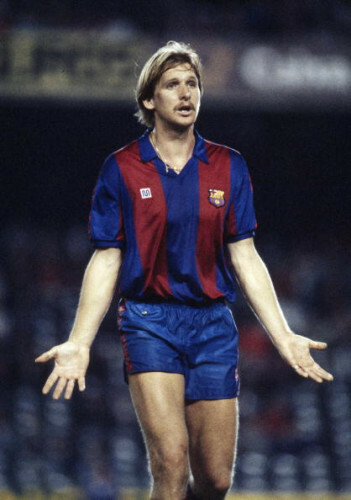 Bob Thomas Campbell faced a collection of the world's best players during his time in Spain, including Germany's Bernd Schuster. Bob Thomas
For Campbell, it was extraordinary. Just months prior, he was leading the line for Rovers against Athlone Town and Finn Harps. Now, he'd struck the same amount of La Liga goals as Real Sociedad's highly-rated youngster Jose Mari Bakero and was just one behind Real Madrid's iconic Emilio Butragueno in the scoring charts.
At the time, teams in Spain were only allowed three foreign players: two in the starting XI and one on the bench. So, Racing put a lot of faith in Campbell too. But he's quick to admit that, in his innocence, he never thought it would be anything different. Campbell never felt like he didn't belong or wasn't deserving of a starting role in every fixture.
"I played in every single game in that first season," he says.
"But you took that a little bit for granted too. I expected to play. If I was ever left out, it would've been a big shock. There was no such thing as squad rotation in those days.
But we had a great season in that first campaign. We just missed out on Europe, which for Santander was really huge. At the time, you got a bonus for staying in the league so the only thing you wanted to do was avoid relegation. We had a great team and there was one player in particular - Quique Setién – and he was signed by Atletico Madrid and went on to play in the World Cup in '86 with Spain. He spoke a little bit of English and that used to really help me a lot. So we used to room together and he was a great guy.
It was a fantastic time. I thank my lucky stars because I know I was very lucky to get that opportunity. And you grow up a lot as well. I had just left home and bought a house but in Dublin everything was so local and you knew everybody. And then you walk into a dressing-room and you can't speak to a single person because they can't understand you. But once the Spanish started to improve, it definitely helped a lot. After six or nine months, I was understanding things and making myself be understood. And it got better after that."
The following season, there were more moments to remember.
Home draws against Barcelona (who had been crowned champions under Terry Venables just months beforehand) and Real Madrid (who would go on to win the title in 1986) again and more winners against Sevilla and Valladolid.
More importantly, the transition to the Spanish way of life was getting easier.
"I spent two seasons there and it went really well, just a great few years," he says.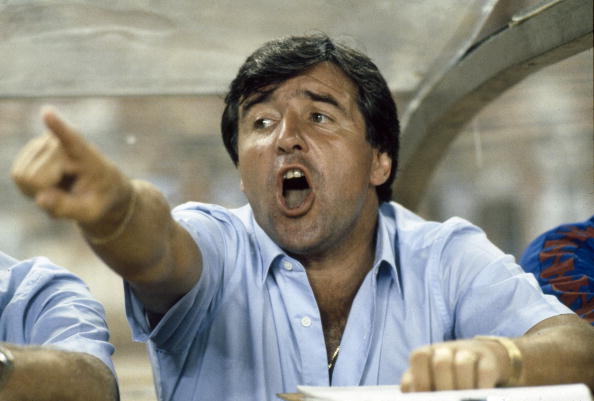 Bob Thomas Terry Venables was in charge of Barcelona during Campbell's stint with Racing Santander. Bob Thomas
"The goal on my debut against Gijon was a real highlight. Getting the winner that day and then playing at the Bernabeu and against Barcelona. They were huge occasions. When either of those teams played it was huge for the city. And to be part of something like that was such an honour.
My Mum and Dad came over for a game when we played against Barcelona. I think it was 0-0 in Santander. Terry Venables was in charge of Barca at the time and I'd met him a few times before. He wanted to go for a drink afterwards but unfortunately I had my parents so I had to go out with them instead. But the club were really good to them and actually organised a little do for my parents which was amazing.
But I remember going to the Camp Nou during my first season. The dressing rooms are down underneath the pitch and Barca were going for the championship. They hadn't won it in a long time. And the place was packed. And you walk up the steps and you just see these thousands of people. But the noise and the entire complex was just incredible. It was a dream come true to get to play in such arenas. For the first 45 minutes, you're just awestruck. But you soon shake out of that after a while."
Campbell's success on the pitch also spoke volumes for the talent that existed in the League of Ireland at the time and the calibre of player that populated various teams.
"From our perspective, we had a smashing team at Shamrock Rovers when we won the championship in 1984," he says.
"Jacko McDonagh at the back, Pat Byrne, Bucko (Liam Buckley) alongside me up front. These were all fine players. Liam went to Belgium and Jacko went to Nimes in France. Pat had already been at Hearts and Leicester and he was a fantastic footballer. So we had a good side.
Jacko McDonagh, seen here playing for Shamrock Rovers, signed for French side Nimes and spent one memorable Christmas with Campbell in northern Spain.
Liam ended up signing for Santander after I left in 1986 and we'd actually arrange to meet up in the north of Spain and we'd go for a meal and a drink or he'd stay over. I remember one year – Christmas Day – and Jacko drove up to Santander from Nimes in France and spent Christmas with us. And that was great because he's such a character. And the gas thing about it was that he didn't have my address. So he had to stop people in the middle of Santander to ask them if they knew where I lived. And he found the place – just by asking people in the streets!"
Campbell's contract was up for renewal at the end of the season but a club from the second tier - Logroñés – were keen on bringing him in. The package was impressive and the move meant he could remain in northern Spain. There were some issues with his coach and he felt that a switch elsewhere seemed the right thing to do. After two years in the top-flight, there didn't seem much momentum left at Racing. It proved a prescient decision as the club were relegated in 1987.
"Everything had improved by that stage," Campbell says.
"I was driving, I was speaking the language all the time and everything was familiar to us. And what a stunning place to go. La Rioja – the famous wine district. And we did really well that season and got promoted to La Liga for the first time in the history of the club. But, there was the three foreigner rule at the time. And when Logroñés got promoted, they wanted two big foreign stars to make a splash. They told me I was going to be the third foreigner and that I may not be playing every week. So we came to an agreement and I decided to leave at the end of the season."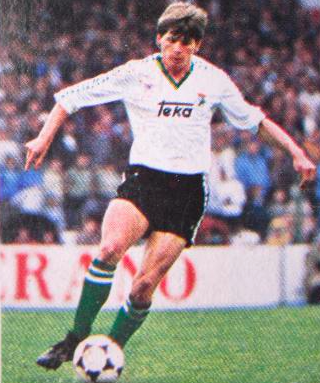 Campbell wasn't done with mainland Europe just yet and when his agent suggested a switch to Belgium, he felt it was another great opportunity. His former Rovers' team-mate – Liam Buckley – had spent a couple of seasons there and enjoyed it so he decided against trying his luck in the UK and instead signed for second-tier Berchem Sport.
"Because I had a Belgian agent in Fernand Goyvaerts, he was more familiar with football in mainland Europe than what was happening in the UK," Campbell says.
"And that's why I moved to Berchem Sport and stayed for a couple of seasons. They had just been relegated and were really pushing to get back into the First Division but in the two years I was there we never managed it, despite getting to the play-offs a few times. Everybody in Belgium spoke English so we never had any problems with the language and there were some great people there. Funnily enough, just a couple of weeks ago, a mate of mine who I met in Belgium came over here with his wife and spent the weekend with us. I hadn't spoken to him for nearly 30 years but we got back in touch online and then got talking on the phone and next thing he was over for the weekend and we had a grand time reminiscing about our time with Berchem."
Campbell played out the remainder of his career in Scotland and Dundee has been his family's home (he's got two daughters) for almost three decades now.
The sense of curiosity remains and he still travels quite a bit. He visits his former Spanish stomping grounds and gets back to Ireland at least once a year to see his Mum and reminisce. But his major haunt these days is the southern United States to check in with his 'little Texan' grand-daughter (and his daughter, who was born in La Rioja during Campbell's stint with Logroñés) and he's off to see them again in a few weeks.
As our chat ebbs to a conclusion, Campbell allows himself, briefly, to bask in the warmth of nostalgia.
I put it to him that his story is inexplicable. An Irishman scoring goals against La Liga's elite and leading the line against Barcelona and Real Madrid.
It's easy to hear his smile build on the other end of the phone.
"I haven't talked about this stuff for a long, long time," he says.
"You're after bringing back some smashing memories."
The42 is on Instagram! Tap the button below on your phone to follow us!