ALL THE PLAYERS from the Aston Villa Youth system had to clean the boots of the first team squad as part of their development at the club.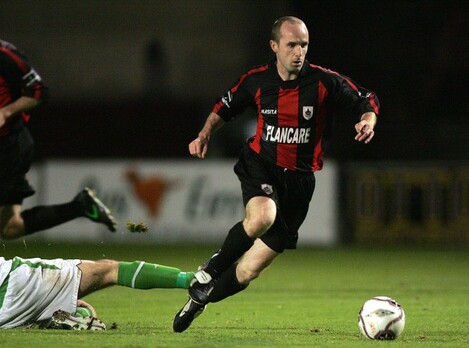 Alan Kirby in action for Longford Town. Source: INPHO
It was one of the many tasks they had to do during their time at the Birmingham-based side and they were paired up with someone from the top team by random selection.
Waterford's Alan Kirby came to Aston Villa shortly after turning 17. He would go on to win a bronze medal with the Republic of Ireland U20 team at the 1997 World Cup, win back-to-back FAI Cups with Longford Town, and play for various other League of Ireland clubs during a career spanning some 15 years.
But during a portion of his four-year stint at Aston Villa, he was tasked with putting the sheen on Dwight Yorke's five pairs of Mizuno boots.
As Kirby recalls, the kitman would typically come into the dressing room on a Friday with his skip and distribute the boots to the young players so they could get to work on their assigned footwear.
The first team players would be arriving later in their expensive motors with their wash bags in hand, expecting to see their gear waiting for them in pristine condition, and for the most part, the system worked well.
But Yorke's multiple pairs of boots led to some confusion for Kirby.
"On more than one occasion," Kirby tells The42, "I used to come in and pick any boots I could find on the wall I didn't know which boots were which. He had boots for training and boots for everything and I was very friendly with Gareth Farrelly who was getting into first team training at the time.
"I remember him ringing me and saying, 'Jesus, you'd want to stay clear of Dwight on Monday.' He got to the dressing room and said, 'what the fuck, these aren't my match boots' and he flung them across the dressing room. He went mad.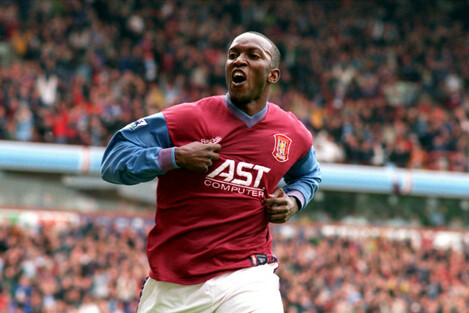 Dwight Yorke after scoring a penalty for Aston Villa in 1998. Source: EMPICS Sport
Unsurprisingly, Kirby got the curly finger from Yorke when he met him the next time.
"He brought me in and said 'they're my match boots, they're my training boots.' And I just went 'sorry, sorry.' But he was sound. I was lucky because come Christmas, they used to give their lads a few quid but if you had first-team squad player or a lad that had made it, you might get a tenner.
Dwight would take out a wad of £50′s with a clip on top and he'd slip me a £50."
Kirby originally travelled over from Waterford on a three-year deal, which was a birthday present from his father who had negotiated the terms in secret after his son was invited over for trials.
There was some initial home sickness to get past but Kirby settled in quite well from the start and was progressing well in the youth grade. He won a Midland League with the team and captained the side as well.
Being in the company of some of the big-name players at the club was something he had to adjust to and he can still remember feeling a bit overwhelmed after passing by Mark Bosnich one day. He suspected that he had wandered into the wrong part of the club at the time.
But he never got distracted by the star-gazing, nor did he ever get detached from the reality that he had many strides to take before he could reach a similar level.
Indeed, he was looking forward to that challenge and life was good.
Growing up, he was the football fanatic with the Liverpool quilt and posters hanging on his wall and now he was taking the first steps to fulfilling a lifelong dream.
But he almost never got that chance.
Too small for football
The word was I was too small. Being small, I made a point of establishing my ball-winning ability as early as possible. And although I was small, my studs were as big as anyone else's - Roy Keane, Keane.
Those with even a casual insight into Roy Keane's background will know of the struggles he faced in trying to become a professional footballer on account of his size.
In his first autobiography, he talks about the different occasions he went for trials as a youngster and was left disappointed. While his teammates from Cork succeeded in getting selected, Keane was overlooked.
Kirby came from similar beginnings and when he went for trials with the Republic of Ireland U15′s team, his small stature was the reason behind the rejection.
He knew that the height factor was something he couldn't control but when two other players from Waterford at the trials got accepted onto the team, it compounded that sense of disappointment for him.
He returned to make his case for the U16 squad the following year ahead of the European Championships in Dublin, and managed to squeeze his way into contention as a stand-by player.
He would later go onto make a significant impression in that tournament after Ireland and Leeds legend Ian Harte was forced to pull out through injury. His string of performances resulted in him getting trials at Aston Villa thanks to the scout Eddie Corcoran, and things obviously improved for him on the international front too as he moved up the grades.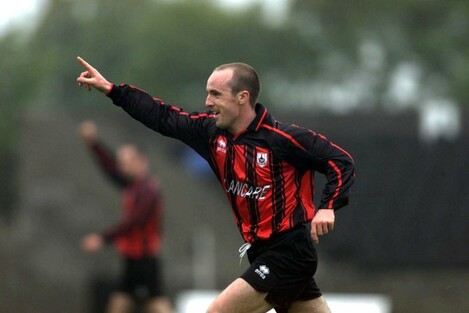 Source: INPHO
But there was no indication at the time that his career would take on that kind of trajectory, so when he was barely scraping his way onto underage Ireland squads, he worried that he might not have much of a career to look forward to at all.
You're full of doubt the whole time," Kirby recalls. "Even playing with that Irish team, you're playing with lads who have already been signed like Dessie Baker and 'this fella's with that club' and they're very good players.'
"They have the Dublin swagger and self-belief and you're this young lad coming up and as far as they're concerned you live in a farm because you don't live in Dublin. One of the lads I used to come up to with training used to spend the day painting and he'd come up to Dublin and the lads would be looking at him.
"They're just different and you kind of wonder if you're going to make it because you don't really have that swagger. You're a big fish in a small pond when you're in the country and then you come up here and it's hard to go out and express yourself on the pitch."
He added:
"I was constantly comparing myself [with other players]. If someone was in ahead of me, I used to always think I was better whether I was or wasn't. You might look at the likes of Keith Fahey and say that he had that extra bit.
"I always knew if someone was better but if someone was in around me, I thought 'sure I can do that.' I had that self-belief but I kept it buried down."
Malaysia madness
The Republic of Ireland U20 team went to the 1997 World Cup with no great expectations. They certainly didn't anticipate that they would medal, according to Kirby, but they were young and ambitious players in the budding stages of their careers.
They were grateful of the experience. Anything could happen.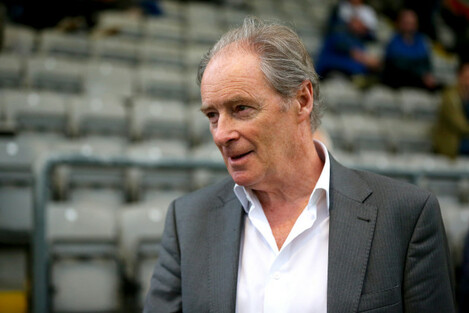 Brian Kerr Source: Oisin Keniry/INPHO
They also had had Brian Kerr at the helm guiding them through the tournament.
"He was so infectious and had to win the next game, had to do well. He was good to me and always played me," says Kirby.
They opened their campaign with a defeat to Ghana, which was followed by a win over the United States and a 1-1 draw with China. They then progressed to a Round of 16 clash against Morocco where Damien Duff sent Ireland through to the quarter-finals with a Golden Goal.
Spain were the next side to crumble under the weight of Ireland's momentum, with Kirby featuring heavily throughout the series of games.
As Ireland came through each stage of the tournament, support back in Ireland was starting to gather pace. RTÉ sent out a crew to cover the rest of the games, and good luck messages were coming into them by fax machine.
Ireland bowed out of the competition following a semi-final defeat to Argentina, and claimed their bronze medal following a win over Ghana in a 3/4th place play-off. But the result against Argentina could have been so different had Kirby converted the opportunity that was presented to him.
The ball broke really quickly," he explains, "and I remember getting through and thinking, 'Jesus, I'm in on goal,' but I needed my first touch to go out from my feet so it'd give me time to look. I was running and needed time to look up at the keeper and compose myself and aim for a corner of the goal.
"I was conscious the defender was there so I just kind of hit it really quickly without looking up so I ended up with this crap shot. The keeper couldn't believe his luck. I would have loved to have scored and we could have gone backs to the wall and things could have been so different."
End of the line 
After the euphoria of the U20 World Cup and the rousing homecoming reception they were treated to, Kirby went on to make his first and only U21 international cap.
It was during this time that the players in Aston Villa were informed whether the club would be offering new deals to the players or letting them go.
By this stage, Kirby was out of the youth system and playing with the reserves. He touched base with teammate Alan Lee to find out who was getting the chop and was told that Lee had been handed a new two-year deal.
Kirby felt encouraged by this as he had played more matches than Lee up to this point. As Lee relayed the names of the players who lost out, Kirby was processing each one in his head to assess where he ranked compared to them.
He was in the gym one day in Aston Villa when he was beckoned over by management to discover his fate.
"John Gregory was the manager at the time, I didn't like him. He didn't bring me down to his room, he brought me into a physio room and said they were giving me a 'free.' They said they didn't really feel I'd progressed. I said I'd had a two-weeks break since the Malaysia thing.
I was burnt out and tired and it was just a bit of a blur. It was done just so matter of fact. I'm trying to process it and five minutes later they're gone. I'm just sitting there thinking, 'Shit, what just happened.' It was just over like that."
The end of Kirby's time at Aston Villa did come as a shock to him, but after enjoying such a bright start to his time there, relations had soured in the 12 months leading up to his release.
When Kirby came to the end of his initial three-year deal, a year's extension on a similar salary was offered to him by Villa boss Brian Little.
The Waterford man didn't show much emotion or attempt to feign any gratitude when the terms were laid out for him. He felt he deserved a better deal, and came back to make his case.
Source: EMPICS Sport
"I can remember not being impressed. I remember coming out thinking I had another year in the bag but I think I went back in and said, 'I want more money.'
"It was peanuts, I'd say it was about 50 quid extra. There's no incentive for a young lad there.
"I think they were just interested in the first team.
He continues:
Things were going really well and what killed me looking back was Ron Atkinson got the bullet. Ron was great and he was at all the youth team games, knew all the players and loved the style of the players.
"I think he enjoyed the way I played, loved attacking football. He brought us out when we won the league over there. He knew everyone's name and you just felt like things were going to happen. And the complete opposite came in under Brian Little who brought his cronies in from Leicester City.
"He was just an army sergeant, real by the book. All the staff he brought in were the same and today they're still there. I think that things went down in my last couple of years there."
Piss on the game before it pisses on you
Kirby spent six months trying to find a new club. An agent had signed him just before he finished up with Aston Villa but the only options available to them at the time were clubs in Belgium and Shrewsbury.
His situation was complicated further by the Bosman ruling which had been introduced. It allowed players to move to a new club if there contract was up and the player could get a sign-on fee while their old club received no fee.
Unfortunately for Kirby, there were over 500 players on the list of released players that year, and he was in among talents with far more professional experience than him.
There were no prospects for him at any of the clubs that he did go to, and although he received good vibes in the beginning, he says each of them led him 'on a merry dance.'
At 20 years of age, he was forced to concede defeat and return to Ireland where he signed for his home club Waterford in 1998.
Kirby is now a tax consultant working in Dublin and commutes to work most days from his home in Longford, after retiring from football in 2012. He has managed to find an alternative path in life but reflecting on his experience with professional football, he has come to appreciate the importance of being able to walk away from the game.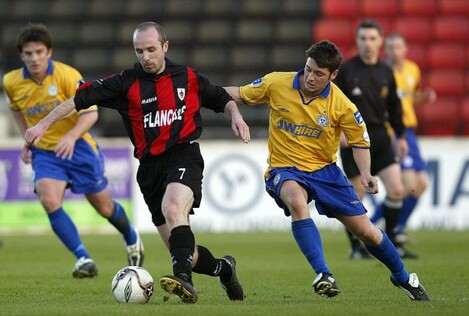 Source: INPHO
This realisation has prompted him to coin the phrase 'piss on the game before it pisses on you.'
"You give so much to the game and it's just, 'thanks very much at the end.' I wasn't expecting anything but lads have to be aware of that at an early age and figure out that it's going to move on.
At a certain age, you need to be able to say, 'thanks very much and walk away from it.' If you have nothing then you're going to be fighting for that last year and that last club. You're going to be picking up the phone and it's soul-destroying.
"You're going to be picking up the phone to fellas who you'd think would look after you. Maybe their mates have gone on to management and you're saying, 'have you anything there for me?' It's not nice for the ego.
"I was very happy with what I did and that's why I was able to walk away because I had something to focus on.
"Lads need to have that and in many respects I think they need to get away from it. Whatever suits them personality-wise but I always like to see lads getting away from the football. They're off doing their badges now, great they want to stay in the game. But don't stay doing the badges because your mate is.
"You want something to focus, get away and go back to college. Do a night course or a business course. Do something and just branch out and get out of that little."
What also worked in Kirby's favour in terms of breaking away from football was that he never had an obsessive attachment to the sport. While many of his teammates enjoyed talking about the game and had a team they worshiped, Kirby kept his distance from it.
Be part
of the team
Access exclusive podcasts, interviews and analysis with a monthly or annual membership.
Become a Member
Over the years, he had became somewhat disillusioned with what it meant to be a football fan. It felt as though followers of the sport were becoming customers rather than valued supporters, and there was a commercial air to the game that he didn't care too much for.
Even when teammates brought up the names of Premier League players in conversation, Kirby didn't know who many of them were and had no desire to find out anything about them.
He was selfish too. He only ever felt included in a team when he was in the starting XI and became immediately disinterested in the game if he was sitting in the dugout. He hated the players who were picked ahead of him and the manager who omitted him.
On the occasion when he made that solitary cap for the Ireland U21 team, Kirby was introduced as a sub. He was given the opportunity to play, which of course was better than missing out entirely, but the fact that he wasn't a first-choice player left him feeling cold about it.
Mick McCarthy happened to be at the game and he bumped into Kirby after the final whistle.
"We'd lost 3-1 and to be honest I wasn't really that gutted that we lost, I was selfish like that if it was a big game, I was thinking about how I did.
I remember standing there with this head on me and I remember he tapped me on the shoulder and said, 'I don't know what you're upset about, you did really well,' he laughs.
"He says get on the weights, do shoulder weights and build up your legs. 'You'll do well,' he said. And I remember taking that back with me thinking, 'it's shit we lost but he should have started me.' That was my attitude."
Apart from continuing to support his former club Longford Town, Kirby doesn't even really go to games now that he's retired.
It might seem strange for a footballer to have this kind of mindset but it was a blessing for Kirby. It made it easier for him to break away from football when the time came.
"I kind of asked myself, 'how much do I love football?' How much did I love football and how much did I love training, just being fit? I still love to train and stuff.
"People now expect me to know about the Premier League or they might engage with me on a topic or a result. They'll ask, 'did you see the football?' and I don't out of my way to watch matches.
"I don't even know much about the players in the Premier League, I'd know a handful of them. I don't buy papers to read up on who had moved to where and how much they went for. It doesn't really interest me and that's probably why when I retired, I didn't  miss the game so much.
"At that stage, I had about 14 or 15 seasons and you're going round the country so that might have had something to do with it. I don't know really if I ever loved football. I loved playing matches and I loved the training, I loved to score when we won and I loved the banter."
Life in League of Ireland
Kirby often trained in Carlow while he was with Waterford United to accommodate the players in Dublin. It was a similar scenario when he transferred to Longford, as many of the players were also based in the capital.
His father David was a former Waterford player who enjoyed success in the league with them during his career, and growing up in Avondale Estate just up the road from the local pitch, it was nice to be playing with the home team.
But the facilities and resources weren't at the level he was used to at Aston Villa. Waterford trained on the back of a rugby pitch, and floodlights were only available on one side of the field.
Having sampled what life could be like for a professional player in England, it was a seismic shift for him to adjust to life in the domestic game. The move back home didn't cause him to resent football, but he still maintained some hope that he could earn a recall to a club in England and finish what he started.
The Town
Alan Kirby being chased by Longford Town's Seán Prunty before Kirby came to Longford. The pair remain friends to this day. Source: Andrew Paton/INPHO
Kirby still focused on his job with the same application when he played in the League of Ireland, and three years after his arrival at Waterford, Stephen Kenny wanted to sign him for Longford Town.
"I don't remember dwelling on it for too long for the reason we had played them in the semi-final of the cup and you could see the stadium, the ground was really nice. The pitch was lovely. I played really well in the first leg up there [in Flancare Park, now the City Calling Stadium].
"I don't put it down to just having a really good game, it just felt right. The place was hopping, what an atmosphere. And Stephen Kenny was all [about] attacking, attacking football. So, I felt like it would suit me.
"Plus, they were going to be playing in Europe so my first competitive game was going to be in Uefa Cup [against Litex Lovech of Bulgaria]."
European adventures
That first hit of European football was something that Kirby would experience again with Longford Town during those successful years on the domestic front. Unfortunately, they never made the breakthrough on the continent as they lost out to Vaduz and Welsh club Carmarthen Town as well as Litex Lovech.
The last opportunity against Carmarthen in 2005 was arguably the most disappointing result from a Longford Town perspective as they scuppered a 2-0 advantage in the first leg to ultimately crash out 5-1 in the second leg and 5-3 on aggregate.
The clash against Litex Lovech was also a memorable fixture, as the Longford Town players came close to missing the away leg after their plane failed to show up at the airport.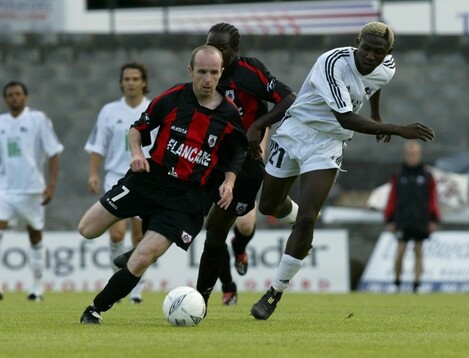 Kirby playing against FC Vaduz in 2004. Source: INPHO
A chartered aircraft was organised to bring the players but the travelling support were forced to stay behind in Ireland.
"I just remember being in the airport and Jim [Hanley, former Longford Town chairman] was running around with sweat pissing out of him. He didn't know whether he was coming or going or getting a plane or a chartered plane. God love him, he lost a stone in the airport that day.
"You can look at it and say that's why we lost but whatever about the [rest of] the lads, I never really got into it. I was happy enough to be going and I wasn't put out too much by it.
"It was very inconvenient at the time and it did drag on for ages but it was a lot worse for the supporters trying to get out than it was for us."
Cup Specialists
Kirby began his Longford adventure by making arrangements to move up to the midlands county, much to Kenny's surprise at the time. The bulk of their training took place in Dublin, meaning there wasn't much team activity happening in Flancare Park aside from playing their home games there.
But Kirby wanted to commit himself to the move, and would often carpool with his other home-based teammates to training. He was thorough about his approach from the outset and Kirby would go on to play an instrumental role in a golden period for the club, which delivered back-to-back FAI Cup success in 2003 and 2004, and a League Cup in '04 under Alan Matthews.
St Patrick's Athletic provided the opposition the first time around, a side who had defeated Longford in the League Cup final just two months previously.
Longford subsequently exacted some revenge to clinch that FAI Cup in the old Lansdowne Road stadium with a 2-0 win, courtesy of goals from Seán Francis and Shane Barrett.
Kirby can't quite remember his assist for Francis' opening goal, but the celebrations back in Longford are still vivid in his mind.
Source: brucemox/YouTube
"You could see bringing it round to the schools that it really meant a lot and bringing it round to businesses and the amount of people who wanted photographs of it as well just to have it. They didn't know when they were going to have it back again.
"The cups gave us a massive boost. We didn't win the league, we did finish fourth which was really good. But I suppose we didn't have the consistency every week to win the league.
"The Cup games, we were just really good at one-off games. I don't know why but it really captured the imagination of the town for the Cup games and obviously the further you go in the competition, the more that would turn up. But we were getting good decent crowds for the league games because we were playing good football.
"Even if we lost, we were having a go. Stephen's mantra was just attack, attack. He had hist team set-up that way and that's why we all loved playing under him. But the Cup games did help, they were kind of the icing on the cake and the fact that we went all the way helped as well."
It was a more complicated situation for Kirby when Longford manged to qualify for the Cup decider the following year. This time, they were facing his former Waterford club in the decider.
There were some mixed feelings about the occasion for Kirby, but ultimately, his loyalty was to the red and black jersey.
"I think we knew we could do something special to win it back-to-back. We were known as the Cup specialists and we wanted to keep that run going."
Longford's victory was also less straight-forward that year, as they rallied from 1-0 down to score two goals and defend their crown.
Paul Keegan scored the winner for Longford, but it was Kirby who hit the equaliser with a first-time strike after Eric Lavine laid off the ball to him on the edge of the Waterford area.
The goal came from a Town throw-in, but just as the the ball was being sent into play, a second one came bouncing onto the pitch and remained there as Kirby smashed the other one into the net without any interference from the referee.
Source: gazawrc/YouTube
As if the occasion wasn't difficult enough for Kirby, it had now been worsened by the controversial element of his score.
"The only time it came into my head was when I actually scored the goal. It was like, 'no I shouldn't run or celebrate here.' It just kicked in automatically and sure the lads were in on top of me so I wouldn't have got far.
"Alan Reynolds was marking me and he didn't follow me. The ball went to Eric Lavine off the sideline and he was marking me. Alan should have followed me but he didn't, and you'd have to ask Alan whether he didn't follow me because he spotted the ball [or not].
"Other than Alan, I don't know if anyone else was affected by that to be honest, maybe the right-back but he wasn't affecting the ball that went into Eric. I don't know what would have happened had the ball not gone out on the pitch, but it just happened so quickly.
"But if it was the other way around, I'd be raging."
There and back again
Kirby joined St Pat's at the end of 2006 after he was released by Longford Town. He continued to hold onto the belief that he could get back to England as Pat's were a full-time outfit. He was also sharing a dressing-room with players like Keith Fahey who was considered a major prospect at the time, and Kirby was hoping this might rub off on him.
Kirby playing for St Pat's against Longford Town in 2008. Source: Donall Farmer/INPHO
That second coming across the water never did materialise, and Kirby returned to Longford Town again for one more season to finish off his career in 2012.
By then he had enjoyed stints at Sporting Fingal, where he won another FAI Cup, and Sligo Rovers, where he played under Paul Cook and roomed with Daryl Horgan.
He wasn't afforded much game-time in his final year by then Longford Town boss Tony Cousins. But by this stage, other priorities had come into his life to displace the focus he put towards football.
He wife and children, along with his studies that brought him down the path of tax consultancy had become more important to him. It was time for him to piss on the game before the game would eventually turn around and switch off the life support on him.
Fittingly, he played his last ever game against Waterford to bring the curtain down on his career, finishing his Longford Town career with 29 goals and 264 appearances, second only to former goalkeeper Stephen O'Brien.
"I wasn't really enjoying it because Tony [Cousins] kind of had me in and out of the team and when you get older and you're trying to run, you feel like you're carrying a fridge at times.
"The legs were kind of feeling it a bit and even the last few games I was dropped. My last game was kind of emotional because I knew it was my last game and it happened to be against Waterford.
"It was the play-offs I think and they beat us handy.  I think it was Seán Maguire who was the culprit, he was banging in the goals and we couldn't live with him. I came on and scored and thought it was ironic that I was scoring on my last game.
"I knew it was retiring and that was it; sin é."
Kirby enjoys the quiet life now. His days mainly consist of getting the early bird train to Dublin followed by a quick spell at the gym before coming into work.
He doesn't venture into Longford town too often except to pick up some groceries and other messages, but he still occasionally meets the odd Town fan who regales him with stories of the club's past glories.
He has two daughters Leah and Lauren, and the latter appears to have inherited her Dad's football skills and is playing with a club in Drumlish in North Longford.
Things could have gone differently if life in England had been better to him. But all in all, life is good now.
"I'm happy with how it went, I think I played at a good level and I played with lads that had more of a right to be disappointed with their careers than I did.
"I gave it my all and trained hard. I don't look back with any great sense of disappointment to be honest."
The42 is on Instagram! Tap the button below on your phone to follow us!