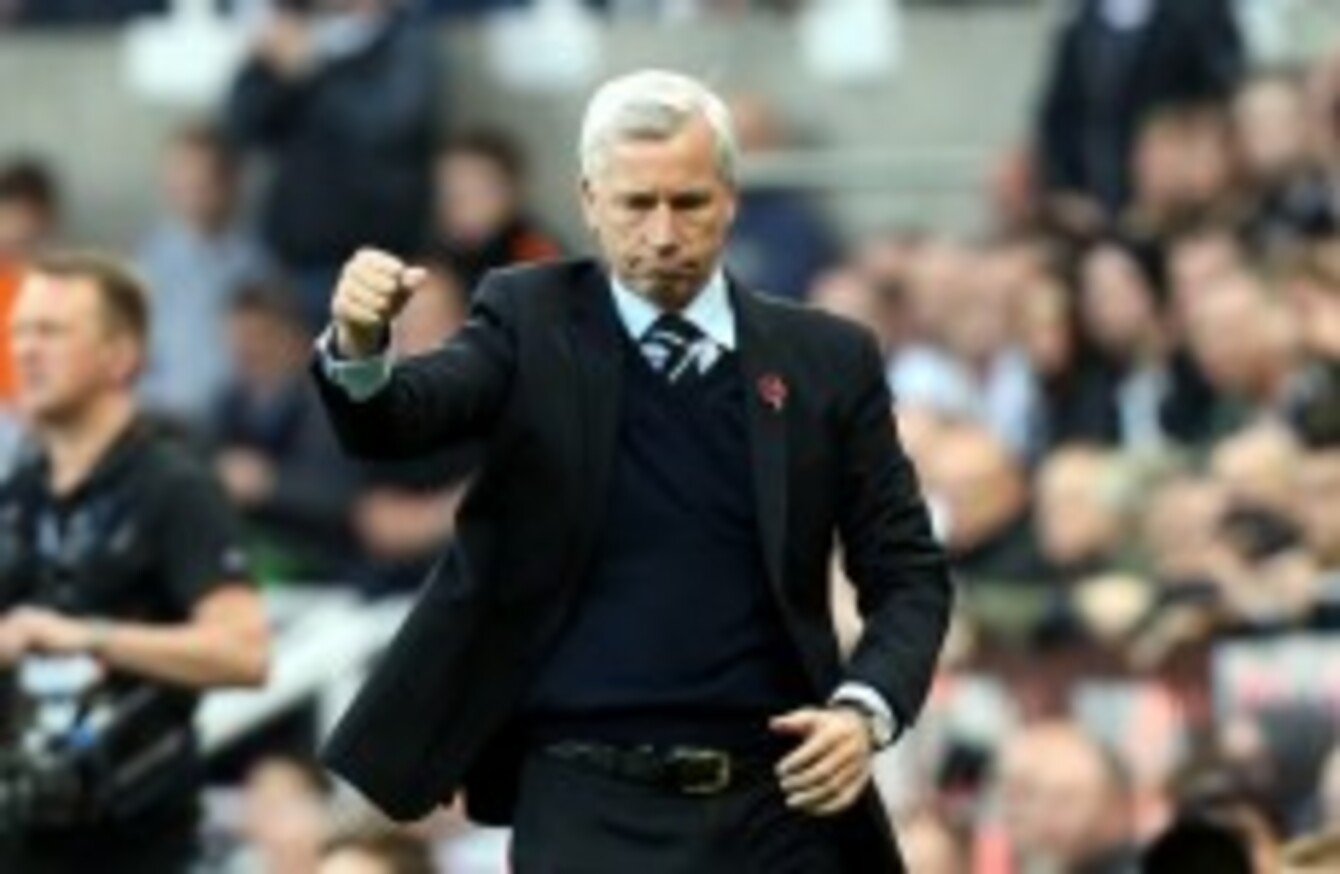 Hopefully Pardew continues to get into ridiculous situations if he moves to Palace.
Image: Associated Press
Hopefully Pardew continues to get into ridiculous situations if he moves to Palace.
Image: Associated Press
IT LOOKS LIKE Alan Pardew's reign as Newcastle boss will be ending in the next day or so as he is currently negotiating with Crystal Palace to take over as their manager.
Pardew isn't everyone's favourite Premier League manager – in fact, he is usually peoples least favourite – but his time as Newcastle boss has certainly given us a lot of memorable moments.
With his departure seemingly imminent, we thought we'd look back at the times Pardew was at his most smug/combative/insufferable since taking over The Magpies.
1. The time he put his hands on a linesman
Pardew was always buzzing around the touchline looking for confrontation (as we will see further down in the list) but he definitely overstepped his boundary when trying to get the linesman's attention during his side's game vs Tottenham in 2012.
Source: LEE HALE/YouTube
When taken in isolation the incident doesn't look too bad but when added to the litany of touchline skirmishes Pardew's been involved in, it is no surprise that people went crazy.
2. The time he compared Newcastle to Bayern Munich
Alan Pardiola was obviously in love with his joke nickname when he swaggered up to the microphone and came out with this.
"Our strengths are we have incredible discipline in the team from our offensive players. The current top model in Germany are Bayern Munich. That's their strength, that's what we have got, and pace."
There may be a handful of teams who can be compared to Bayern Munich – Newcastle are not one of them.
3. The time he turned into Mr Burns on the sidelines
In terms of tactical instruction, there can't be much of a difference between this.
Source: Ricardo Cardoso/YouTube
And this.
Be part
of the team
Access exclusive podcasts, interviews and analysis with a monthly or annual membership.
Become a Member
4. The time he headbutted David Meyler
It is not just that he butted Meyler, but that he actually sought him out. The moment had more or less passed but Pards wanted – no, he NEEDED – to have the last word.
Source: Ashley Marshall/YouTube
One of the more ridiculous incidents in Premier League history.
5. The time he called Manuel Pellegrini a 'f**king old c**t'
Pellegrini is eight years older than Pardew – bit rich to be bandying around that jibe, isn't it?
Source: Arron Penfold/YouTube
6. The time (or every time) he did a swiveling fist pump
Pardew was at his Pardewist when celebrating goals and he always had an elongated fist pump in his arsenal if it was needed.
7. The time he was part of the greatest meme ever made
Who wouldn't want to see Pardew give Kevin Spacey's role a go?
What is your favourite Alan Pardew moment from his time at Newcastle?