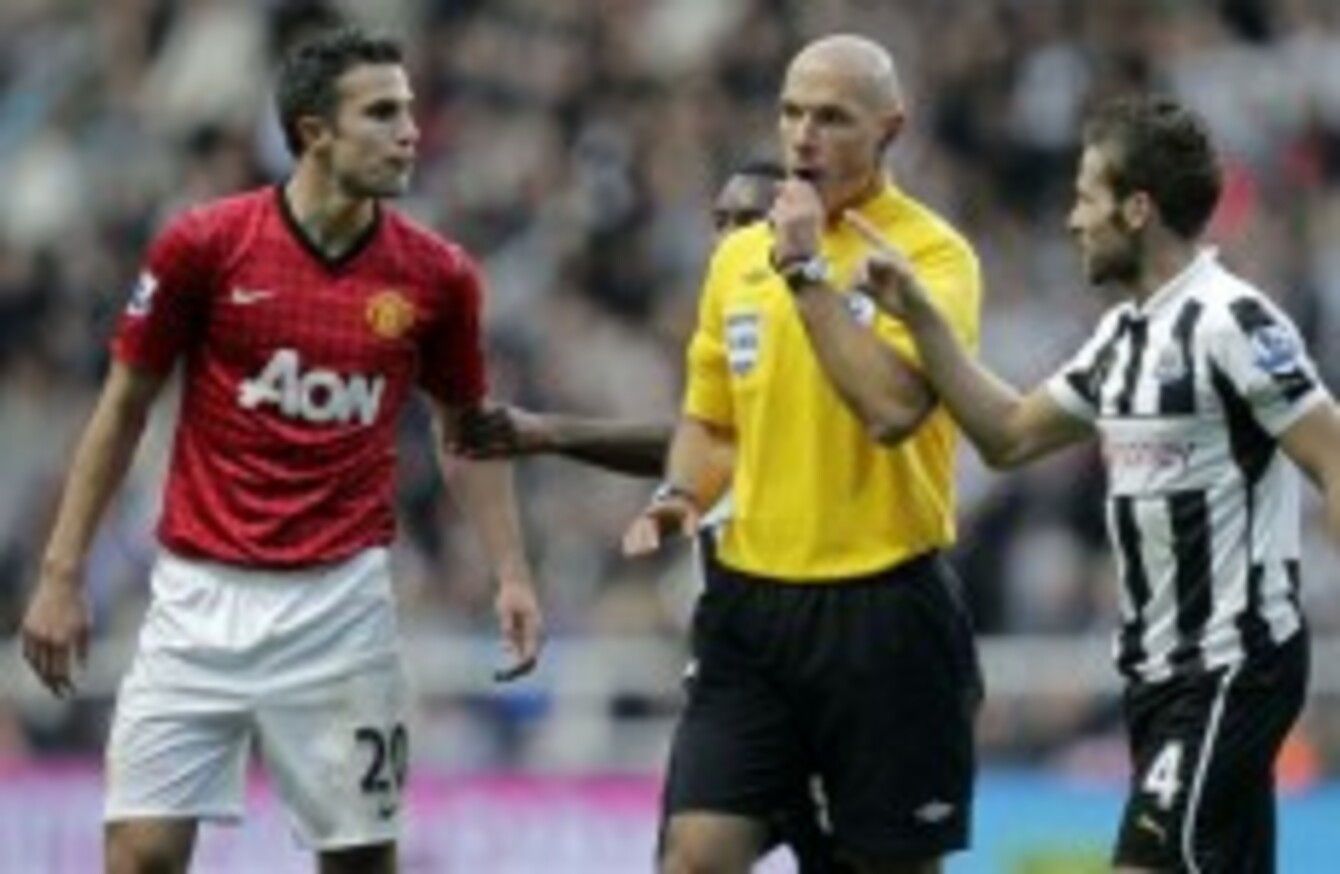 Van Persie, Howard Webb and Cabaye yesterday.
Image: Getty images
Van Persie, Howard Webb and Cabaye yesterday.
Image: Getty images
NEWCASTLE UNITED MANAGER Alan Pardew says The Football Association must take action against Manchester United striker Robin van Persie.
Pardew believes the Dutchman deliberately elbowed Newcastle midfielder Yohan Cabaye during the side's Premier League clash at the Sports Direct Arena on Sunday.
"He [Robin van Persie] has looked at Yohan [Cabaye] and he's elbowed him. And I think perhaps that needs to be looked at," Pardew said after the match.
"There was a bit of history last year and I don't know if Robin has got caught up in that but that was just a little bit of unsavouriness in the game.
I actually thought that Yohan wouldn't have gone down if he [van Persie] hadn't done something. I didn't see it myself but I've obviously seen it on the replay and it looks like he looked at him and put his elbow there," he said.
Manchester United won the game 3-0, leaving the North East club with only two wins from their first seven outings.
The hosts had thought they'd scored at one point, but Demba Ba's headed effort was adjudged not to have crossed the line.
"I'm still not sure whether it's all in or it just stayed out. I guess my sidings, where I sit, might suggest that I think it's a goal. But it is very very close," Pardew said.
"And you would like to have that picture, to have it conclusive. Without a doubt, he's looked across the ball and it's gone right in the top corner and the game's over unfortunately for us.
The visitors scored two goals via headers from corners by Jonny Evans and Patrice Evrwa during a dominant opening 20 minutes and then defended superbly to repel a Newcastle fightback before Tom Cleverley's cross-shot looped into the top corner to make sure of the three points.
"The goals were not wonder goals they were two set plays. We are very disappointed with the goals and how organised we are as a rule."
"After the second goal went in I thought we were terrific. And for 20 minutes of the second half we bossed the game and it looked like we were going to get a goal. Half-time came when you didn't really want it to come. But we came out second half in the same mode which I was pleased with."