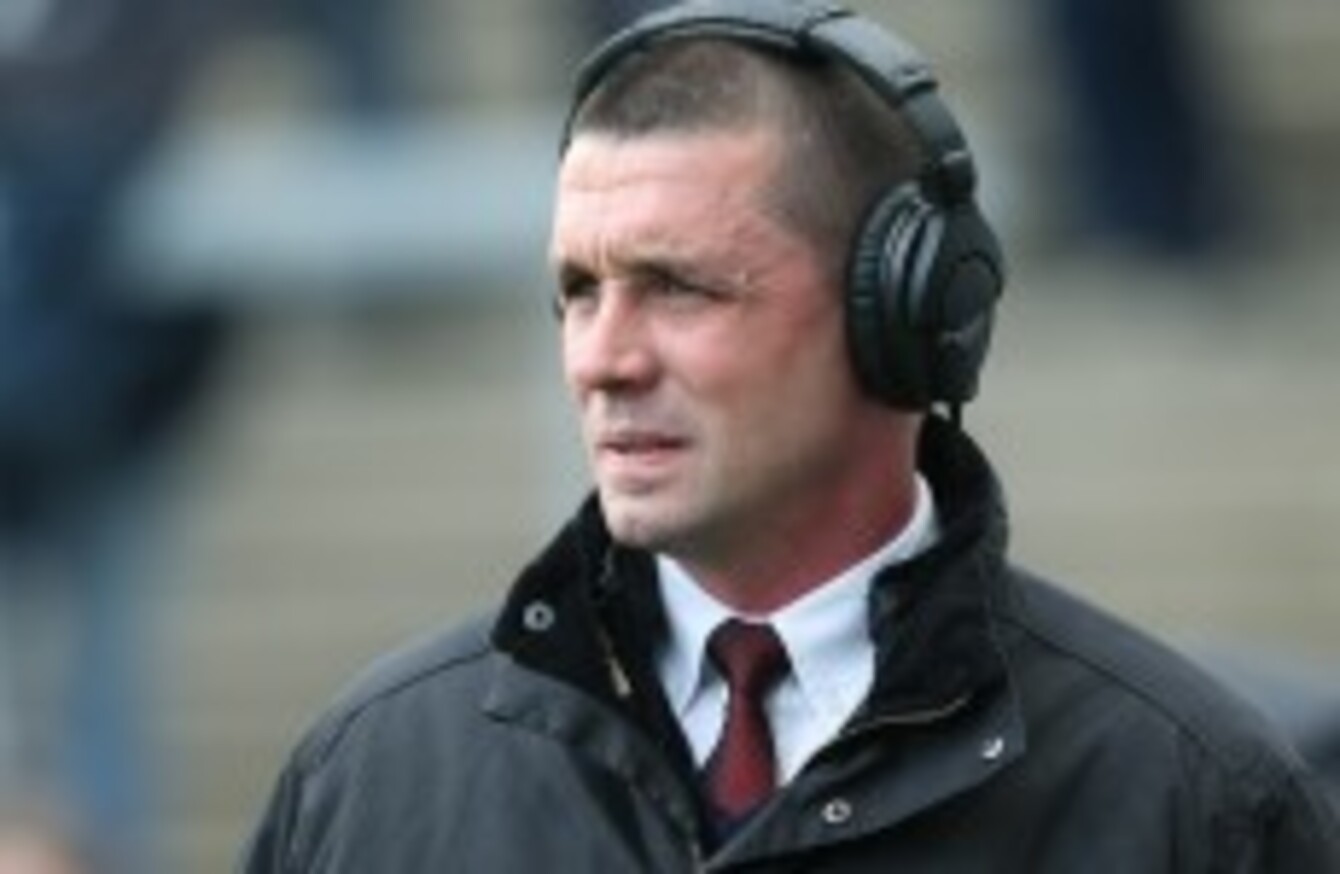 Alan Quinlan now works as a rugby pundit in addition to being a passionate mental health advocate.
Alan Quinlan now works as a rugby pundit in addition to being a passionate mental health advocate.
SPORT, AND PEOPLE'S attitudes towards it, constantly changes. One area where there has been a conspicuous shift, particularly in Irish sport, over the last few years, is in relation to mental health.
Former rugby star Alan Quinlan is one individual who has both reaped the benefits of this change and also played an important role in influencing people's attitudes towards an issue that often tends to be stigmatised.
Indeed, Quinlan witnessed first hand the impact of this change. At the age of 24, the former flanker revealed to a doctor that he was feeling depressed, yet he was told that everyone had problems and essentially encouraged to ignore his illness.
Later in Quinlan's life, his mental health issues worsened. Disappointments in his Munster career, in particular the emphatic 2009 Heineken Cup semi-final loss to Leinster, left the star disillusioned. The 12-week ban he received for eye-gouging on Leo Cullen during the aforementioned game, which caused him to miss the subsequent British and Irish Lions tour that summer, exacerbated his growing anxiety, while his marriage ended the following year.
Again, Quinlan sought help, but on this occasion, people were more receptive to his problems. He was put on medication and began seeing a psychotherapist regularly.
Nowadays, Quinlan is in a much better place and he has consequently taken it upon himself to reflect on his mental health difficulties in an open and articulate manner.
"I've tried to become more aware of my own mental health and to develop some strategies for building my resilience," he tells The42.
Having gained an understanding of the damage caused by stigmatising mental health problems, Quinlan has in recent years become a passionate campaigner for issues such as depression, in addition to being an accomplished rugby pundit.
"The first task is just to tell someone," he says of the advice he would give to a person who is suffering from the illness.
"See if you can figure out a strategy or a plan and sometimes, you can't figure it out yourself. You need someone to help you with it. So the important thing as well is to try to understand your stress and what's causing the problems.
"Sometimes, people don't think it's apparent what's causing their difficulties or challenges, so other people can help you with what's going on and give you some advice — it's a really nice comfort when you can talk to someone and get that weight off your shoulders."
Of balancing life as a rugby pundit with being a mental health spokesperson, Quinlan — who retired from the sport in 2011, having made over 200 appearances for Munster — adds:
"It hasn't been part of the plan for me. I feel it's important to share my experiences and it's quite fulfilling for me as well.
"Rugby's been a part of my life all my life. I'm in the dream scenario now where I'm part of the game, so that's been incredible. One doesn't have to complement the other — it's just part of my job really.
"I've been a professional rugby player for 15 years and with the disappointments I've had, I want to use what I've learned from sport, which made me more resilient and made me really understand the importance of health and wellness."
Quinlan will be speaking on the topic of mental health along with Roz Purcell (nutrition), Gerry Duffy (motivation) and Kathie Stritch (fitness) at the Wellness Workshop in the G Hotel Galway tomorrow, and the former Ireland international emphasises that — contrary to certain stereotypes — elite athletes are as susceptible to depression as anyone else.
"I think everyone's under stress — health and well-being is about how you manage your stress and emotionally how you look after yourself.
"I think it's different for sports people, because it's more apparent and they're in the public eye, so sometimes it can be more difficult for them to talk about it because they're judged on what they say.
"There's no doubt about it, there's performance pressure week after week if you're playing elite-level sport, and that can bring its own stress and its own challenges and its own worries. Mental health and wellness doesn't discriminate, it doesn't mean you have to be down on your luck to be struggling — it can affect anyone at any time even if you're successful."
And as difficult as it can be for everyone, including top-level athletes, to deal with, Quinlan feels the situation has been changing for the better in recent years.
Another retired Irish sports person, the ex-Millwall and Ireland footballer Richie Sadlier, has in the past discussed his initial reluctance to be open about problems from which he suffered during his playing days, for fear it would have been perceived as a weakness, thereby giving the manager a reason to drop him from the starting XI.
By contrast, of late, there seems to be a greater empathy towards those suffering with mental health problems in the sporting world. Past and current athletes, including Shane Carthy, Conor Cusack and Alan O'Mara, have all been open about their mental health difficulties, while measures have been put in place by the GPA and other organisations to reduce the stigma of depression among athletes, raising awareness of the problem on a wider scale in the process. Quinlan agrees that the situation has changed for the better.
"Thankfully, there's more and more people talking about it and discussing the importance of mental health. It's certainly a positive thing because more people understand the importance of health and wellness. It can help change the dynamic and break down the stigma of people feeling unwell or afraid to speak and make some positive change in their own life.
"Someone said to me recently that they were struggling with anxiety and they heard me say something about it. It made them feel like they weren't the only one. That person was comforted and it gave them a little bit of confidence to try to deal with their anxiety and stress, so it does make a difference. I've been very lucky in sport and in life to have these opportunities.
"But you can only bring the horse to water, you can't make it drink. So it's really important that people want to get better, though they need help for sure.
"If we're a little bit more open and we have more empathy around the importance of mental health, sometimes we just send out really positive messages to people around us to give them a little bit of encouragement or confidence to make things better for themselves."
He continues: "These are just real-life issues, and the better you help a person feel, the better they can perform. If employers are willing to promote positive mental health within their organisation, it sends out good messages to people. It's a fine line between having to perform at an elite level and telling a coach that you're feeling unwell, but when a player or a sports person knows that there's an understanding there, sometimes that can give the person the confidence to get better and to perform in that team as well.
"That dynamic is changing and that is thankfully down to a lot of sporting bodies buying into the importance of positive mental health."
As for his own past mental health problems, Quinlan says he is determined to look forward to the future and not dwell on what's come before.
"I don't look back as part of my positive mental health. I can't change what happened in the past so I look forward at what I can be in control of. You learn from adversity — there's nothing I can do about it. It was a tough experience, and it'll always be there, but I just try to keep moving forward."
Alan Quinlan will be speaking tomorrow at G Hotel Galway as part of the Wellness Workshop, which takes place from 9.00am to 5.00pm. More info on the event can be found by visiting www.irishwellness.ie.
Helplines:
Console  1800 247 247 – (suicide prevention, self-harm, bereavement)

Aware 1890 303 302 (depression, anxiety)

Pieta House 01 601 0000 or email mary@pieta.ie - (suicide, self-harm)

Teen-Line Ireland 1800 833 634 (for ages 13 to 19)

Childline 1800 66 66 66 (for under 18s)