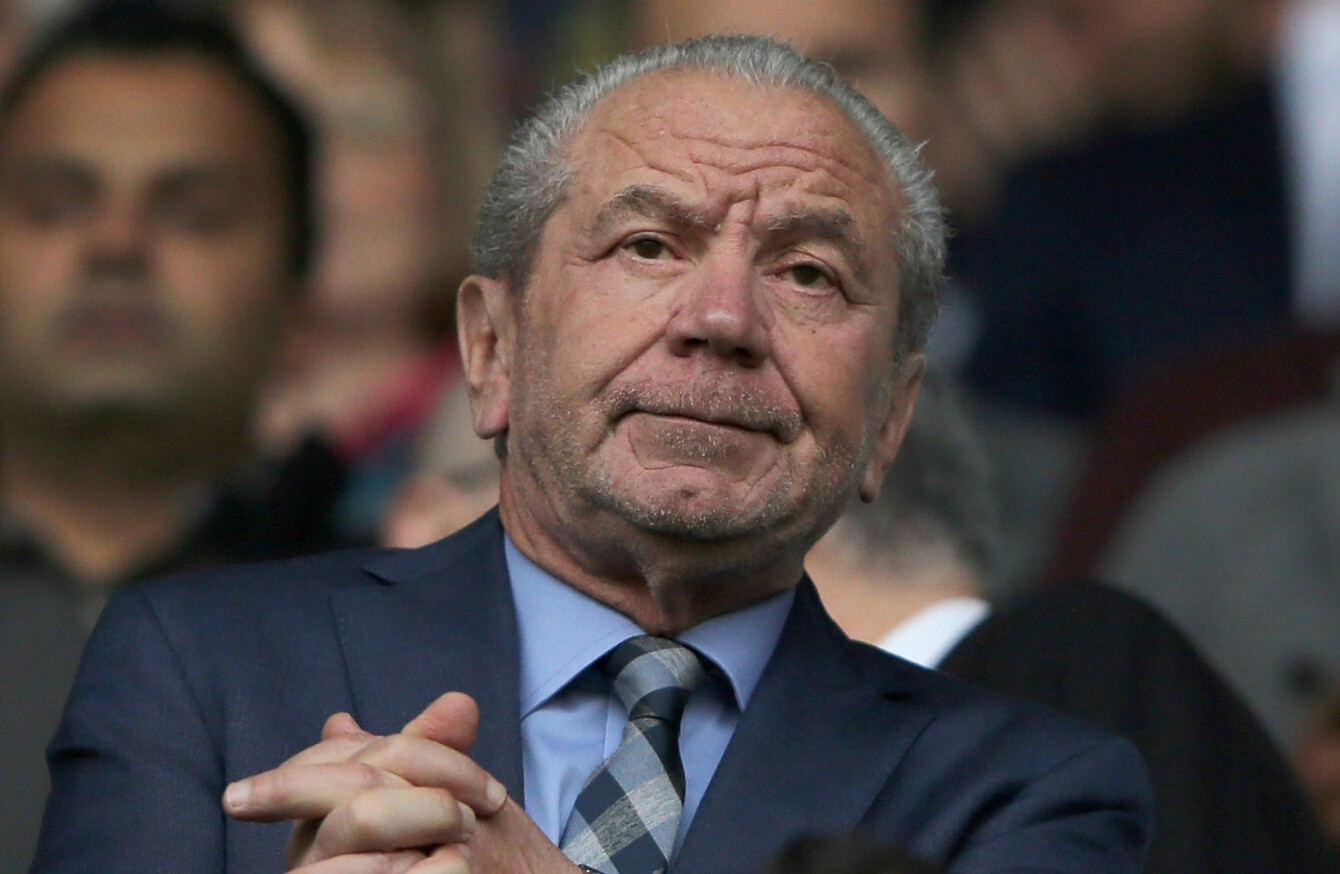 DESPITE INITIALLY REFUSING to do so, Alan Sugar has apologised for a tweet which caused controversy following Senegal's 2-1 World Cup win over Poland.
The west African side won their first game at the 2018 World Cup yesterday having returned to the tournament for the first time since 2002. An own goal and a second-half strike from M'Baye Niang gave Senegal all three points to go joint-top of Group H with Japan.
Football fans around the world celebrated Senegal's stunning win, but Sugar's attempted joke about the victory backfired spectacularly: the ex-Spurs chairman was accused of racism when he posted an edited photo of the Senegal starting XI, along with images of sunglasses and handbags, together with the caption:
I recognise some of these guys from the beach in Marbella. Multi tasking resourceful chaps.
The joke sparked an angry response on Twitter, with many asking that Sugar's distasteful tweet and photo to be deleted.
That was only exacerbated when Sugar initially refused to acknowledge any wrongdoing, writing: "I cant see what I have to apologise for …. you are OTT … its a bloody joke."
Actress and fitness guru Kelechi Okafor was among those who described Sugar's comment as 'racist', saying:
He's one of those wilfully ignorant people who thinks he can't be racist because he grew up poor. The tweet is overtly racist but he has said with his chest that he has nothing to apologise for.
Sugar, though, continued to insist that the tweet was merely a joke that people misunderstood:
"Just been reading the reaction to my funny tweet about the guy on the beach in Marbella," he wrote. "Seems it has been interpreted in the wrong way as offensive by a few people . Frankly I cant see that I think it's funny. But I will pull it down if you insist."
He also became involved in a war of words with BBC journalist Babita Sharma, who posted a screenshot of the offending tweet, calling it "A shocking, vile tweet that you take a screen grab of because you know it will soon be deleted."
Sugar responded: "if it so vile why have you retweeted it. You make me sick."
He then deleted the original tweet along with all allusions to it, posting the following apology:
I misjudged me earlier tweet. It was in no way intended to cause offence, and clearly my attempt at humour has backfired. I have deleted the tweet and am very sorry.

— Lord Sugar (@Lord_Sugar) June 20, 2018
The BBC, on whose network Sugar stars in The Apprentice, also released a short statement on what they described as a "seriously misjudged tweet":
Lord Sugar has acknowledged this was a seriously misjudged tweet, and he's in no doubt about our view on this. It's right he's apologised unreservedly.

— BBC Press Office (@bbcpress) June 20, 2018
- Omni
The42 is on Instagram! Tap the button below on your phone to follow us!