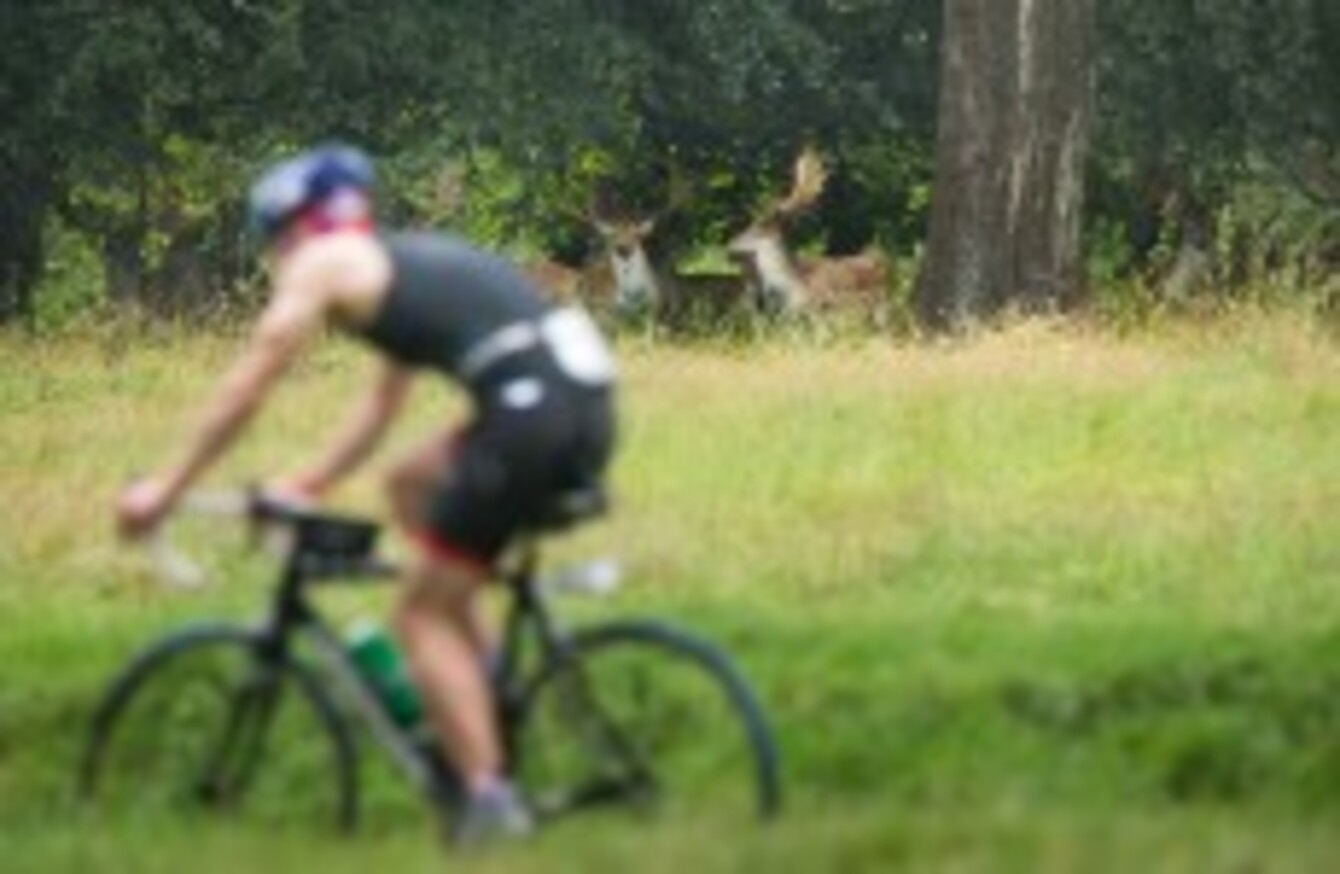 A cyclist passes deer during the Vodafone Dublin City Triathlon National Championships in the Phoenix Park, Dublin last month.
Image: Morgan Treacy/INPHO
A cyclist passes deer during the Vodafone Dublin City Triathlon National Championships in the Phoenix Park, Dublin last month.
Image: Morgan Treacy/INPHO
ALDI MIGHT NOT be the first place you think of when it comes to buying your cycling kit or assorted extras but you'll be surprised to know the quality is a lot better than the price would suggest.
Such is the huge interest in cycling now that some companies are charging outrageous prices for kit that isn't deserving of such hefty tags, purely because they know it'll sell. More expensive is better, right? Not necessarily.
The most expensive item in the Aldi range is the Garmin 500 Edge computer, a quite remarkable piece of kit for an even more remarkable price of €109.99. The same item costs €192.49 with bike retail giants Chain Reaction so I know where I'd be going.
Whether you're a racer, a commuter, a weekend warrior or a casual cyclist, there is cycling kit in Aldi for you. I'm a racing cyclist and while I do preach the virtues of some other brands, the Aldi stuff has a place in everyone's wardrobe and hand on heart, some of the best kit I've ever bought has come from there.
Two pieces of kit stand out; winter and summer gloves. I have both for over two years now and for comfort, price and quality they are yet to be beaten. The fingerless summer gloves fit so, so well and unlike some gloves, they don't 'bunch' when you grab the handlebars. I know of gloves that cost €80 that do.
For the winter gloves similarly, fit is one thing but for keeping out the cold, they are unbeatable. They are not waterproof but on very cold mornings, you won't find better value for €6.99. Buy two pairs of each and you won't buy more for years.
The number one item every cyclist should have are bib tights and this is the real test. You simply need to be comfortable sitting on the bike because if you're not you'll develop saddle sores and these are enough to take you off the bike for a spell and maybe even off the bike for good.
Be part
of the team
Access exclusive podcasts, interviews and analysis with a monthly or annual membership.
Become a Member
The bib tights, sold under the Power Armour brand name are definitely limited in a couple of key areas, but it's not all bad. Firstly, they're warm and on the coldest of mornings for your commute to work they are hard to beat. They slip on very quickly and the fabric has that oh-so-lovely fleecey feel.
They are also lined on the front with a wind-stopping fabric while there are some decent design touches, like comfy bib loops that go up over your shoulders (obviously). For me, however, the fit was quite poor and though I am probably a size small, so these were still too big (because they were Medium – Aldi do not stock small stuff). This is where the trouble starts.
The fit meant they were baggy in too many areas and when this happens it results in 'rubbing' in all the wrong places and the aforementioned friction leads to all kinds of discomfort. The padded section at the rear is okay but it could be thicker, so for long rides don't expect to have a comfy journey the entire day.
Then again, this can be said for practically all bib tights. Overall, if there's one area of bike clothing where skimping on price is a false economy, it's shorts and tights, but at €34.99, these are definitely worth it.
Two other brilliant investments for the winter are the turbo trainer, priced at €79.99 and the helmet/backpack cover for €7.99. The former is solid as a rock but it doesn't give you as much resistance as perhaps you'd like – and it's definitely not light or quiet, but perfect if it'll be stationed in the garage for those midweek one-hour blasts.
The cover is hard to ignore as it'll keep your head bone dry – and your schoolbag too. The lights are generally poor and these are probably best avoided. They're simply not robust enough, but if you want one final tip, the winter jacket is a must.
Overall, a thumbs up from us here so if you need some kit, get down to Aldi before the weekend because this stuff will not last!
It never does.