THE DEPARTURE OF Jacques Nienaber back to South Africa was as good as certain as soon as Rassie Erasmus' exit from Munster was confirmed, but the province probably expected that their defence coach would be the final one to sign for the SARU.
However, they are now searching for a new head of athletic performance after yesterday's official confirmation that Erasmus has convinced Aled Walters to join the South African union in March, rather than extending his contract at Munster.
The circumstances around Erasmus' mid-season departure were not ideal, of course, and the feeling that he had knowingly misled supporters in terms of his future plans left a bad taste for some.
It would be understandable for Munster to be further frustrated by losing Walters to someone who is so familiar with his importance to the province, but they are bearing no grudge against Erasmus.
"Look, Rassie is a top, top quality coach," said Munster head coach Johann van Graan, the man who replaced Erasmus. "Whatever role he is going for in South Africa he'll want the best people involved, so he wouldn't have wanted Aled there if he's not the very best.
"Rugby is rugby, pro sport is pro sport. I said it on my first day; we see this as a train, as a journey. There's a starting point and an end point, some guys will get on and some guys will get off.
"It's about Munster and the people working here. We want special people here. If people leave, we wish them well. When people arrive we want the very best for Munster."
Van Graan is a very positive character and he doesn't believe there will be any great disruption for Munster, despite the fact that the popular Walters – who has been with the province since 2012 – will leave at a crucial point in the season.
The 37-year-old Munster boss paid tribute to Walters' impact but stressed that life will move on.
"He's such a fantastic individual, a big part of Munster, fits in so well with the culture," said van Graan. "He drives the players – you've just got to look at them physically, a lot of it is up to him.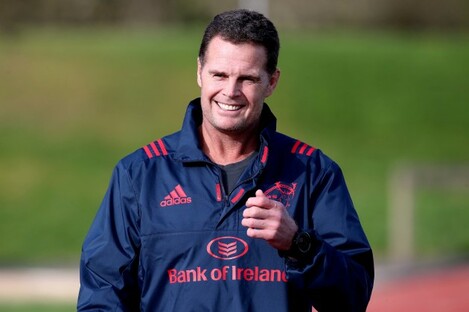 "But we also want to wish him well. If you get an international opportunity, to work with an international team, you know, if he wants it that's great for him. He was offered a contract extension at Munster but he wanted to move on and we want him to embrace it and use it to enhance himself.
"It's a big loss to Munster but we'll adapt. Luckily this team is very good at adapting and accepting change. Change is one of the only constants in life, there will be change. He's here until March, we'll find somebody good.
"If you look at the personnel at Munster, you know, Aidan [O'Connell, senior strength and conditioning coach] is almost part of the furniture, he's a lot older than this HPC [High Performance Centre], so we'll just adapt and move on."
The42 has just published its first book, Behind The Lines, a collection of some of the year's best sports stories. Pick up your copy in Eason's, or order it here today (€10):