ALEX FERGUSON HAS been spending his retirement at the snooker table, it seems.
The former Manchester United boss joined 1991 world snooker champion John Parrott for a couple of games for the BBC's coverage at The Crucible and the conversation inevitably turned to Ronaldo v Messi.
"Ronaldo was the biggest because he came as a young, skinny kid at 17," said the Scot, when asked which player had improved most under his guidance. "They used to criticise him about his diving and all the rest but once the player got about him on the training ground he was fantastic.
"The most important thing for a player is his decision-making, and that improved over time. Him, Scholes and Giggs - you have to say those three. Robson, Keane, Cantona... they were great players and we were fantastically lucky that way."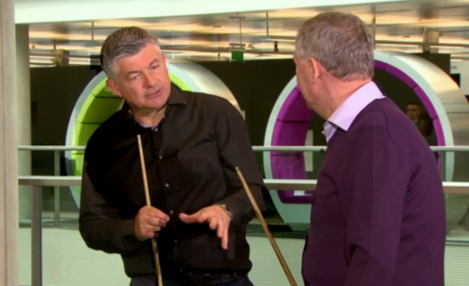 "People say 'who is the best player?'," he added. "Plenty say Messi and you can't dispute that opinion but Ronaldo could play for Millwall, Queens Park Rangers, Doncaster Rovers, anyone, and a score a hat-trick in the game.
I'm not sure Messi could do it. Ronaldo has two feet, he is quick, great in the air and brave. Messi is brave of course but I think he is a Barcelona player."
Leo might have a thing or two to say about that.
Watch the clip below: