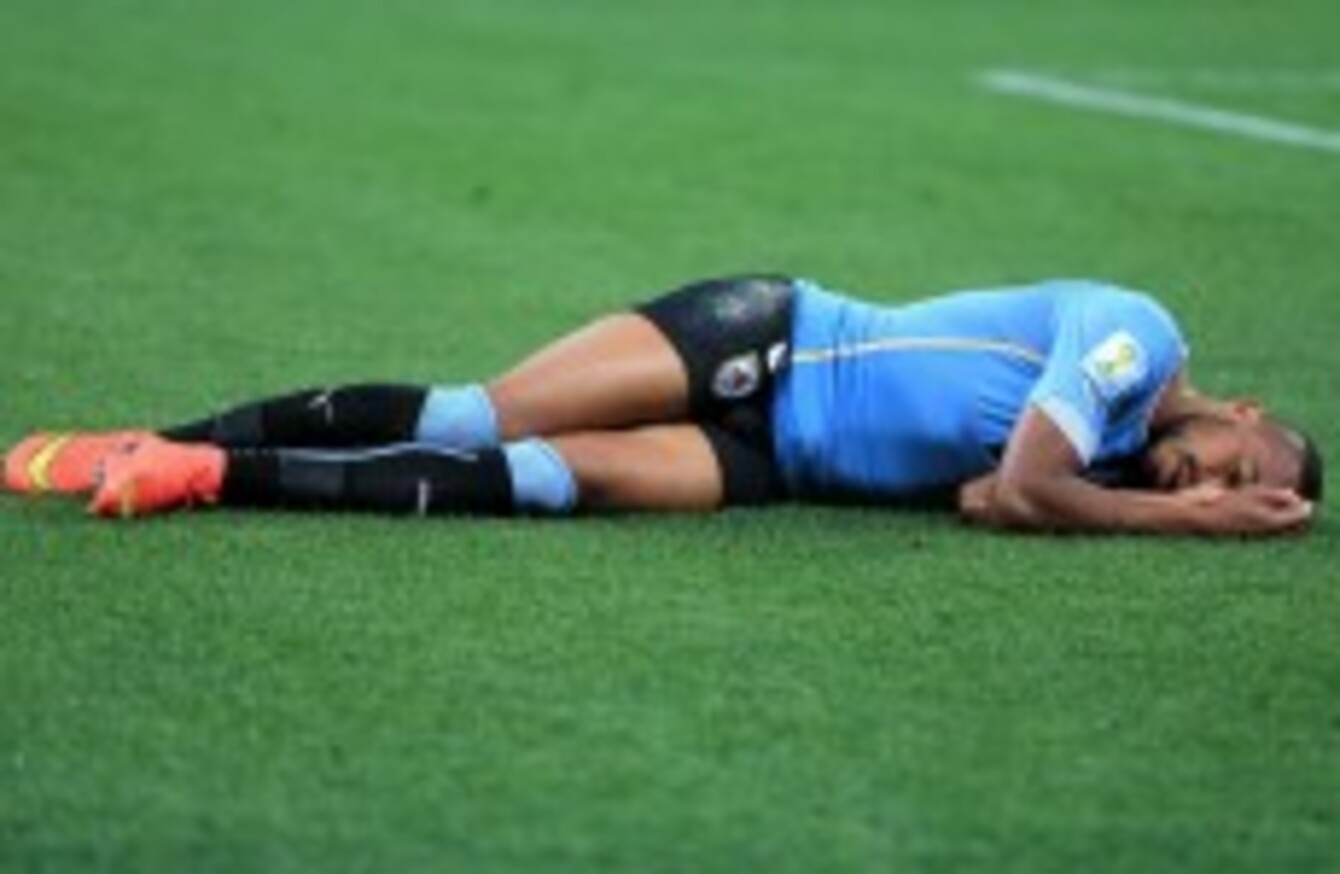 Alvaro Pereira after a coming together with England's Raheem Sterling.
Image: Nick Potts/PA Wire/Press Association Images
Alvaro Pereira after a coming together with England's Raheem Sterling.
Image: Nick Potts/PA Wire/Press Association Images
AS ÁLVARO PEREIRA lay unmoving on the Arena de Sao Paulo pitch last night, Diego Godin rubbing his team-mate's chest while anxiously calling for Uruguay's medical staff, thoughts immediately turned to the 72nd minute of the 2003 Confederations Cup match between Cameroon and Colombia and the tragic death of Marc-Vivien Foé.
It was initially unclear what had caused Pereira's collapse, the commentators on RTÉ certainly didn't know. Then the replays started and the sickening reality of what had happened the 28-year old began to sink in.
While attempting to tackle England's Raheem Sterling, the two collided with the Uruguayan feeling the full force – albeit accidentally – of the Liverpool player's knee.
It makes uncomfortable viewing and even as a still, you can tell the force of the impact Pereira received.
Soon after, concern turned to anger as Pereira overruled his own doctor's advice that he should be substituted and – you'd have to imagine – with the consent of Uruguay manager Óscar Tabárez, stayed on the pitch for the final 29 minutes of the game.
While most condemned the decision not to substitute him, there were those who praised Pereira for his "heart" and showing he was a "warrior" for continuing to play. Just do a quick Twitter search for any combination of those words and you'll see that there are still many people who don't appreciate just how dangerous concussions are.
"Until we change the way people view concussion and see it as a serious injury, we're going to have a long road fighting this and getting players off the pitch," Karen O'Boyle of Acquired Brain Injury Ireland (ABII) told TheScore.ie today.
"We have to get away from pundits, players and fans saying things like 'isn't he a warrior, didn't he do great.'
"He may be a warrior on the pitch but he's somebody's son, boyfriend, husband off it and he has to go on and live a life after his career is over.
"To do that he'll need his full cognitive abilities and it's not like a knee injury – where, when you retire, you can still live a full life – so I think people really need to start taking these type of injuries more seriously."
ABII – who provide a range of services to people who have suffered brain injury – know first hand the impact of head injuries and, though football doesn't have official protocols to deal with concussions the way rugby does, O'Boyle says the correct thing to do in this situation was clear.
"It's simple, the player has to get off the pitch and have no say in the decision. For the manager, he needs to step up and support his doctor."
She also thinks referees should play a bigger role in ensuring player safety.
"Of course there would be complications if the referee was to make a final decision – because fans might think they are siding with one team over another – but if the message comes from the team doctor to the referee, then they have a responsibility to stop the game until that player is taken off."
The incident has also sparked a strong reaction from FIFPro, the representative body for professional footballers, who called for FIFA to conduct a thorough investigation into its own competition concussion protocol.
"We are seeking urgent talks and immediate assurances that FIFA can guarantee the safety of the players, which must be priority number one, for the remainder of this tournament and beyond."
As for Pereira himself, he has apologised for his actions after the incident telling The Guardian:
"I said 'sorry' a thousand times to the doctor because I was dizzy. It was that moment your adrenaline flowing in your body, maybe without thinking … what I really wanted to do was to help get the result."
O'Boyle though, says the fault can't lie with the player:
"ABII would say a concussed player is not in a fit state to make a decision on a return to play after a hit to the head because their decision making is clearly impaired."
Nearly 11 years to the day Marc-Vivien Foé collapsed in the centre circle never to regain consciousness, Álvaro Pereira was, thankfully, able to walk off the field under his own steam.
We can only hope there are no long term impacts for Pereira personally but at least it has football fans talking about concussion and hopefully those that can make the sport safer will take heed and take the necessary decisions.
However, that Pereira's life was put in danger – specifically from second impact syndrome – to win a football game should never have happened and leaves a stain on what has been a fantastic World Cup.