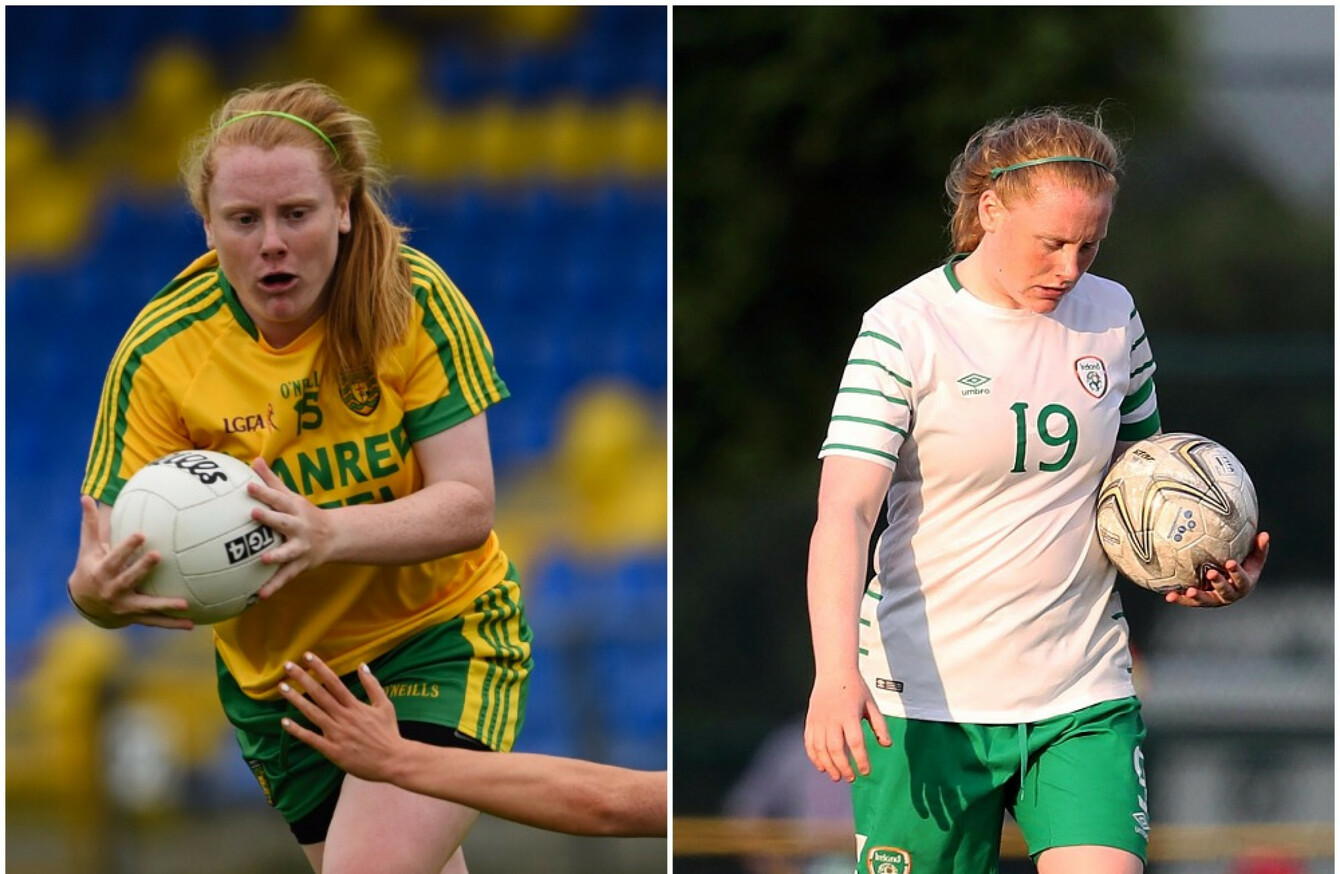 SOMETIMES THERE SIMPLY aren't enough hours in the week and when trying to fit inter-county demands, captaining the Women's National League leaders, college, work and placement into seven days, something eventually has to give.
For Amber Barrett the sacrifice was a mighty one. On the one hand she was an integral part of a Donegal side pinning towards the holy grail of the county's first ever All-Ireland title. On the other was the start of a promising international football career at senior level for her country.
When playing at underage level, fitting multiple sports into the week is a seamless joy for children and teenagers. However crossing the line into the elite level of All-Ireland championships and World Cup qualifiers the task grows tougher as standards begin to increase, demands rise and the commodity of time only grows smaller and smaller.
For Barrett this past summer came a point where trying to fit it all in was no-longer possible. Despite as she did to persist with both sports on top of work and college to the point of a health scare back in February, the 21-year-old finally made the call she had been dreading for so long — stepping away from the Donegal panel.
"Until a lot of people play GAA for their county they won't really understand the commitment," the Ireland international said speaking to The42 this week.
You're playing with girls that you've been with for the last five, six, seven years. It was really hard for me to leave the panel and especially when I see how good the team and the set-up is at the minute.
"I definitely think there's an All-Ireland in that team and if you had asked me in January I would have said that to win an All-Ireland with the Donegal ladies is at the top of my list.
"For me it was a fear of missing out. I had the fear that if I left Donegal they would go and win the All-Ireland or win an Ulster championship. I was afraid I would be asking myself 'why did I leave? I could have been a part of that'".
Form for Peamount — who continue to top the Women's National League — as a deadly, free-scoring striker up front, caught the attention of Ireland Women's National Team manager Colin Bell, who called the Pea's captain into his squad for the 2017 University Games in August.
That consistent performance level continued in the green jersey in Taiwan and after building her way up through U15, U16 and U17 level for the national team the call came that she would be part of the senior side for their opening World Cup qualifier against Northern Ireland.
It was a dream she always held deep within, she says, but one she never truly believed would come to fruition until the moment came when manager Bell called Barrett from the substitutes bench with five minutes remaining in Belfast — meaning that she would be crossing the white line to make her senior international debut.
"It was an incredible feeling," she recalls. "Colin told me when we were in Taiwan that he had selected myself and Claire Walsh to go into the senior squad for the Northern Ireland game.
"That itself was a huge moment for me because it was something I had been building towards. One minute, five minutes it didn't matter the amount of game time that it was — to get the debut last month was massive for me.
"I thought I had a good weeks' training behind me and even if I hadn't gotten any game time I wouldn't have minded, because I'm still finding my feet. But I was very thankful that Colin did give me the last couple of minutes. It's a moment I'll never forget.
To be involved for such a massive win against Northern Ireland, which isn't too far away from home was nice. It was a huge night for me and for my family."
Ireland led the hosts 2-0 at the point of Barrett's introduction in the 86th minute after an own goal from Rachel Furness was added to by a strike from Manchester City defender Megan Campbell.
It was Bell's first competitive game in charge since taking the post from Sue Ronan in February and at the same time the result produced a seismic win to get their qualifying campaign off to the best possible start.
For Barrett, getting called into the squad alone was a personal highlight. Making her debut was the icing on the cake, she admits, but getting the chance to call herself team-mates with footballers she had idolised all throughout her international underage levels was something to drink in and savour.
"You think back to your time at the U15s and U16s and you're always thinking about the senior team, but it's something that almost feels light years away," she says.
It's something that you always have in the back of your head, but again it was never something that you'd imagine would happen.
"I think the most surreal moment for me was being told 'you're coming into the senior camp' and getting the chance to meet the players that you grew up hearing about. The likes of Louise Quinn, Diane Caldwell, Niamh Fahey, Megan Campbell — girls that have been just phenomenal figures for women's football in Ireland.
"You're sitting beside them at breakfast time, having the craic with them — and the girl's have been just fantastic. They are role models for me coming in. Getting to come in and play alongside them is something that I never thought I'd get the opportunity to do — I'm absolutely blessed that I did.
The younger players in this squad can see that a lot of the senior players have a huge amount of success behind them. They've won everything there is to win in club football and played at international level as well, so I'm looking at these players and thinking 'why can't I have that opportunity too?'
"I look at these girls and know that if I keep my head down and keep working there's no reason why I can't be in their shoes."
Barrett got the guts of 10 minutes during the win in Belfast, however this evening's qualifier against Slovakia could very well bring with it a first ever start. With forwards Áine O'Gorman and Stephanie Roche both ruled out through injury, a place in the starting eleven has opened up.
Barrett remains grounded. Should the opportunity come it would be another dream realised. If not, more chances will be there in the future.
"It's something that I'd be hoping for, but again there a lot of girls in this squad that would be well capable of taking the jersey if needs be," she reflects on the chance to start up front later today in Senec.
Training has been really good this week, everyone is really sharp plus there are a few new names in the squad as well. Of course I would be delighted if Colin did give me the nod."
It's been a transformative past six months for the young striker. She has led her Peamount side to the summit of the Women's National League with two games to go and is also the league's top scorer with 15 goals to her name.
Making the call to step away from inter-county duties at the start of the summer was necessary not only for her health and well-being, but also her future career as an athlete.
Trying to keep up both meant she could not perform to the best of her abilities in either, she says, and because of that she had to bite the bullet.
"That's the thing," she says. "I didn't look after myself. I had a bit of an illness in February and it was probably just because I had run myself into the ground.
When I was trying to balance Peamount and Donegal I think the thing that was being affected most was college.
"There was a time where I stood away from both sports and said to myself that I just had to focus on my studies because I was in my final year. I knew I had to be mature about it and make the right decision.
"Thankfully I got through my degree, got into my teaching Master's in DCU and was able to go through into the summer and make my decision to step away from inter-county football.
"It was a matter of trying to work both, but it was impossible. Whatever about playing at underage level, when you get to senior level you can't. You just can't.
"For the commitment that's required of both, you struggle to find time to fit in your sport, your work and your college, but you can't fit in time for three or four things at the same time.
"Worst case scenario I can always go back, but the reality of it is I should have made this decision a long time ago. I've made it now and am very happy with where I am at the minute.
"My parents have been very supportive of me and they were content with me making a decision because they thought that I was being pulled left, right and centre trying to keep everybody happy.
Now I've got my first cap — something I never would have even considered six or seven months ago — and that came off the back of making that decision. Doing that was the first step to getting where I am now."
An athlete of supreme talent across multiple sports, Barrett could be in line for her first ever start for the senior international side today.
A footballer constantly proving the time-held conviction that those truly great players don't see sacrifices, but merely tough choices that must be bravely confronted and then met head-on en route to greatness and later success.
She will always have the chance to return to Donegal and help the effort to claim a first ever senior All-Ireland title in the team's history. For now though it's all about Slovakia. A first win against Northern Ireland has began their World Cup campaign with a bang, and a statement of intent.
Manager Bell has brought an air of optimism and a wave of realisation that with the quality within the squad at the moment, thinking about becoming the first Irish Women's National Team to reach a World Cup finals is not beyond their reach.
"I think that's exactly what everyone is looking for," says Barrett.
I don't think anyone is going to be content with just getting the first win against Northern Ireland. Colin has given us the belief now that we can push on and put the Irish senior women's team on the map.
"We're not a team that's going to just be unlucky getting beat by the big teams or just going through the motions.
"We want to qualify for a tournament, that's what everybody wants to do. And Colin has really, really instilled the belief in all of us that if we work hard and put our heads down there is no reason that we can't.
"The talent is there, the players are there. It's now just about having the right state of mind to believe that you are good enough to compete with the best. We want to take three points from Slovakia on Tuesday and then we can take it from there."
Subscribe to The42 podcasts here: