SEAN KELLY'S AN Post Chain Reaction are facing a fight against the clock in order to secure a new sponsor which will ensure the cycling team's future.
Following nine years' sponsorship An Post will no longer be backing the team, forcing them to search for a new backer before the 1 November deadline to register with the UCI, cycling's governing body.
An Post will also no-longer sponsor the annual Rás Tailteann following financial cut-backs at the national post service.
Chain Reaction has been recognised as one of Ireland's most successful cycling teams following its inception by Kelly in 2006 as the country's very first professional outfit.
It has developed some of the country's top riders over the last decade, including Sam Bennett, Ryan Mullen and Matt Brammeier, who have gone on to compete successfully at the World Tour.
"I thought I would have signed someone by now but it's proving more difficult than expected to be," Kelly told cyclist.co.uk on attracting a new sponsor for his team.
"I'm in negotiations with two sponsors so I am hoping one of them will take it on. I'd like to keep them Irish companies but there's interest from Europe because we race in these countries, France, Belgium etc."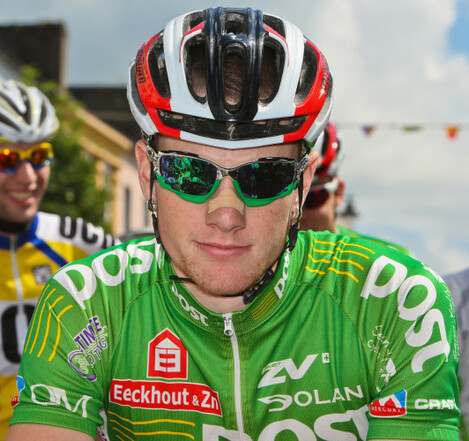 Sam Bennett rode for An Post Chain Reaction between 2011 and 2013. Source: Ciaran Fallon
Current and former Chain Reaction cyclists have achieved high levels of success in recent years, with former rider Bennett recording four top-three finishes at the 2017 Giro d'Italia earlier this year.
More recently rider Matthew Teggart delivered the first Irish win of the 2017 Rás by winning the third stage back in May.
This was followed by stage wins for team-mates Regan Gough and Przemyslaw Kasperkiewicz for Chain Reaction.
Bennett also previously recorded a stage win at the Tour of Britain for the team in 2013 and Kelly admitts that his side's successful performances at the Tour again this year will put his team in a positive position to attract a new backer.
"We raced really well at the Tour of Britain getting in most breaks," he said.  "It was especially hard as the race was usually controlled for the big sprinters."
"I hope that we can continue giving this experience to young riders and providing them with good racing."
Subscribe to The42 podcasts here: