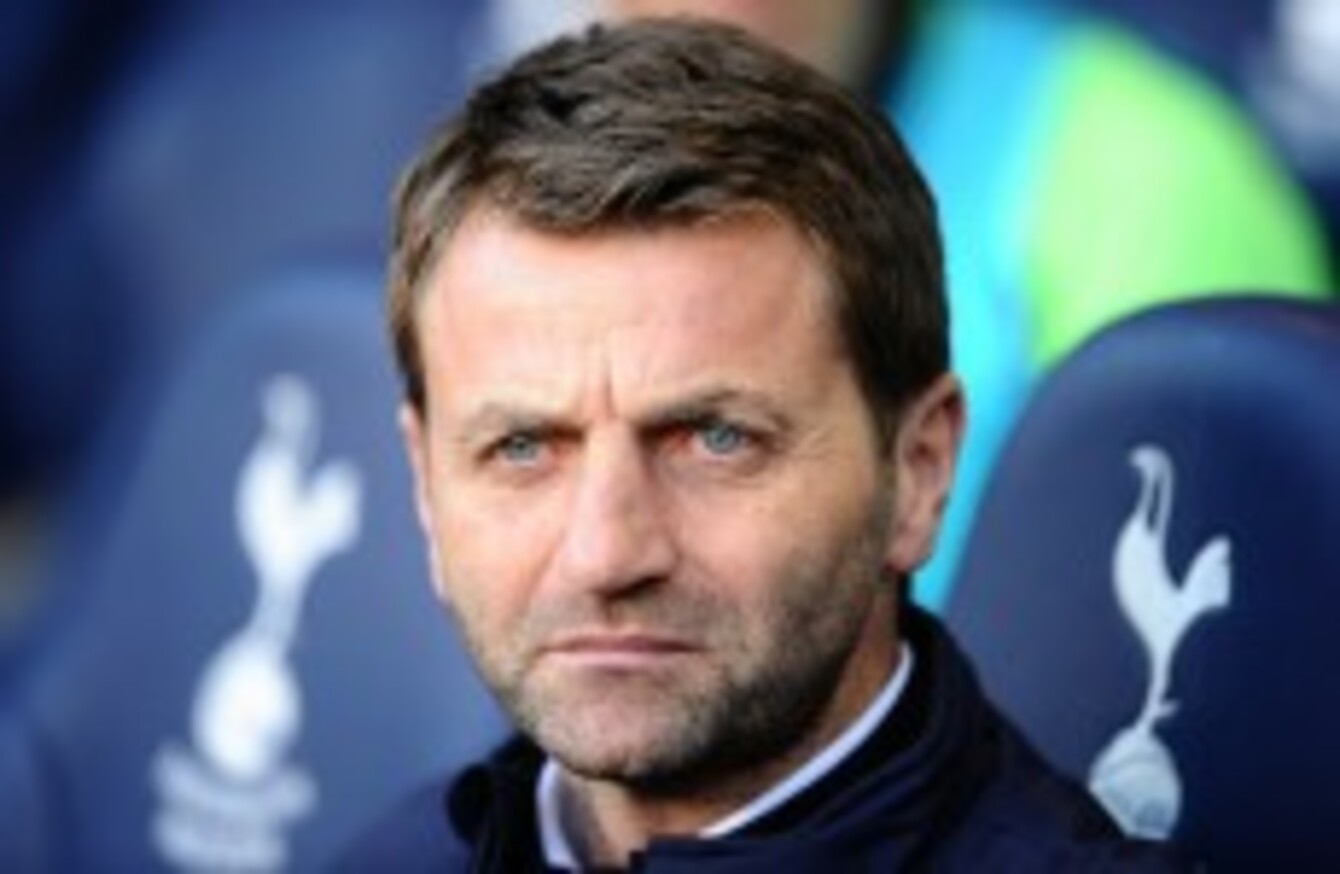 Critics have been taken aback by Tim Sherwood's unusually honest approach to post-match interviews.
Critics have been taken aback by Tim Sherwood's unusually honest approach to post-match interviews.
OVER THE WEEEKEND, David Platt spoke in refreshingly frank terms about the somewhat Machiavellian nature of contemporary football management.
Since leaving his job as Manchester City assistant boss last summer, he's gone down that well-travelled road of football punditry, which is seemingly favoured by so many out-of-work managers.
Yet the ex-England international was more honest and insightful than the majority of dormant-coaches-cum-pundits, who may or may not be looking for another job in football.
Working for Al Jazeera on Sunday, Platt leapt to the defence of Brendan Rodgers, after the host Richard Keys seemed eager to condemn the Northern Irishman for his defence of Daniel Sturridge.
To most people's eyes, the Liverpool striker had, at best, made the most of Manchester United defender Nemanja Vidic's challenge to win a penalty, and at worst, cheated to gain an advantage while callously getting a fellow pro sent off in the process.
Keys suggested there would be nothing wrong with Rodgers acknowledging that his player at the very least made the most of the situation, however Platt thought differently. He insisted that Rodgers was right to be entirely supportive of his player, irrespective of what he thought privately, emphasising the managerial code, which decrees that criticising your own players is almost always unwise.
Platt went on to admit that he had lied on several occasions during post-match interviews in his City days, with the implication being that an acceptance of the sensitive nature of the modern footballing dressing room is essential to the survival of any authoritative figure.
Brendan Rodgers, of course, clearly seems to be a firm believer in this idea. Even after an incident as clear cut and obviously egregious as Suarez's infamous bite on Ivanovic, he refused to immediately condemn his star striker's behaviour, and only did so when it was patent that no alternative argument was in anyway viable.
Yet while instances of unequivocal honesty are rare in football, they are not unheard of, even in the notoriously insincere world inhabited by inherently egotistical Premier League millionaires.
Tim Sherwood is the most notable recent example of an individual apparently willing to break football's unspoken code. Sherwood is a unique character, whose short stint as a manager has brought plenty of entertainment if not outright success at Tottenham. He claims to be someone who "calls it as I see it," rather than a manager who is an "actor" — an apparent dig at Jose Mourinho in retribution for the Portuguese coach being less than complimentary about Sherwood's Spurs side of late.
And the 45-year-old Englishman genuinely appears to practice what he preaches, at least if his interview following Tottenham's capitulation against Chelsea was anything to go by, in which he called his team "gutless" and "too nice". Yet this was a definite deviation from the norm, as evidenced by the sense of awe with which his words were greeted by the majority of the English press.
That's not to say that managers who neglect to speak entirely honestly necessarily make for bland interviewees. Despite seeming to believe that his players have never done anything wrong since birth and are the perpetual victims of the sordid machinations routinely practised by the powers that be, Jose Mourinho is invariably worth watching for the entertainment value he brings to proceedings.
Source: King7UK/YouTube
His latest comments about Chris Foy are yet another example of the vendetta he so consummately cultivates, with the ostensible intention of motivating his players and creating an 'us versus them' scenario. Tarnishing the name of Foy may be morally questionable, but such actions are common among many of the game's top managers — Mourinho, Alex Ferguson and Arsene Wenger — all of whom are considered masterful psychologists when it comes to dealing with players, also are well schooled in the art of systematic referee-bullying.
Even an arguably lesser manager, such as Harry Redknapp, who is regarded as being relatively straight talking, may not in fact be entirely the antithesis of these other managers' prevailing tendencies towards self-preservation.
Granted, Redknapp did once memorably infer that his wife could have scored a chance that Darren Bent badly missed, but the current QPR boss is surely not as naïve as some people conceivably assume.
Redknapp's excessively harsh comments on Bent need to be taken in context — he was already struggling for form at the time and in all likelihood, the then-Tottenham manager probably knew that the striker's days at the club were numbered. He was thus surely not especially bothered if the comments served to ostracise him further, which they did,

according to widespread reports.
Would Redknapp have ever said something similar about one of Spurs' star players, such as Luka Modric or Gareth Bale, if they ever suffered a similarly unfortunate mishap? It's not inconceivable of course, but it's certainly far less likely.
So is it possible for a top-class manager to survive by being frank in public as well as privately? Two words: Brian Clough.
Unlike the vast majority of his contemporaries, Clough was a vigorous defender of referees and a champion of fair play above all else, consistently lamenting the perceived underhand tactics of rivals, particularly the so-called 'dirty Leeds' outfit of the 1970s.
"I want to win the league, but I want to win it better," is a remark that epitomises Clough's philosophy incorporating standards of excellence both in a footballing and behavioural sense. And it has, of late, been fondly recalled in various forms, perhaps because of how out of touch and alien the concept seems to modern ears, amid a game that has since become primarily dictated by money and winning at all costs (no pun intended). Of course, it has also acquired greater fame owing to the continuing prominence of Clough, in everything from The Damned United to The Second Captains football podcast intro.
Moreover, take a moment to watch the interview below.
Source: ZarkavasLover/YouTube
Listen carefully to the severe manner of Clough's brutally honest assessment with regard to recent signing Trevor Francis (from about the 1.20 mark onwards). Rather than accentuating the positives, as managers almost always nowadays do when questioned about a new signing who's struggling, Clough if anything is unduly negative in his analysis of the player. His criticism is, quite literally, comical ("he's won a medal by fluke in the European Cup").
Looking at it now, it seems a different world, which modern football undoubtedly is to a degree. Back then, Francis could scarcely demand a transfer or complain on Twitter as a result of Clough's comments. He essentially had to grin and bear it, as he was unlikely to win any arguments with the abrasive and intrinsically stubborn boss — commenting on such player conflicts, Clough once famously said: "We talk about it for 20 minutes and then we decide I was right."
Of course, the excessive wealth and increasing player power since the 1990s has shifted the dynamic irrevocably to the point where players are in almost total control of their destinies, thereby obliging managers to tiptoe around anyone whom they desire to remain at the club for the foreseeable future.
But apart from his disastrous 44 days in charge at Leeds and the end of his tenure at Nottingham Forest, Clough, in spite of his aggressive style, enjoyed unprecedented levels of success managing unfashionable clubs such as Forest and Derby County, with some commentators going so far as to label him a "genius" for all he achieved in the game.
Yet times have changed, and the legendary Yorkshire native has ultimately become little more than a poignant symbol of a bygone era. Even fundamentally old-school Clough-esque characters, such as Graeme Souness, have admitted that ruling with an iron fist is now no longer a practical strategy in the sport. Instead, the blame-the-ref-first-players-later culture, which the late manager would surely have despised, has only been growing in prominence lately.
Even Manuel Pellegrini, who was initially held up as being supposedly averse to this burgeoning trend, eventually buckled and criticised Swedish referee Jonas Eriksson in spectacular fashion, after Manchester City were comprehensively beaten by Barcelona in the Champions League. Consequently, almost everywhere you look now, in terms of any manager who has been even remotely successful in the game, you will find a track record with at least one instance whereby they launched an unwarranted attack on a hapless official.
All of which accordingly suggests that Platt is, to a large degree, correct and that somewhat depressingly therefore, honesty and football management no longer make for happy bedfellows.