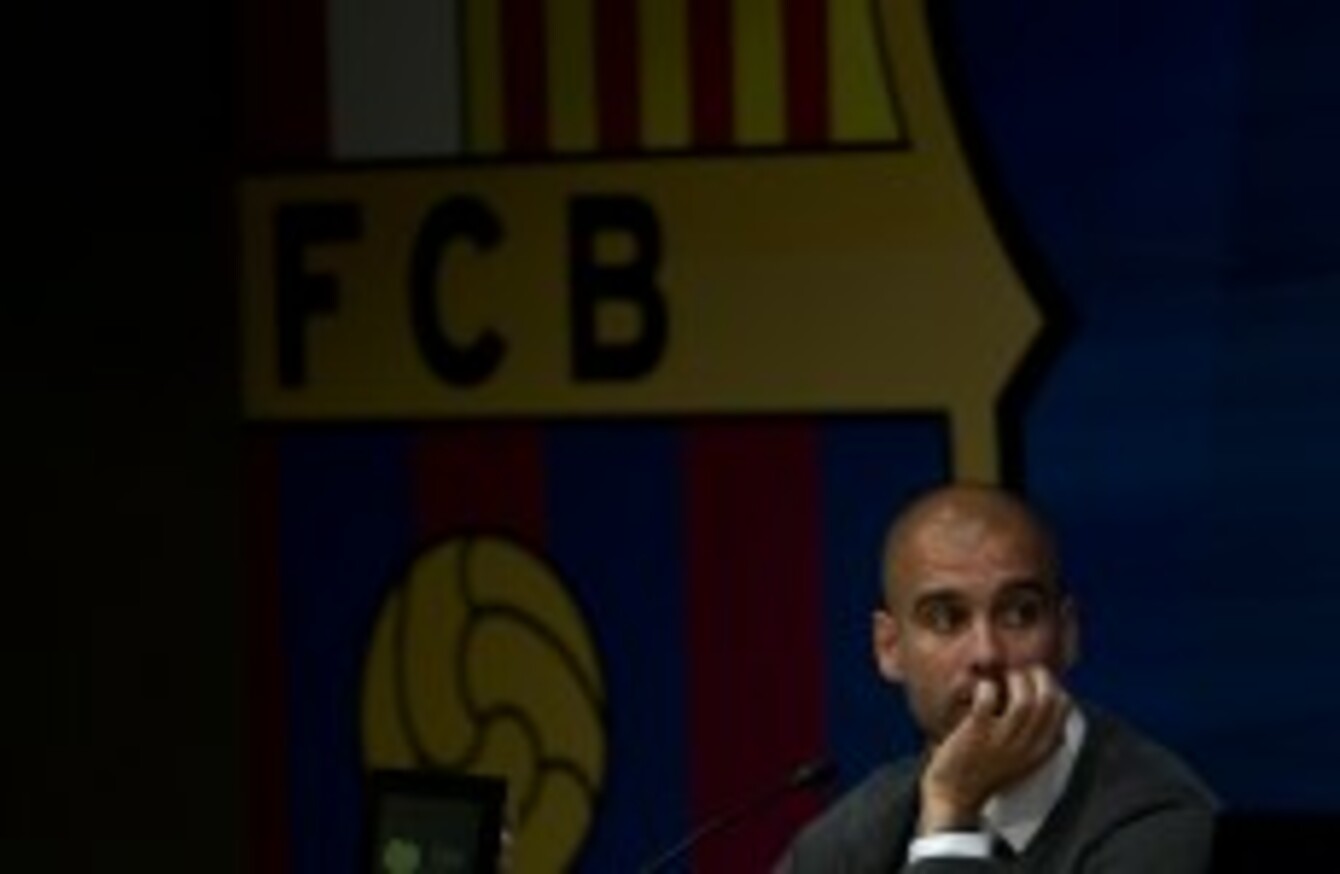 This is the end: Guardiola leaves Barcelona... for now
Image: PA
This is the end: Guardiola leaves Barcelona... for now
Image: PA
AT THE VERY high point of Barcelona's spell of victories over the last four years, Arrigo Sacchi enthused that "like my Milan, this team mark a 'before' and 'after' in world football".
After all that, though, we are also now truly "after" Pep Guardiola's Barca.
In an emotional press conference, the now-former Camp Nou manager claimed that one of the reasons for his resignation was because those four years "felt like an eternity".
It was an appropriate choice of words. Because the Barcelona team he has provided and presided over was genuinely one for the ages.
Indeed, without any hint of hyperbole, we have witnessed true history over the past four years. In football terms – from the philosophy, to the infrastructure to the eventually exquisite events on the pitch – this may well be as good as it gets.
Consider the major details.
How unprecedented was it, after all, for so many teary players to present at their manager's departing press conference?
And that evident cohesion was a crucial part of what brought this Barca team close to occasional perfection. But, while the football and the Sergio Busquets-style behaviour may have sometimes dipped – as we admittedly saw in the last 10 days – Guardiola himself represented the tip of what was an undeniably perfect football pyramid.
At the base, we had one of the most renowned, refined and fruitful youth academies in the sport. Above that, then, was a once-in-a-generation nucleus of world-class players in Xavi, Andres Iniesta, Gerard Pique, Carlos Puyol, Sergio Busquets and, above all, Leo Messi who were all produced by that academy.  Presiding over all of that, then, was a manager who had an innate understanding of both how the club worked and how to enhance it.

As well the major defining details like the possession he preached and the pressing he demanded, Guardiola's smaller, more intricate tactical tweaks ensured Barca played every game on their own terms like no-one else in history. Indeed, no other team – not even Ajax of the '70s – forced such extreme defensive responses in opposition sides.
Of course, throughout Guardiola's time, we heard constant repetition of the team's resounding possession stats. But, until the last week, all of those passes had a point. The extreme numbers were reflected in the points and scoring records Barca have been breaking and setting since 2008. Indeed, perhaps the most startling statistic of all: almost 10% of Guardiola's total number of defeats here came in the last 10 days.
No, this Barca may not have ultimately retained the European Cup. And that failure to achieve continental football's gold-standard feat may ensure they are only one of the greats rather than the outright greatest. In many ways, it might even be a wasted opportunity.
But, when you put it into context, it's worth considering that – just like in their general matches – this Barcelona dominated football more than any other team in the last three decades. Indeed, no side since Liverpool of the early '80s got so far, so often in so many competitions.
Not even Arrigo Sacchi's Milan.
Over four seasons, that team only (an admittedly relative term) won two European Cups and a solitary Serie A. Either side of those victories, meanwhile, they got eliminated from the 1987-88 Uefa Cup in the second round and the 1990-91 champions' competition in the quarter-finals.
By contrast, across the same spell of time, Barca have won two Champions Leagues, three titles, one Copa Del Rey and reached another two finals of the latter competition as well as two further continental semi-finals.
Be part
of the team
Access exclusive podcasts, interviews and analysis with a monthly or annual membership.
Become a Member
But, of course, this team often transcended simple facts. They may not have matched the Champions League's greatest achievements but, when it came to the fundamental quality of their football, it was arguably unparalleled when it was at its very best. Even more impressively, they often saved their best for the very biggest occasions – the 6-2 and 5-0 Clasico wins over Real Madrid, the two victories Champions League finals against Manchester United.
Ultimately, though, the sheer intensity of all of that – as well as the extreme pressure to make it even more exceptional – got to Guardiola.
"I don't have any energy left," he wearily explained this morning. "I need to recharge."
Because, of course, while Guardiola may prove the best possible coach the club will ever have, it's only worth keeping him if he can continue to give his absolute best. And that no longer seemed to be the case. As he said himself, "it would have been a bad idea to go on".
In the end, though, Guardiola had one last surprising tactical side-step: he was king-maker in former assistant Tito Vilanova's appointment.
Many in Barcelona are already talking about how he will be Guardiola's Joe Fagan, how the club are creating their own Boot Room.
In that, it's also worth mentioning, that his own resignation puts a different spin on the ludicrously long careers of two other English-based managers: Alex Ferguson and Arsene Wenger. As the Arsenal manager once said "you need strength, animal strength to stay in this job."
But, like both Ferguson and Wenger, perhaps Guardiola's greatest achievement goes beyond mere management. He has irrevocably altered the history and future of the club.
Before he took over, even though many of the main details – like the youth system – were in place, Barca still hadn't completely overcome their own past as mere moral victors. Even the 2006 Champions League win was followed by immediate implosion. There was deflation and depression, after all, in the summer when Guardiola took over.
That isn't quite the case now, in the summer he leaves.
Yes, there is evident sadness around the club. But also a clear sense of mission. Of upholding a new winning legacy.
As Sandro Rosell said, "Guardiola has put the club in good stead… we need to manage his heritage as best as possible."
And that's perhaps the greatest testament. For a man whose teams always played on their own terms, he has left on his own too.
In Barcelona, that is rare.  Almost as rare as the quality of the football.