WE WERE SERVED up with a fascinating game of rugby at the Aviva Stadium yesterday evening, as Joe Schmidt's Ireland rounded out an excellent November series by beating Australia 26-23.
Ultimately, it was Ireland's second-half defence that proved to be the difference between winning and losing, but the attacking blitz that drove them into a 17-0 lead after just 16 minutes was obviously crucial too.
Before we delve into the defensive side of Ireland's performance, it's worth taking a closer look at how Schmidt's men racked up the points in that early spell of scoreboard dominance.
Ireland haven't created abundant attacking chances over the past year.
They are quite structured in attack and often rely on scoring from turnover situations [as does every rugby team in the world] or the 'power plays' that Schmidt and his coaching team design based on opposition weaknesses.
Against the Wallabies, Ireland visited the opposition 22 just four times, had two line breaks and only got over the gainline 59% of the time when carrying the ball [figures via Ruckin Good Stats]. The point is that Ireland don't create limitless scoring chances, so they have to be clinical when they do.
Scoreboard ticking
Ireland's defensive line was cut open as early as the second minute, when Tevita Kuridrani burst through on a clever screen pass, an incident which we will look at in a separate piece on the Irish defence.
That pointed to issues that Ireland would have for the remainder of the first half, but there were also some huge defensive plays from Schmidt's men in the opening exchanges.
Simon Zebo made a brilliant read and hit on Kuridrani in the first minute, while Rhys Ruddock initiated a superb choke tackle on the phase directly after the Kuridrani break we have mentioned above.
In a similar vein, Peter O'Mahony's turnover penalty in the fifth minute was important, allowing Johnny Sexton to kick Ireland's opening three points.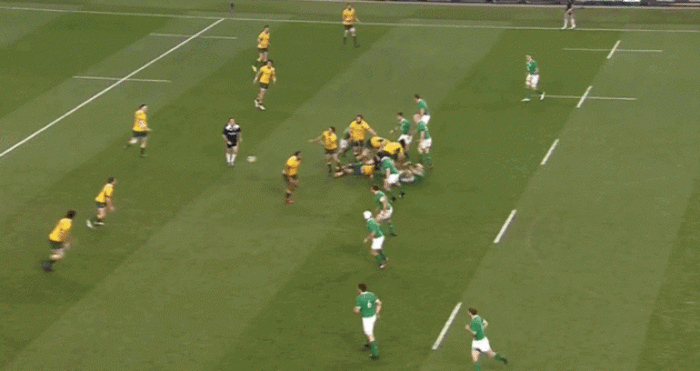 This is a typical steal from O'Mahony, as he initially assists Rory Best in tackling Michael Hooper and then shows the match officials 'daylight' before clamping down over the ball in that familiar jackal position.
It could be argued that the Munster captain is not really in control of his body weight here, but it's partly intentional. Recognising that the supporting Wallabies will be arriving in to attempt to clear him out, he ever so slightly leans his weight forward over the ball.
It means that when Sam Carter [4] does make contact with him, O'Mahony is shifted backwards a few inches, but not directly off the ball. Clever play from the flanker.
Best also plays a key role in the turnover, working hard post-tackle to influence the breakdown as much as he can.
As we see above, Best bounces back onto his feet after completing the tackle on Hooper, entirely within his rights without a ruck formed. The Ireland hooker is aware of O'Mahony's position over the ball and the potential for a poach.
Essentially, Best acts as a shield for O'Mahony, preventing Kuridrani [13] and Bernard Foley [10] from rucking the blindside flanker. That leaves O'Mahony to deal with Carter [who is arguably in from the side] alone and the turnover is complete.
Three points for Ireland directly from the excellent work of O'Mahony and Best.
Zebo pounces
A great kick and regather from Rob Kearney gave Sexton another chance from the tee in the ninth minute, but the Irish out-half was wide to the right. He more than amended that error with his involvement in the Zebo try, however.
Again, it was a big defensive play that was at the root of the Ireland score, this time an excellent choke tackle on Luke Jones.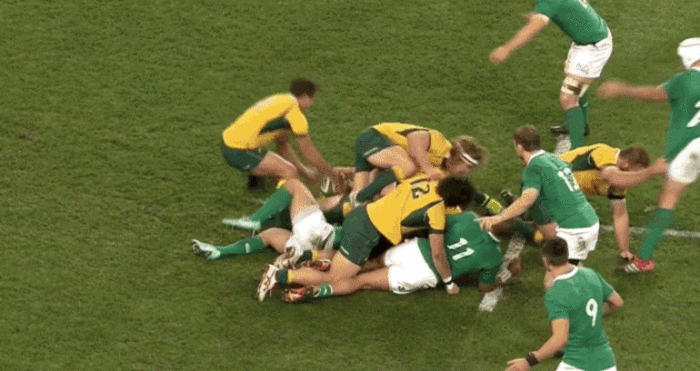 As the clip above shows, it's Devin Toner who initiates this one, having already been second man into the Ruddock choke tackle we referred to earlier.
The 6ft 10ins lock goes in high on Jones here, wrapping a strong left arm around the Australian flanker. Jack McGrath recognises the possibility of a turnover instantaneously and swarms in on Jones' right.
Hunting across from the inside is O'Mahony, who is also tuned into the turnover potential, and he binds onto the lower part of Jones' upper body, leaving the 23-year-old in a desperate situation.
Best is the man to benefit from the good work of the Irish trio, sniffing out the ball and stripping it clear of Jones. The fact that the Wallaby back row's head is wrapped up by McGrath perhaps draws a little of his focus away from the ball.
Best spins away to the left of the maul and gets tackled by Ben McCalman. Ireland run a simple short phase to the right through Jamie Heaslip, before the magical moment comes from Sexton and Zebo.
Briefly, we must point out the clever footwork of Heaslip on his carry above. It's not a great situation with Carter rushing up, but the Leinster number eight characteristically shifts his feet to get to a soft shoulder and make positive yardage.
Paul O'Connell and Jack McGrath arrive in to clean past the ball and allow Conor Murray to move it away to Sexton.
While all of the above is happening, Sexton has been lying deep behind what was originally an Irish defensive line. It's something the out-half regularly does, dropping back when Ireland are defending, and then kicking from that position if and when the opposition clear their lines.
That same position means Sexton arrives into the line on this occasion having had a superb view of the pitch; he knows exactly where the space is. He's not the only one, indicating that this is space Ireland have identified pre-match.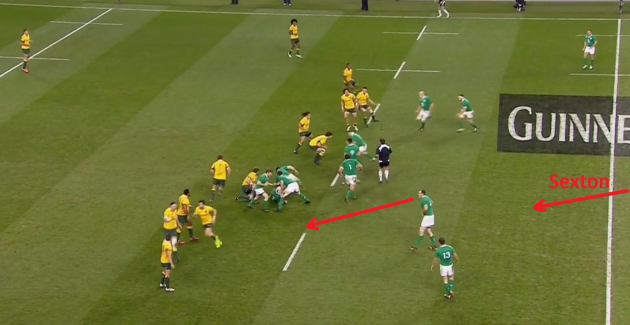 As Heaslip makes his carry in the image above, note Toner's big glance into that deep, wide space behind the Wallabies. Yes, it's absolutely routine for players to get their head up and scan the defence before the next phase, but it's likely that Toner is having the same thought as Sexton in this instance.
Ireland kicked into this left corner on at least three occasions in the first half, in behind Henry Speight and out of the reach of the 'sweeper' Nick Phipps. Certainly this space was something Schmidt and his analysis team had picked out.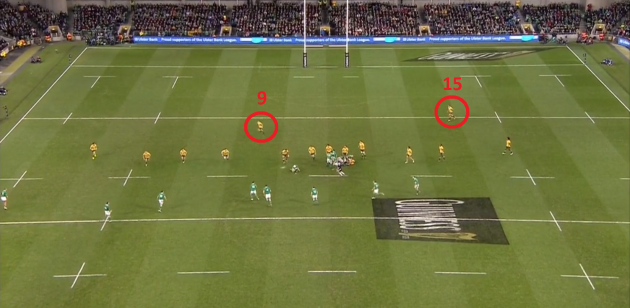 We get a good view of that space in the image above, with Phipps [9] having lots of the pitch to cover as he moves across the pitch. He and Folau [15] are tasked with covering the backfield in this zone, as wings Adam Ashley-Cooper and Henry Speight are up in the front line on the outside edges.
Zebo is tuned into what Sexton wants to do, lying flat to his out-half wide on the left of the shot above. It still takes a sublime kick from Sexton to tee up the Munster wing, who shows searing pace to beat Phipps to the bounce.
This is the type of try we have come to expect from Ireland under Schmidt, even if it didn't come from a set-piece platform. They so often strike in three or fewer phases with accuracy, pace and awareness of where exactly the opposition weak point lies.
Bowe intercepts
It appeared that the Wallabies were about to bounce back immediately just before Tommy Bowe streaked away on an interception for Ireland's second try. Again, the defensive errors that allowed Michael Cheika's side into that position are something that we will look at elsewhere, but Bowe's reaction was ideal.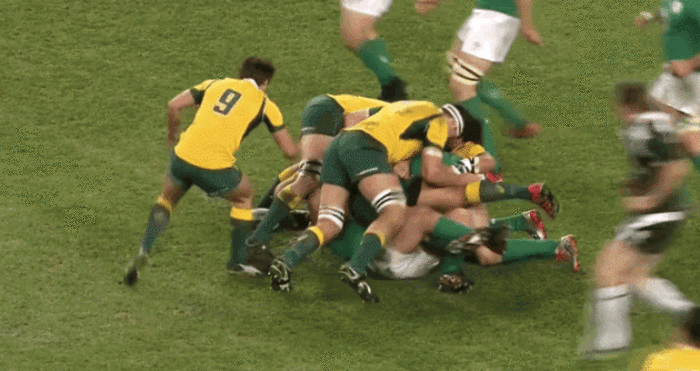 As with any intercept attempt, it's ballsy play from Bowe, who recognises that the Wallabies essentially have a three-on-one down his right wing and makes a split-second call to take his chance in picking off the pass.
If he misses here, it's almost certainly five points for the Australians, with Hooper and Speight waiting for the pass in the outside channel.
Directly inside Bowe is tighthead prop Mike Ross, followed by second row Toner. Neither of the latter duo would have fancied their chances of getting across at pace to cover.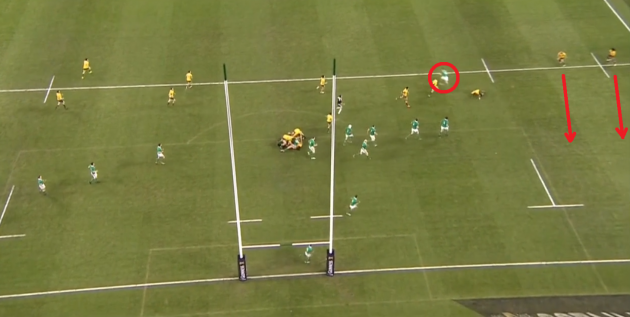 This try is largely down to Bowe's excellent read of Phipps' intentions and his decision to fully commit to the interception. But again, there are minor elements of the player's pre-match analysis in this incident.
As we see above, the ball from Phipps towards Kuridrani is in the air for a long time as he looks to pass over a distance of at least 10 metres. It's something that Australia and Phipps have done quite a bit in recent weeks, allowing the opposition to generate good line speed against them at times.
Their defeat to France last weekend saw Phipps repeatedly throwing long passes to the first receiver, with regular lengthy flight times. Perhaps that detail was in Bowe's head as he calculated the odds in the milliseconds he had available to him yesterday evening.
17-0
With Sexton's conversion on target, Ireland's dream start to the fixture was complete and though they endured a rocky second quarter, those early 17 points would prove crucial.
We will look at other aspects of the encounter in more depth elsewhere, but it was encouraging to see Ireland take their opening chances in a clinical manner.