HAVING LOOKED AT the Irish defensive effort in the first half against Australia in an earlier piece, we turn our attention to the second-half improvements here.
As we pointed out in piece one of this analysis, there were positive elements from the Irish defence early on, particularly in the opening minutes when Paul O'Connell and Simon Zebo made big plays.
Both men would go on to play integral parts in Ireland's defensive doggedness in the second 40 minutes, as Joe Schmidt's side limited the Wallabies to just three points.
Linespeed up, firm tackles
The immediately apparent improvement in Ireland's defence after the break was the increased linespeed, something the players clearly talked about with defence coach Les Kiss at half time.
As well as that, there was renewed accuracy in the Irish tackle, as they made up those initial metres and then completed their hits in a more clinical fashion. Wallaby ball carriers were generally taken to deck earlier and their ability to look for width was managed far more comfortably.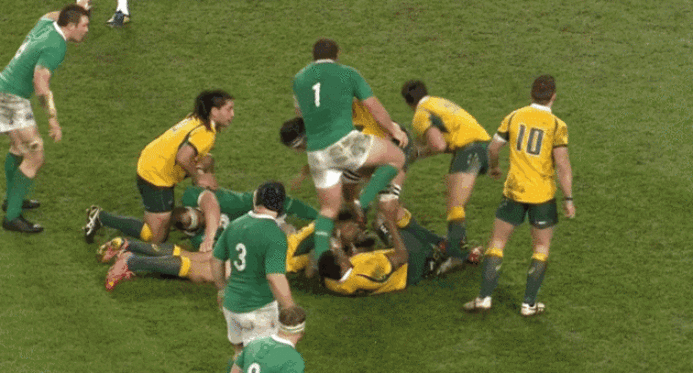 The example above comes early in the second half, and gives us an idea as to how Ireland went about getting off the line with greater urgency before making a nice accurate tackle through Gordon D'Arcy.
Just over a minte later, we see similar defensive shape from Ireland [below]. Again, they get off the line with more speed than was often present in the first half and then make dominant tackles behind the gainline.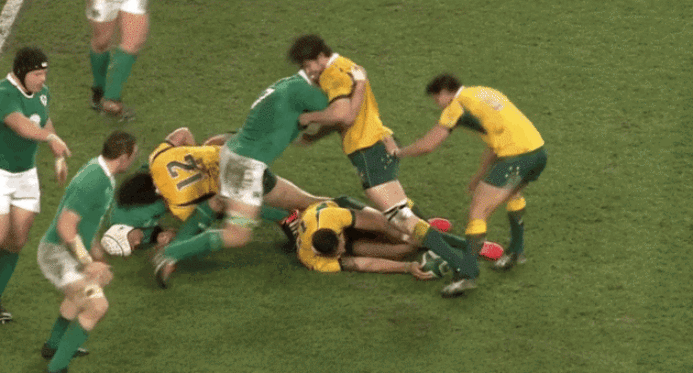 The passage highlighted in the GIF above actually ends with Matt Toomua kicking the ball away in a rather hopeful fashion, as we see below.
Toomua's intention is clearly to provide a low grubber for Adam Ashley-Cooper to run onto wide on the left, but it's a rather hopeful attempt. Michael Cheika really doesn't like his team kicking the ball away in this manner, so it says something for Ireland's defensive effort on this set.
Jamie Heaslip falls on the rebounding ball and it's an excellent outcome for Ireland in their first multi-phase defensive test of the second half.
Working against the width
The Wallabies did continue to challenge Ireland intermittently with the width of their attack, but Joe Schmidt's side managed and reacted to those incidences with far greater effectiveness after the break.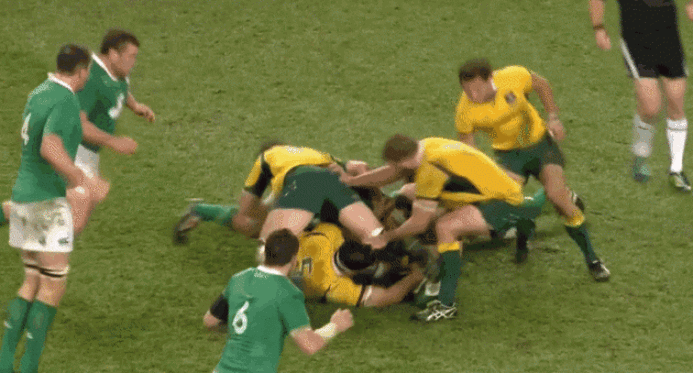 We see the Wallabies make big gains up the left from deep inside their own half in the GIF above, but Ireland will have been pleased with how they battled back, sat off and ultimately coped with a tough situation here.
From behind the posts, we can see how much width Ashley-Cooper is holding out on the left of the Australian attack, while Ireland are numbers down in defence.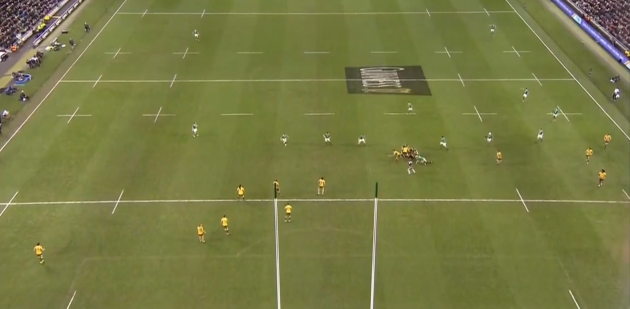 Schmidt and Kiss might question whether Jack McGrath would have been better off folding into the defensive line here, rather than attempting to counter-ruck, but as it is, Ireland's numbers-down defence does well.
Essentially, once the ball arrives in Toomua's hands, the Wallabies have a seven-on-three in attack. In the image below, Ashley-Cooper is out of shot on the right.
As defenders, it's about as far from ideal for Peter O'Mahony, Jamie Heaslip and Tommy Bowe as they could get. Remember, in a similar first-half situation and with more defenders in the line, Ireland were breached by Henry Speight in the build-up to Nick Phipps' second try.
The three Irish defenders react brilliantly on this occasion, however, breaking immediately into a hard drift, working back downfield and using the touchline as a fourth defender.
Bowe's footwork in shaping his body back to the outside is particularly strong, with Heaslip working hard to plug his inside shoulder should any of the Wallabies' outside attackers step back in off their left side.
Zebo's telling tackle
While the introduction of Kurtley Beale and Cooper off the bench gave Michael Cheika's side more individual attacking flair, it did result in them becoming slightly narrower in their attack as both players attempted to get on the ball as often as possible.
That said, both players' skillsets created opportunities, as with Cooper's half-break and offload in the 69th minute, finally allowing the Australians to break through the Irish line and get quality front-foot possession.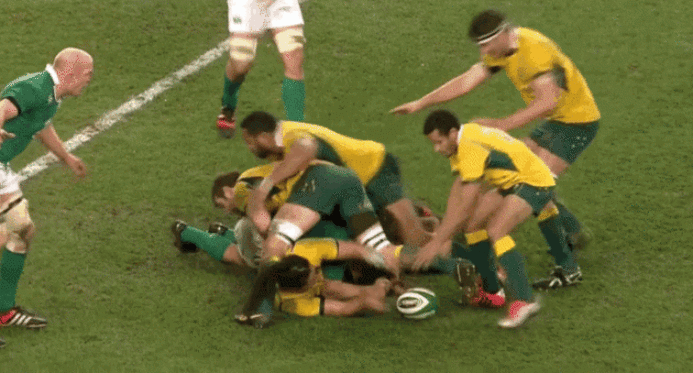 What follows on the next phase is a crucial defensive intervention from Zebo wide on the left of Ireland's defence. The Munster wing starts in a position behind the front line, covering any possible kicks in behind, but ends up making a strong play to do enough to halt a three-on-two overlap.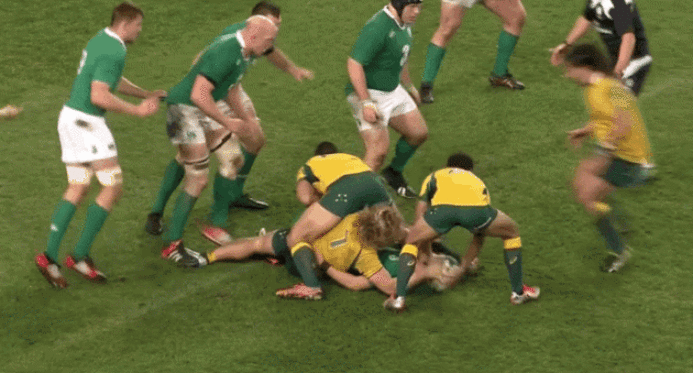 We see the overlap below, as Cooper passes to Toomua, who has James Slipper outside him with a potential clear run to the tryline.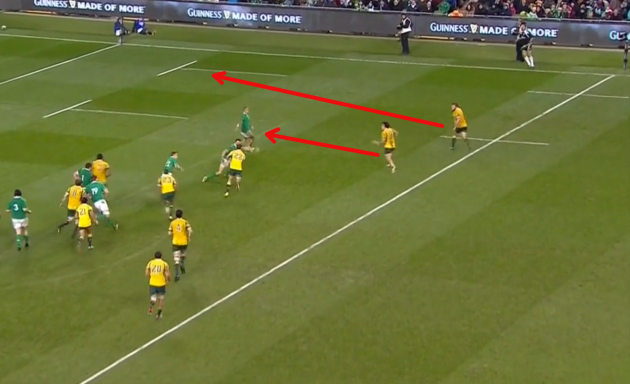 It is, of course, arguable whether or not Wallabies' prop Slipper would have made the corner to score, with Ian Madigan already beginning an anticipatory line back in that direction, but it's still a great read and tackle from Zebo.
Even though Toomua does get the ball away in the end, Ireland's left wing bursts up on the Wallabies 12, wraps him up, and does enough to slow the attack and allow his teammates to cover across.
Putting the pressure back on Australia
In what was a low-scoring second-half, the Wallabies enjoyed the lions' share of possession at over 60%. When Ireland moved into their 26-23 lead after Johnny Sexton's 63rd minute penalty, the pressure on Australia suddenly moved up a notch.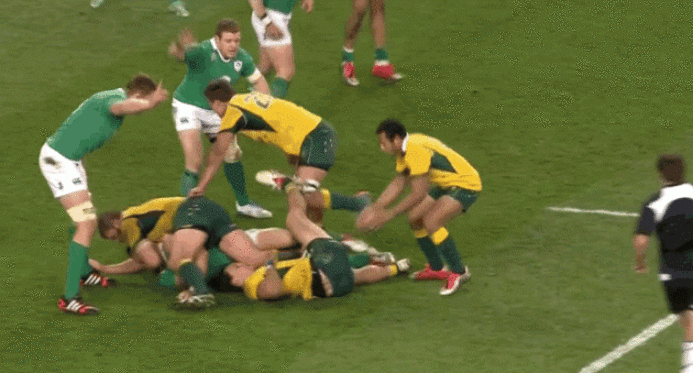 Adding to the mental stress of having to create a winning score, Ireland's defence pressurised the Wallabies to a far greater extent with their defence than in the first half, as in cases like that above.
Mike Ross, McGrath and O'Connell lead the line up, with the former pair completing an excellent tackle on Saia Fainga'a for a big gainline win over the visitors. That kind of pressure led to an increasing amount of errors from the Wallabies' attack.
We get one example above, as Nick Phipps throws a high, loose pass on the second phase of an Australian attack. Below, Cooper attempts a switch play with Benn Robinson in the 77th minute, but the replacement prop and Tetera Fualkner combine for a knock-on.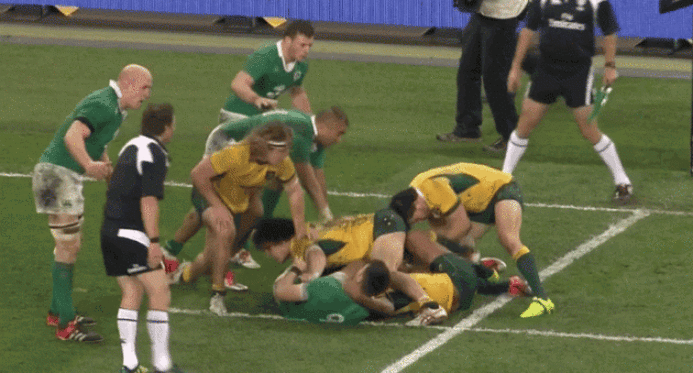 In the 78th minute, below, we see a crucial knock-on from Michael Hooper. Note again the efforts from O'Connell and Ireland to keep the linespeed on durig the phase directly before.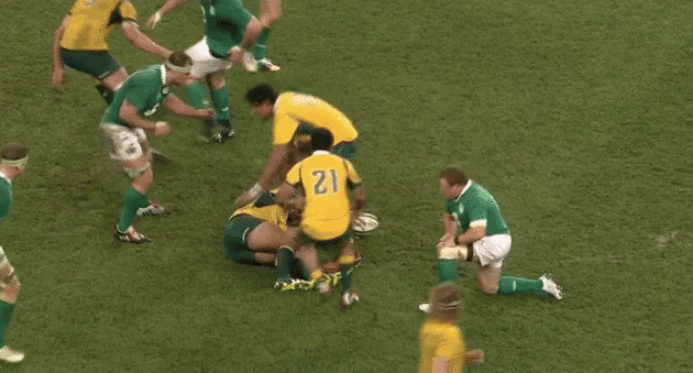 This particular passage of defence was a remarkable one, all about work rate from Ireland as Sexton and Rob Kearney initially lay injured wide on the right after clashing heads.
Both players struggled back to their feet, but still it amounted to a 13-man defence. Ireland's non-injured players [as much as we can say that with two minutes remaining in a Test match] dug in and forced another error from the Wallabies.
By the time Hooper spills the ball forward under pressure, the ball has been in play for almost two full minutes, a hugely taxing physical ask on the players at such a late stage of an international game.
The last stand
It's exactly a year to the day since Ireland lost to New Zealand in Dublin in heartbreaking fashion, conceding a try in the final passage of the game. Saturday evening in Dublin provided flashbacks of that moment, as the Wallabies went on the attack from deep with two minutes remaining.
It was a remarkably similar passage, with the Wallabies eating up yards with ball in hand at times, threatening to break. Ian Madigan was involved at the very death once again, but this time the result for Ireland was a success.
When guys are tired, it's tough. But when they're mentally tired,they're done. That means it's over." Doc Rivers, Los Angeles Clippers coach.
Cheika's Wallabies are not as good a team as New Zealand at this stage of their development and, crucially, Ireland are a better side than they were 12 months ago, even without a host of missing players.
77:55 – Australia go wide
Exclusive Six
Nations Analysis
Get Murray Kinsella's exclusive analysis of Ireland's Six Nations campaign this spring
Become a Member
Australia break up the right from a line-out just outside their own 22, and even within these final minutes Schmidt will have picked out 'work-ons' for his players. In this instance, he may look at Henshaw's decision to shoot up on Toomua.
While Conor Murray, Madigan and Zebo are drifting across the pitch in defence, as would be habit in this area of the pitch in order to limit any possibility of the opposition making a big break, Henshaw opts to rush up.
Schmidt certainly won't want to take this element of Henshaw's game out of the Connacht centre's armoury, and has most likely encouraged the 21-year-old to back his defensive reads more often.
Largely, that encouragement has led to positive results, but there is always a time and place to make a big defensive play. Deep in the opposition 22, Ireland might have preferred to play it a little safer, sitting off and drifting across the pitch.
Henshaw doesn't manage to stop the ball on Toomua with a ball-and-all tackle, and the Wallabies break up the right.
78:09 - O'Connell leads the line up
What happens next is a clear indicator of Ireland's growth in the last 12 months. Whereas against the All Blacks, error followed error in that tense endgame, O'Connell leads Ireland up for a redeemding moment of quality here.
The linespeed from Ireland, having given up around 30 metres on the phase before is excellent. O'Connell makes a good contact with McCalman, although the number eight does superbly to offload out the back.
The net result for Australia is a minor gainline wide on the left, but O'Connell and his teammates are clearly mentally tuned in, and working hard. It's a big moment of momentum-building for the Irish defence too.
78:27 - Australia go wide again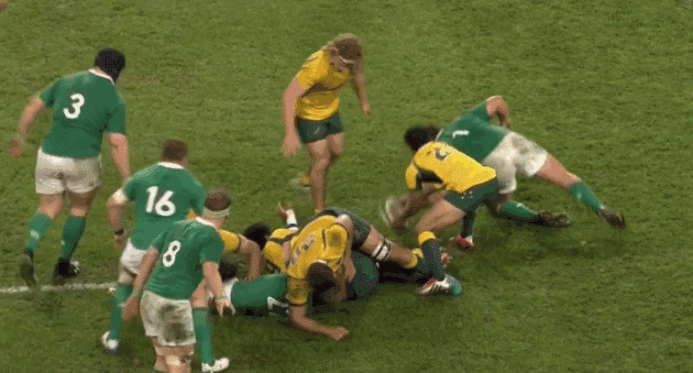 Australia shift the ball wide to the right, relying on their ability to make yards down the touchlines by skirting the Irish defence. From Ireland's point of view, the key is that they continue to work hard, continue to scramble back and complete tackles through Felix Jones and Murray.
78:39 - Off the line again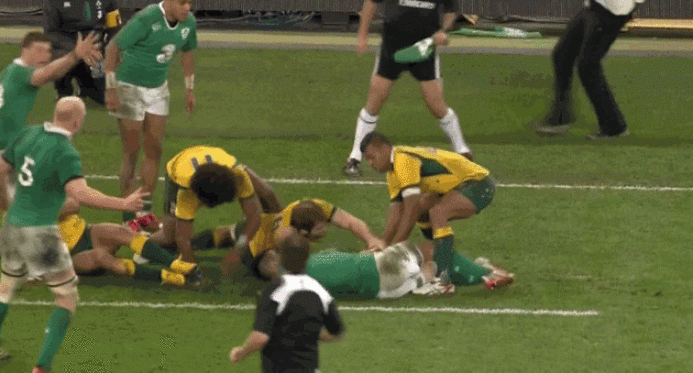 Once again, Ireland respond to a loss of yards by eating them back up when play comes back into the middle of the pitch. This time it's Sean Cronin who races up and makes a really powerful hit on James Hanson.
78:58 - O'Connell's last tackle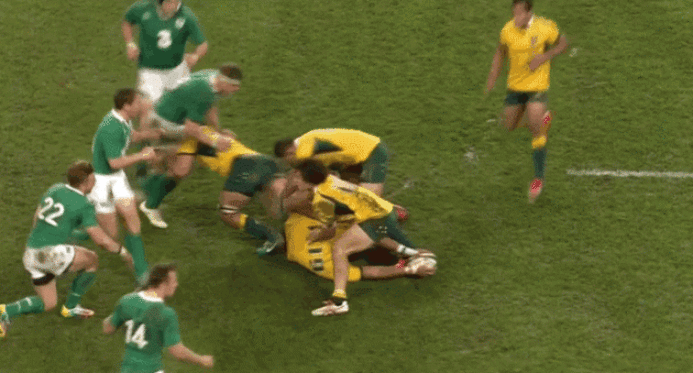 O'Connell's last tackle of the game is a big one, again winning metres for Ireland and adding to the sense of pressure on the Wallabies. Rhys Ruddock and Murray combine for the next hit, before Dave Foley goes in around the ankles of the hulking Will Skelton.
79:39 - Ireland win the ball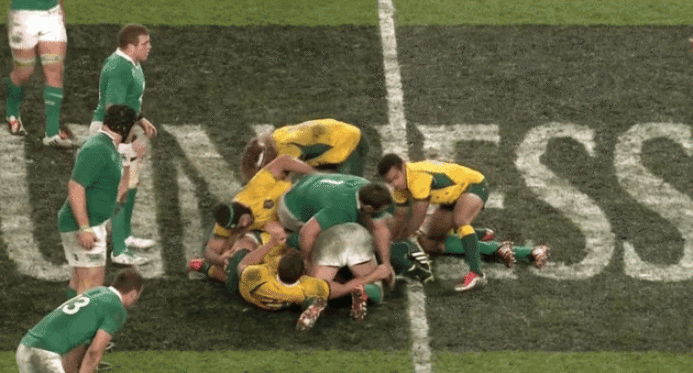 What transpires to be final throw of the dice for Australia comes down the left touchline, as Cooper floats a characteristic pass out to Ashley-Cooper. Bowe does well for Ireland in just standing off enough to give himself the time to shift out onto Ashley-Cooper, rather than biting in on Beale.
The Wallaby wing slips as he heads into contact, a piece of fortune that Ireland's work rate over the preceeding half has earned. Madigan and Bowe are over the ball in a flash, instantly recognising the window of opportunity, racing each other to get to the pill.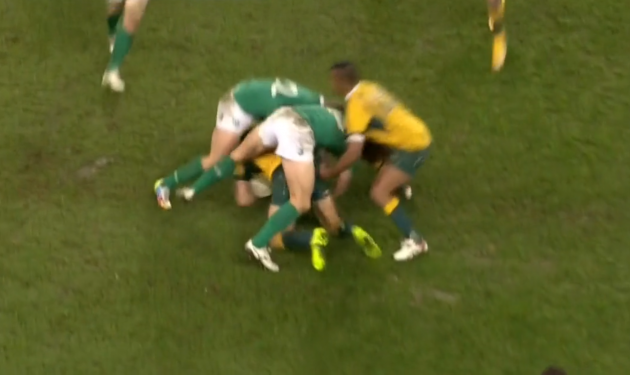 Bowe's positioning aids Madigan in winning the turnover, as the Ulster wing draws in the rucking efforts of Beale and Cooper, shielding the Wallaby duo from getting at Madigan.
For the Leinster playmaker, it's a happy turnaround of the situation 12 months ago, when he was involved in the mix-up wide on the right as Dane Coles offloaded for Ryan Crotty to score for New Zealand.
A positive 12 months for Ireland, and a fitting end to an excellent November. Despite the loss of key personnel, set-piece issues at times, and the quality of two of their opponents, Joe Schmidt's consistently worked hard to improve and thrive this month.
2015 promises to be an even more interesting year.