FRIDAY'S GAME IN Cardiff provided a rarity in modern test rugby.
Of the nine scrums in total, not one penalty or free kick was awarded by Wayne Barnes.
And while that statistic might point towards a referee just letting anything go, there was actually little or nothing for Barnes to penalise.
Two of the nine scrums had to be reset (one for turning on its axis, and the other for better stability), but it was a real pleasure to see that over the entire 80 minutes there was not one collapse, with the ball played out from every single set-piece.
The players deserve a lot of credit. Both teams made the scrum a contest, but did so legally. The binds were high and long, and the angles for the most part were straight and square. Barnes should take credit too, communicating brilliantly with the two packs, and being loud and clear when the ball was there to be played at the base of a scrum.
All of this made for some great attacking rugby, and allowed us to see the scrum used for what it is; a way of restarting the game. Both teams were able to use their clean ball to put it through the hands of the backs, and that in turn benefited the game.
And while Ireland didn't dominate the Welsh, they had relative ease in securing their own ball, with their 100% success rate on their own scrum making it a perfect 23 out of 23 in this championship.
A large part of that success rate comes down to simply doing the basics right. A solid platform is the start, and Greg Feek has Ireland securing the ball first and foremost, before attacking the opposition scrum if the chance is there.
The first scrum of Friday's game is a good example of how solid they are on their own feed. A member of the Welsh pack (presumably Tomas Francis at tighthead) could be heard giving his side the trigger to drive, waiting for the exact moment Conor Murray feeds the scrum. In the match footage you can hear a distinct call of "And Now!…" before the Welsh pack push in unison.
However as you can see below, despite the eight man shove, Ireland's scrum stays perfectly stable. Keep an eye on the legs of the Welsh players, and how they all push off at once. And then watch the Irish feet, with none of them moving.
Wales had the put in to the next scrum, and despite Tomas Francis doing very well to split Jack McGrath and Rory Best, a lot of credit can be taken by Jamie Heaslip, Donnacha Ryan and Devin Toner for keeping the Irish scrum intact.
Below we can see how the players are lining up, with Francis appearing to be pretty straight and square to McGrath.
We're also highlighting Heaslip, who has a really tight bind onto his second rows, squeezing their hips into his head. This keeps them driving parallel to one another, giving maximum support to the front row.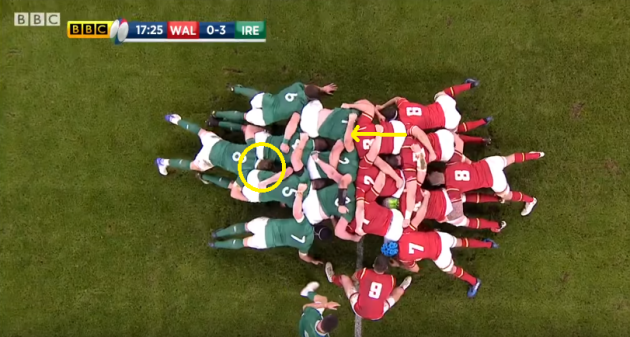 Francis does brilliantly to wedge himself between McGrath and Best and, in the frame below, we can see how he has caused the Irish captain to lose his bind on his prop.
However, this doesn't have much of an impact on the Irish scrum, with Heaslip's tight bind on Toner and Ryan ensuring that they can give plenty of backup, keeping the pack stable.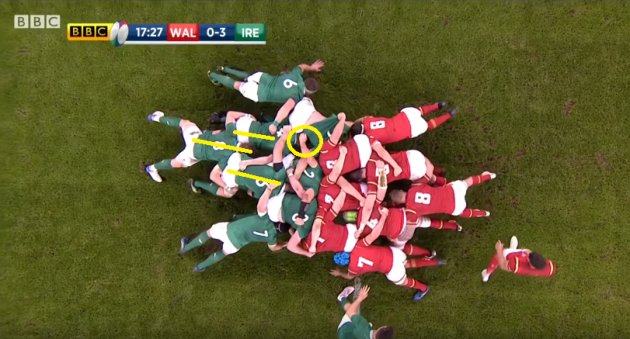 On the next scrum, Francis once again tries to take on McGrath and Best, coming in at a slight angle as we can see below.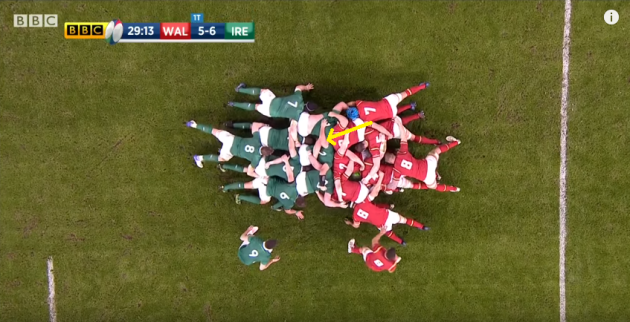 But when the camera quickly comes back town to the sideline view, we can see that he can't cause any damage, with McGrath's positioning absolutely perfect; his back is straight with his head and hips parallel to the ground, and a good flex at his knees.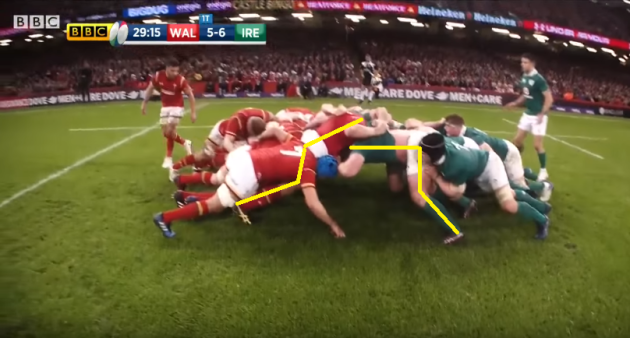 The first scrum that looked remotely messy came towards the end of the first half, and while some people at the time were looking for an Irish penalty, Wayne Barnes was absolutely spot on in resetting.
As we can see below, the scrum rotates around rather than going forward, with both packs just stepping to the side, causing it to turn.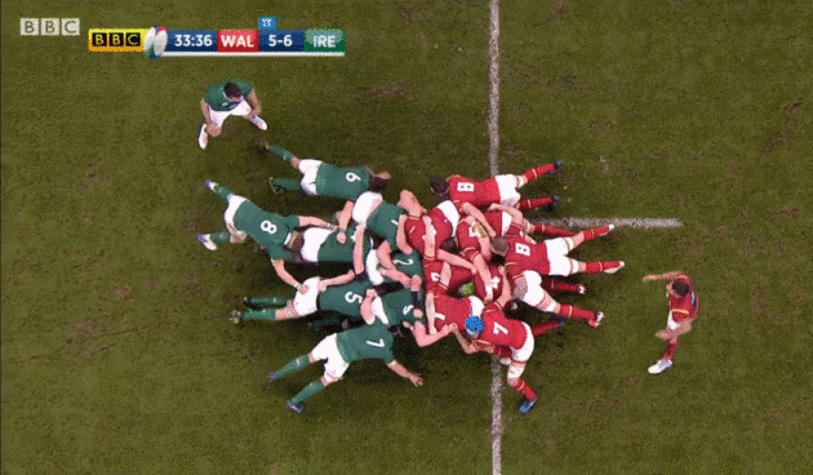 Ireland wanted a penalty, while Wales were hoping they would win the put in after it wheeled 90 degrees. However, as the scrum was rotating, Barnes could clearly be heard to say: "That's just turning, that's not a wheel".
And afterwards it was good to see him communicate that to both packs, explaining the decision.
"There's nothing illegal. That's just all turning, but it came up before 90 (degrees). There was no go-forward, it just turned on its axis. Same ball".
On the reset, we can get a really good view of how Ireland have been so effective at quickly retaining their own ball. A number of other countries do it too, but Ireland will generally try get their hooker to lift his foot early, with the scrum-half playing the ball in behind it, allowing him to hook it back.
Here's the initial shot, and as you can see, I've circled the channel between the two packs which is currently empty. Conor Murray is just about to tap Rory Best's arm with the ball, which will be his signal to lift his leg.
And below we can see that Rory Best has now lifted his leg forward, with Murray about to place the ball in behind it. The ball then safely comes down the first channel between the blindside flanker and number eight.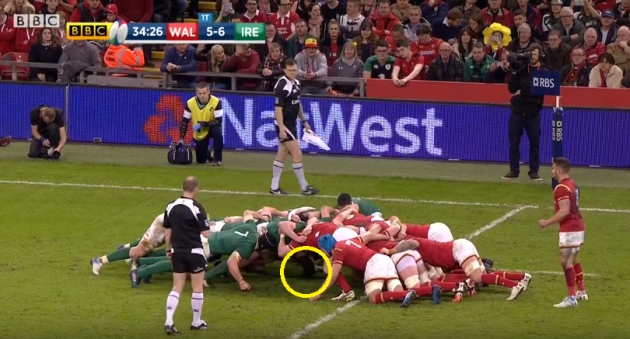 Officially, hookers are not allowed to "pre-hook" the ball before it's in the scrum, but as we are all aware, referees routinely turn a blind eye to the feed.
Wales scrum-half Rhys Webb was also feeding crooked into the scrum, and as a result of a blind eye being turned, it allowed the set-piece to be used as an effective and entertaining restart to the game, while at the same time remaining a skillful contest.
The question I would pose is that if less scrums resulted in restarts, free kicks and penalties, would you be happy to take the trade off of crooked feeds or pre-hooking? Let us know in the comments below.
Late on in the game, Ireland showed that despite the ball going in at a favourable angle, there are still good turnovers to be won. Before the game, we highlighted how Wales had difficulty in previous matches getting the ball back to their number eight, and in the final scrum a well timed Ireland drive took advantage of that.
Part of the Welsh problem was coming down to a lack of communication. As we saw from Ireland earlier, Murray will always give a clear tap on the hooker's arm, so he knows to expect the ball, whereas on this occasion Gareth Davies doesn't indicate to his hooker Scott Baldwin that the ball is about to be fed.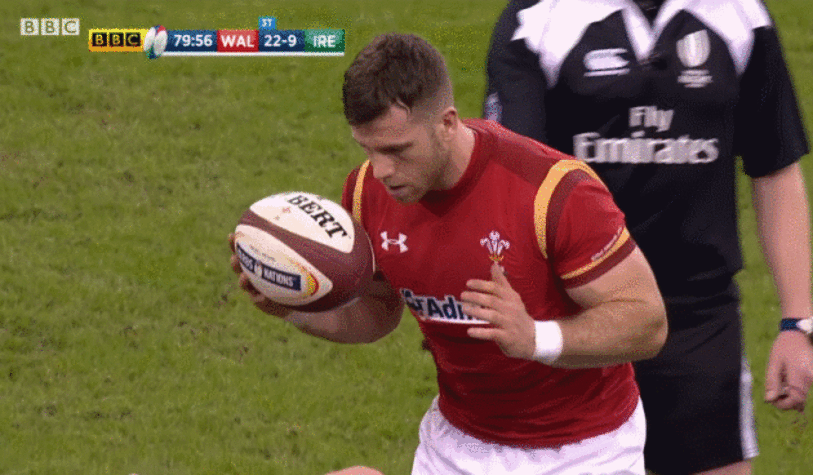 Ireland's John Ryan deserves huge credit for this turnover, as it's his call that triggers the steal. As Davies is about to feed the scrum, you can hear Ryan calling "Ready, Ready, AND NOW!", with a huge eight man shove following.
And when we run through the rest of the scrum we can see how it rolls right across the channel, before Cian Healy steps over it and Ireland win possession.
Getting the ball back through the scrum is also something England had issues with against Scotland on Saturday. On three occasions the ball got trapped in the channel, and it resulted in a lot of extra work for Joe Marler.
On the first of those instances, we can see that England aren't using the pre-hook like Ireland, but the ball does still go in crooked.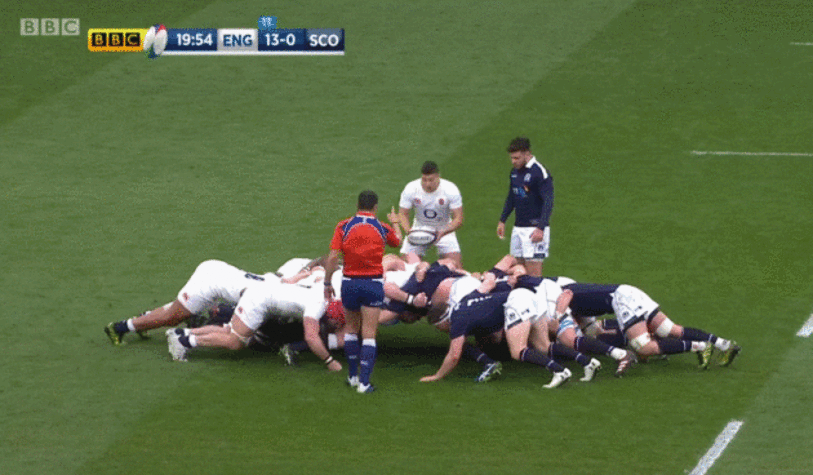 The problem with throwing the ball in at an angle like that is that it still needs to make its way from second row to back row. As we can see below, it gets caught up for quite a few seconds before eventually England step over it.
Marler does very well, keeping his patience and establishing his balance before slowly stepping over the ball.
It happened again midway through the second half, but this time Marler was given way too much work to do.
We can see below how Youngs rolls the ball in at an angle, and Dylan Hartley fails to get any hook on it, leaving the ball under Marler's feet again.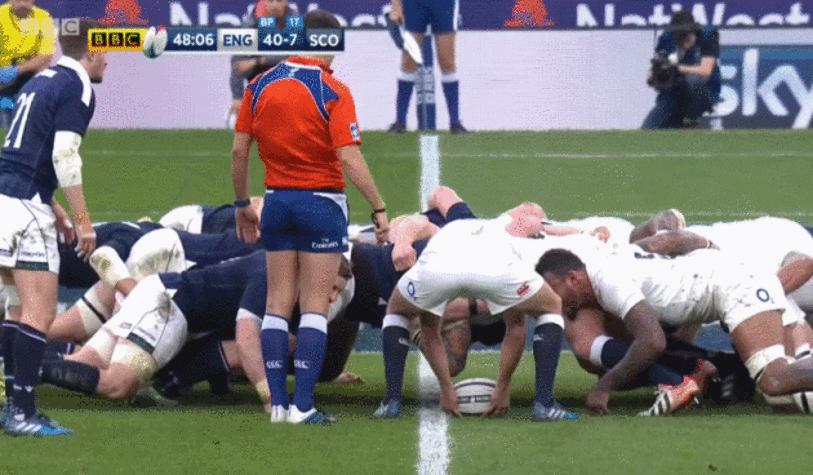 This time Marler has too much to do. He tries to come in at an angle to secure the ball, as we can see from the overhead shot, with the rest of the English pack also whipping themselves around to try cover it.
However it's too obvious, and referee Mathieu Raynal gives Scotland a penalty.
At the very next scrum England have difficulties once again, and for the third time Marler has to try salvage the situation. On this occasion he does so very well.
We can see below the ball has got stuck under his feet, but that his good initial body position sets himself up well. He's lined up square and straight to Zander Fagerson, whose body is locked out too much.
Marler takes a second or two to steady himself, and is able to drive in underneath Fagerson, who buckles to concede a penalty.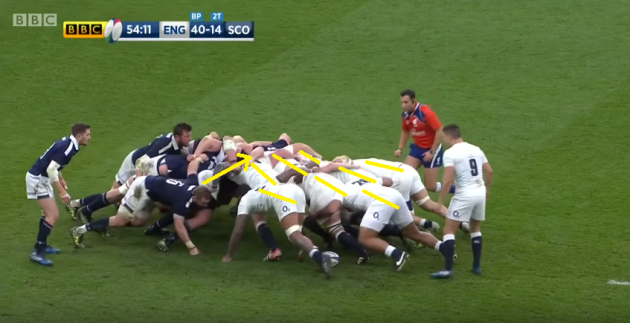 It's something Ireland should look to target this weekend, but it will take all eight players pushing in unison to make it work.
As we saw in two of those cases with England, their scrum is capable enough to recover from a poor put in if they're given time to get their positioning right.
As always the goal for Ireland should be to secure their own possession first and foremost, because with Dan Cole at tighthead and either Marler or Vunipola at loosehead, any weakness in the front row can be quickly exploited.
Subscribe to The42 Rugby Show podcast here: