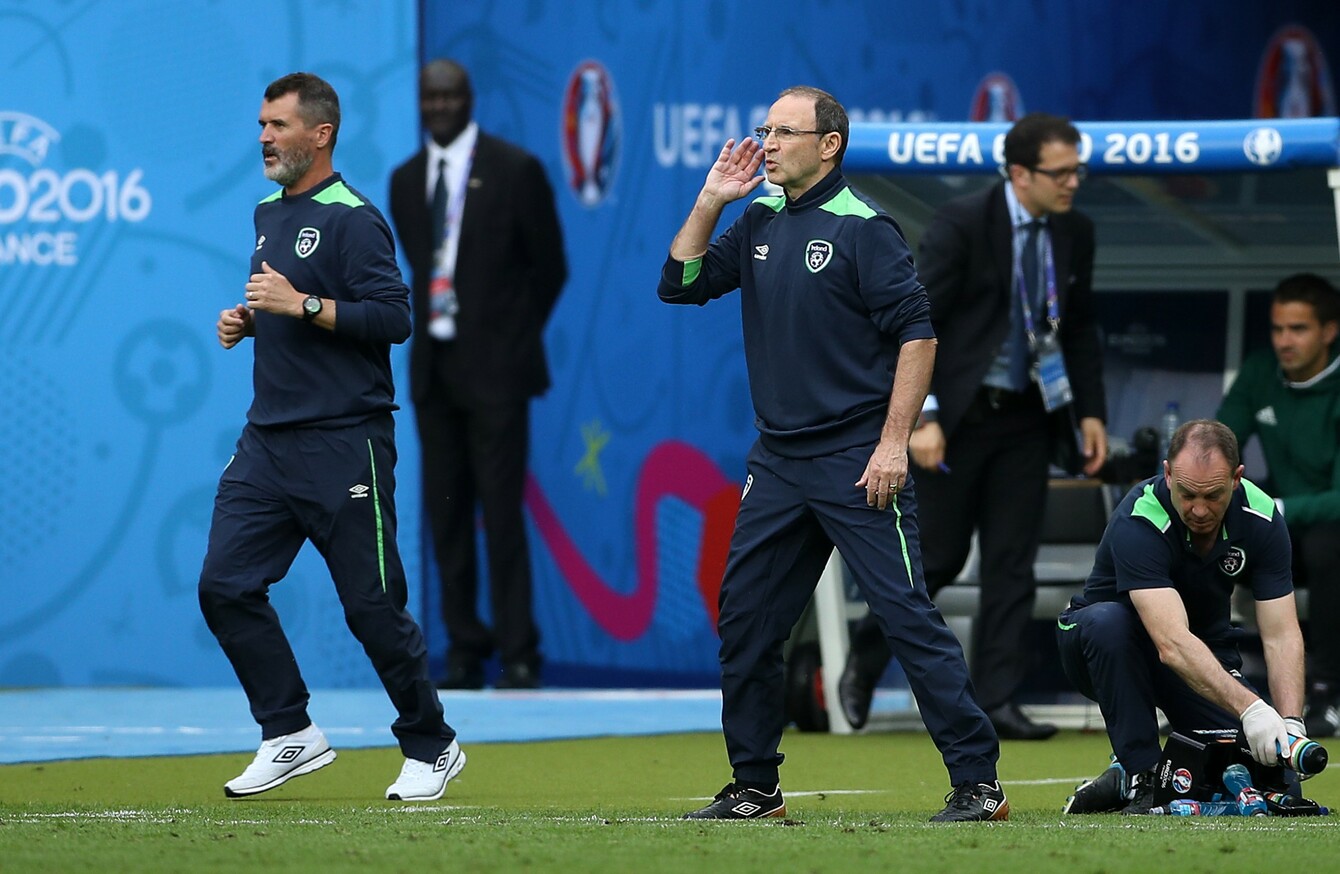 Image: John Walton
Image: John Walton
There will be space so Shane Long can trouble the centre-backs
MARC WILMOTS' SELECTION policy has long been an issue for fans and critics alike. Against Italy, he decided against partnering Toby Alderweireld and Jan Vertonghen – such a strong pairing at Tottenham – and elected to keep them apart.
The latter was at left-back while Alderweireld was alongside Thomas Vermaelen in the middle.
Injuries mean Belgium are without leader and captain Vincent Kompany, as well as Nicolas Lombaerts and Dedryck Boyata and they have looked defensively frail for a while now.
In their warm-up games, there was a pattern.
Norway found space on the left side, particularly, and exploited gaps behind the centre backs.
Their opener saw Alderweireld easily get pulled away from Josh King and he took full advantage once the through-ball was slipped into his path.
Against Finland, the team was brutally exposed on the left again and Kasper Hamalainen got on the end of a low cross to make the most of it.
In their Euro opener against Italy, it's hard to be too critical of the way in which they conceded the second goal given they were pushing so high to find an equaliser.
But it was more of the same for the first goal.
With Laurent Ciman known more as a centre-back, Italy found a key area to exploit – the space between him and Alderweireld.
But the key was the run made by Emanuele Giaccherini, just drifting in behind and timing it to perfection.
The onus is on Shane Long as, Ireland's most mobile and willing runner, to bring Vermaelen and Alderweireld out of position – making space for the likes of Jeff Hendrick and Wes Hoolahan to possibly dig out some chances.
Long will be targeted though. Three of Belgium's likely back four know him well from the Premier League while Alderweireld and Simon Mignolet have both been signing his praises in advance of Saturday's clash.
Win the war on the flanks
With both Ciman and Vertonghen at full-back, neither are quite comfortable in the role – certainly in the context of a crucial group game at a major tournament.
Vertonghen played at left-back while at Ajax but he's been developed into a solid central defender for Tottenham and that's his natural habitat currently.
As evidenced in the Italian game, Ciman is an uncompromising, strong and willing competitor but lacks the nous further up the field to be anything other than a stop-gap solution on the flank.
We can expect Ireland to play in a solid 4-5-1 with James McClean coming in for Jon Walters and Jeff Hendrick likely to switch to the right side of midfield.
McClean is an orthodox winger, full of directness and that's food for thought for Ciman. The Montreal Impact man won't fear the physical battle but it it important to get McClean to stretch things when possible and give Ciman something to worry about.
On the other flank, Hendrick is an intelligent midfielder – which he proved when revelling in the diamond against Sweden.
He's a grafter but can make sharp, astute runs and link up with Long and Hoolahan. O'Neill will look to him as a potential threat and will surely try and utilise the inevitable confidence Hendrick will take into this game.
It's crucial that Ireland gain an edge out wide so that Belgium will be forced to either go direct or play through midfield.
And because of a 3 versus 3 situation – (Glenn Whelan, James McCarthy and Wesley Hoolahan against Axel Witsel, Radja Nainggolan and Marouane Fellaini) inside, that's a good thing for O'Neill's side.
Italy beat Belgium by keeping their shape and positional discipline – Ireland need to do similar
It's the one uncertainty. Can Ireland keep their concentration long enough to frustrate the individual brilliance of Belgium?
They failed to do it against a poor Sweden. One run from Zlatan Ibrahimovic wasn't tracked and it led to an equaliser and two points dropped.
It's just another reason why O'Neill will surely revert to a trusted system – one the players know backwards – and try and stay compact.
Ireland will not try and engage the Belgians. They'll sit back, absorb as much as they can, be dogged and determined and wait for a moment to get Long in behind and orchestrate some space in dangerous areas.
So, with Belgium set to dominate the ball and get their marquee names involved as much as possible, it's critical Ireland don't get pulled into making silly errors.
They were fortunate against Sweden. They could've conceded before Clark's own goal, if the quality of the deliveries and finishing was better.
There can't be the same flippant attitude to shutting down space but with a more familiar formation, perhaps those that struggled against the Swedes – like James McCarthy – can deliver better performances.
It promises to be a tough night for McCarthy and Whelan. Both Seamus Coleman and Robbie Brady will need cover inside as Eden Hazard and Kevin de Bruyne drift and try and make themselves available to pick up passes from Ciman and Alderweireld.
Watching back the equaliser conceded against Sweden, it came from Ibrahimovic being forced out the field by a couple of green shirts.
It looked great and showed spirit and combativeness and hunger. But the attacker laid the ball off and drifted between the lines before making the decisive run that wasn't tracked.
It may not have looked much in the moment but it opened up a passing lane for Kallstrom and allowed Sweden's key player to move into the area completely unmarked.
Certainly, Ireland will have lapses – it's inevitable. But they need to keep them to a minimum and hope Darren Randolph has a memorable evening too.
The42 is on Snapchat! Tap the button below on your phone to add!