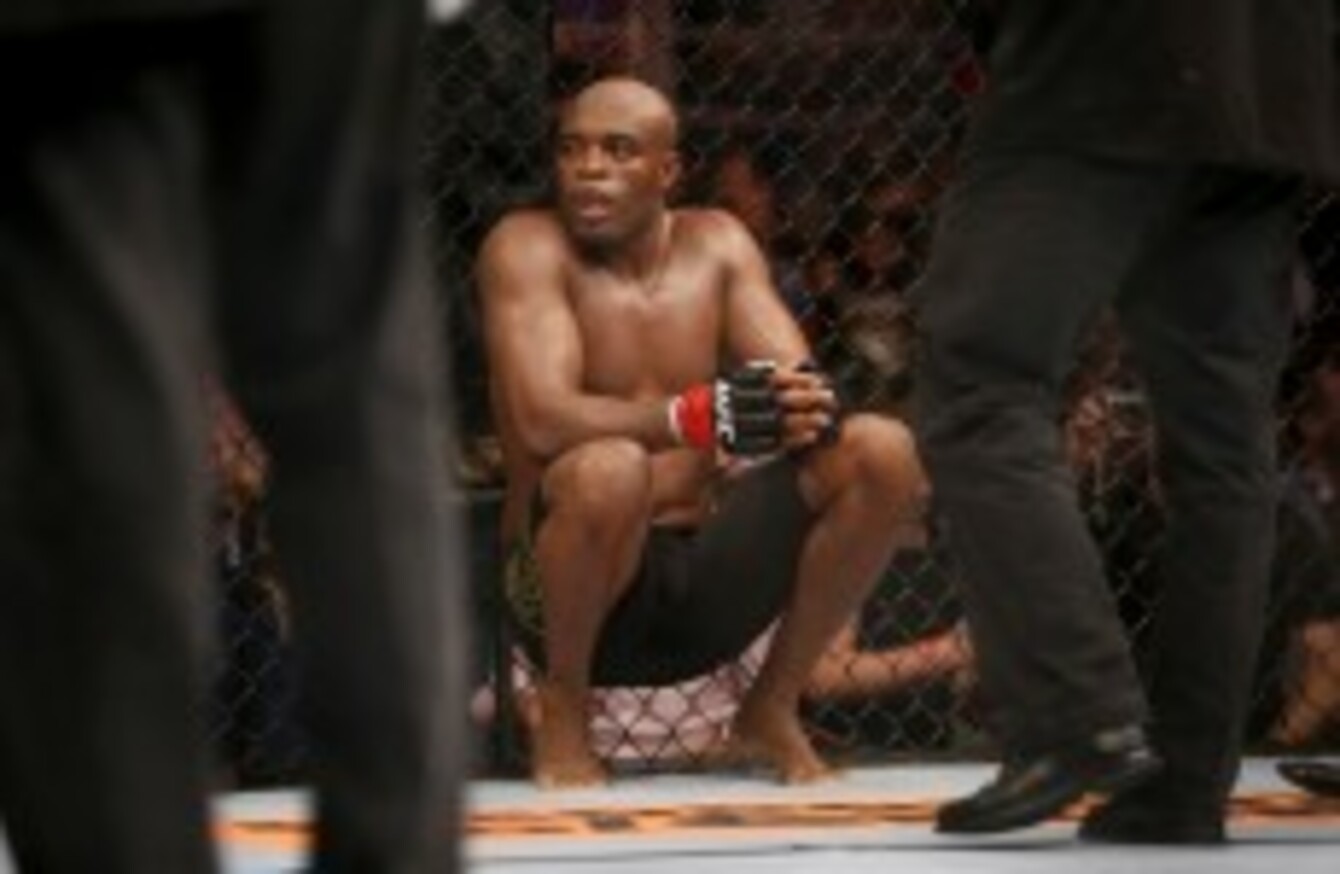 Thirteen months after sustaining a career-threatening injury, Anderson Silva will be back in the Octagon tonight.
Image: Felipe Dana
Thirteen months after sustaining a career-threatening injury, Anderson Silva will be back in the Octagon tonight.
Image: Felipe Dana
ANDERSON SILVA IS three months away from his 40th birthday and hasn't fought for over a year, but the Brazilian middleweight is still arguably the biggest draw in mixed martial arts.
The likes of Ronda Rousey and Conor McGregor may be in line to replace Silva and Georges St-Pierre as the flag-bearers for MMA, but is there another fighter in the UFC who can capture the imagination in the same way Silva does?
His past achievements have already guaranteed his status as a genuine icon and legend of the sport, but we get the feeling that 'The Spider' still has some very big days ahead — in spite of his age and lengthy injury lay-off.
Tonight at the MGM Grand in Las Vegas, Silva takes on Nick Diaz in the main event of UFC 183. Silva is the bookmakers' choice, but Diaz is the kind of awkward and unpredictable fighter he'd probably prefer to have avoided after being out for over a year with an injury that was expected to end his career.
Anderson Silva was last in action in December 2013, when his rematch with UFC middleweight champion Chris Weidman ended in the second round after Silva suffered a gruesome broken leg.
Does Silva have the ability to see off Diaz tonight? Unquestionably. But doubts surround his leg and how well he has recovered. The fact that he has returned so swiftly from such a serious injury suggests that the mind is still in good shape, but will the body hold up too?
The injury is something he's reluctant to discuss, but it's been the main topic of discussion in the build-up to tonight's bout. However, a convincing win over Diaz will put the issue to bed.
"This is part of my life I won't talk to any more because my leg's good now," Anderson Silva said this week. "I don't talk any more on this because this is the past. I train hard now and everything is newer.
"I'm very happy to be back because I didn't fight for one year. And now I'm very excited because it's my legacy, it's my dream, and the new Anderson is back.
"My focus now is the fight with Nick and when I fight — when I finish the fight with Nick, I win. I will prepare for the next level. But now, I'm starting my career in the UFC. This is my first fight in the UFC in my mind."
With middleweight champion Chris Weidman's title defence against Vitor Belfort now postponed yet again, it's unclear where a win tonight would leave Anderson Silva in the title picture.
Belfort will expect a rescheduled date with Weidman, but the UFC might be in a hurry to get the best out of Anderson Silva while they still can. Either way, a third bout against Chris Weidman is something most fans will want to see. The score so far may be 2-0 in Weidman's favour, but both bouts left us with more questions than answers.
Nevertheless, Nick Diaz shouldn't be written off here. If there are jitters on Silva's part, Diaz might well be the man to take advantage. His boxing is second-to-none in the UFC, and if Diaz can find his range tonight he could have success.
However, with Diaz also returning from a lengthy absence — almost two years — we're finding it difficult to look beyond the 39-year-old southpaw from Curitiba for this one. Diaz to be out-sized, out-classed and stopped for only the third time in his career.
Be part
of the team
Access exclusive podcasts, interviews and analysis with a monthly or annual membership.
Become a Member
There's plenty more to look forward to on tonight's UFC 183 card too, with twelve bouts in total on what is a pretty strong card from top to bottom.
Tyron Woodley and Kelvin Gastelum will be looking to gain some ground in the race for a shot at the welterweight title, although Gastelum may have ruined his chances after missing weight by nine pounds last night.
Another one to look out for on the main card is the lightweight meeting of Al Iaquinta and the always-entertaining Joe Lauzon. UFC 183 also features former women's bantamweight title challenger Miesha Tate, Englishman Tom Watson and Diego Brandao's first fight since losing to Conor McGregor in Dublin last year.
UFC 183
Main Card (BT Sport 1, 3am*)
Anderson Silva vs. Nick Diaz
Tyron Woodley vs. Kelvin Gastelum
Joe Lauzon vs. Al Iaquinta
Thales Leites vs. Tim Boetsch
Jordan Mein vs. Thiago Alves
TV prelims (BT Sport 1, 1am*)
Miesha Tate vs. Sara McMann
Ed Herman vs. Derek Brunson
Ian McCall vs. John Lineker
Rafael Natal vs. Tom Watson
Early prelims (UFC Fight Pass, 11.30pm*)
Diego Brandao vs. Jimy Hettes
Richardson Moreira vs. Ildemar Alcantara
Thiago Santos vs. Andy Enz
*Irish time
– First published 13.13