THE CONNACHT PLAYERS aren't carrying rugby balls with them everywhere they go these days, but the skills focus Pat Lam started back in 2013 lives on.
One thing that has endured is the famous five-action handshake between Connacht players each morning, an act that is intended to signify the importance of the five counties of the province: Sligo, Galway, Leitrim, Roscommon, and Mayo.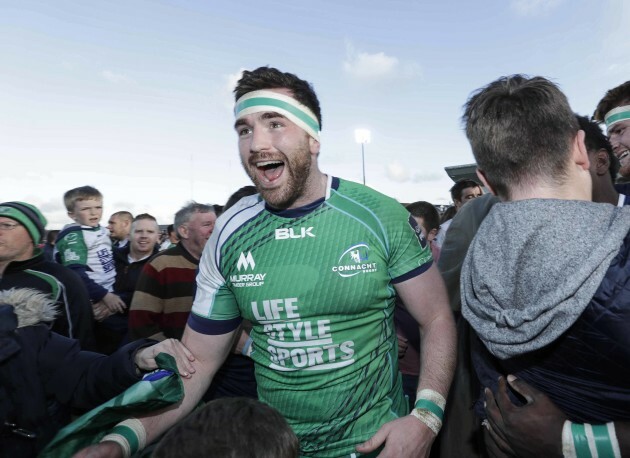 Billy Stickland / INPHO Andrew Browne after last weekend's semi-final win. Billy Stickland / INPHO / INPHO
"The handshake is still there, it kind of comes and goes through the year and it all depends on sickness actually," explains second row Andrew Browne. "If lads are sick you don't go near them with the handshake.
"I think Niyi [Adeolokun] has a few secret handshakes with a few lads but I'm not one of them, unfortunately."
As a native of Galway, Connacht has played a central role in 29-year-old Browne's life. His older brother, Damian, played for the province from 2001 until 2004, ending up at Leinster after stints with Northampton and Brive.
The younger Browne brother made his debut for Connacht in 2007 and has loyally worked away under Michael Bradley, Eric Elwood and now Lam.
The Browne clan and Browne's girlfriend, all of them from Renmore, will travel to Edinburgh this weekend for the Pro12 final and Andrew says it will be "quite a special game" for Damian, given that he has played for both provinces involved in the decider.
While new faces have been integral to the rise of Connacht, it's been important that men like Browne, John Muldoon and Ronan Loughney have been involved too, providing that link to the past.
"From being a supporter first, I've been coming to the Sportsground for I don't know how long. Last Saturday [the semi-final win against Glasgow] was the best moment I've ever had here.
"Back in the day [in 2003, when the IRFU moved to shut Connacht down], Damian marched. He was there. My Dad was there as well. Back then, I wasn't too aware of it. This final is a very special place for me and all the other Connacht lads in the squad and even the other lads have come in and embraced the culture of Connacht."
James Crombie / INPHO Browne high-fives Aki after a win over the Scarlets. James Crombie / INPHO / INPHO
Chief among those recruits has been the imposing Kiwi centre Bundee Aki, who seems to get better every time he sets foot on the pitch – even if he barely does so in the first place.
"I think Bundee Aki has come in and he could become the mayor of Galway pretty soon, the way people are loving him! The likes of him and Tom McCartney, Finlay Bealham came from Australia originally, they've come in and adopted the Connacht mantra, so to speak.
"That's very important – to identify with the community in Galway, Connacht as a province, and I think it's really worked this year. We're a close-knit side, we do a lot together and I think it pays off on the pitch."
Also paying off on the pitch is the 2-4-2 approach being implemented by Lam and his influential assistant attack coach Conor McPhillips.
Connacht's shape in phase play has stretched the opposition this season in particular, having been a work in progress previously. Browne says the players now have major confidence in the way they're attacking teams, even if it is still not perfect.
"It's a system that has provided many opportunities," says Browne of the 2-4-2. "It gets the whole team playing an exciting brand of rugby. Maybe it comes down to skill level, possibly a little bit. Some of the skill level of our forwards has been exceptional this year and that comes back to being comfortable with the ball in hand.
"New Zealand play that way and it obviously works for them, so it is something we have adopted. Now, we have had to refine it a good bit and it did take a while to bed in fully but I think it has worked."
Browne is one of those Connacht forwards who have comfortably embraced the ball-handling approach favoured under Lam this season, with the former Ireland U20 international regularly slotting in as the passing fulcrum in the midfield group of four forwards.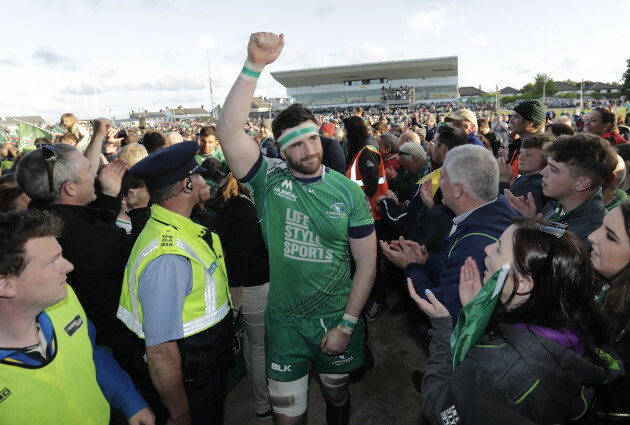 Billy Stickland / INPHO Browne has enjoyed Connacht's style of play. Billy Stickland / INPHO / INPHO
While making 13 starts for Connacht this season so far, Browne has faced stiff competition from the likes of Ultan Dillane and Aly Muldowney in the second row – an aspect he points to as important in Connacht's progress.
"When he first came in I thought he was a bit, you know, Ultan – he's real tall. He's all right angles, he was injuring me every week in training but the growth that he's shown has been incredible. He's a fantastic athlete, he's as tough as nails and he's done really well this year.
"When you talk about competitiveness in the second row, Aly's done extremely well this year, leading the lineout, being a leader around the pitch, so it's been very competitive."
Browne mentions Quinns Roux, Ben Marshall and Danny Qualter too, underlining how Connacht have build genuine depth.
"Even a few years ago, if a key player went down in one position, you wouldn't really have anyone to come in and replace him. Now, young fellas have come into the centre, the likes of Rory Parata and Peter Robb, any time Bundee or Rob have been away and have done extremely well this season.
"I think the growth in every position around the place has been quality."
The42 is on Snapchat! Tap the button below on your phone to add!