THE ROLE MODELS for any young wing coming through the ranks in Ulster in the last decade were obvious.
Andrew Trimble and Tommy Bowe lifted Ulster's wing play to new heights while making a major impact on the international scene with Ireland too.
Jacob Stockdale is more than 10 years younger than the veteran pair, but he always looked up to them as he came through Wallace High School. In more recent times, he has been lapping up lessons from their experience.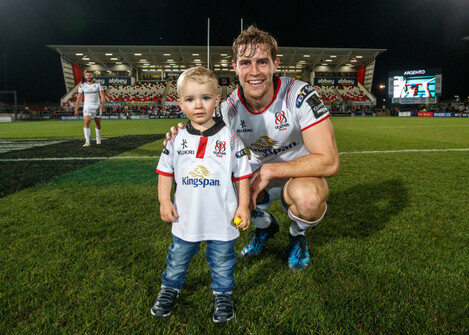 Andrew Trimble with his son, Jack. Source: James Crombie/INPHO
Bowe's retirement from rugby at the end of the current season was announced back in January, but it was only today that 33-year-old Trimble confirmed his decision to hang the boots up.
An important player for Ireland as recently as 2016, when he helped Joe Schmidt's team to beat the All Blacks for the first time, Trimble will bow out as a genuine legend of Ulster rugby.
"He's massive up here," Ireland wing Stockdale told The42 after news of Trimble's retirement today. "He's got the most ever caps as an Ulster player and he's got 70 caps for Ireland, so that shows how good a rugby player he's been over the last 10 or 12 years.
"On top of that, he's a really nice bloke, so he's going to be massively missed for the social aspect and for the rugby as well."
Stockdale said it "feels like the end of an era" in one sense, with these two great wings retiring at the same time, and he will miss their guidance on the training pitch as well as their personalities off it.
Bowe's attacking brilliance provided much for Stockdale to learn from, but he says Trimble's defensive excellence was equally as important.
"Trimby and Tommy would both have been huge mentors for me," said Stockdale, who has been nominated for Mason Alexander Supporters' Player of the Year ahead of the Irish Rugby Players Awards on 16 May.
"Trimby probably has helped me a lot more defensively, whereas Tommy was a bit more with the attack.
"You'd have to search hard to find a winger that defends quite as well as Trimby has over the last few years, who makes the hits Trimby does. He hits like an absolute train, so he does! I've managed to avoid those hits in training, fortunately, and I haven't envied anyone who has been hit by him.
Trimble has been a huge mentor for Stockdale. Source: Tommy Dickson/INPHO
"He's been good in terms of mentoring me and taking me under his wing, having a bit of craic with me as well."
Trimble has always come across as a gentleman in his dealings with the media, his quirky sense of humour and a relaxed, engaging manner making him a popular interviewee.
Stockdale, despite being so much younger than him, has developed a close friendship with Trimble at Ulster.
"He does have an interesting sense of humour and I'm quite similar, so I get on with him really well. We can usually share some weird banter together and weird jokes. He's a great guy to have around because he's always there to have a bit of a laugh and a chat."
Trimble will hang his boots up in the coming weeks, hopefully after Ulster have secured a place in the Champions Cup, and the changes in terms of playing personnel next season are echoed in the fact that there will be a new head coach too.
Ulster confirmed earlier this week that current Scotland forwards coach Dan McFarland will take the reins after Jono Gibbes departs this summer and Stockdale said the province's players are pleased with the appointment.
"We're happy to know who we're getting coached by next season. Everyone is excited by the prospect of Dan coming in because he's got a pretty good CV as a coach and is very well-respected in the Scotland set-up, I know that.
"For us, we're excited to see what he brings and to get cracking with pre-season and into next season."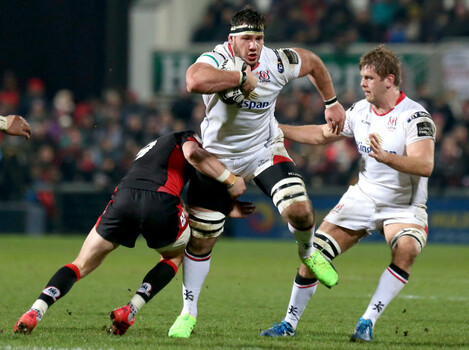 Marcell Coetzee's expected return would be a huge boost for Ulster. Source: Presseye/Matt Mackey/INPHO
Ulster may have Joey Carbery in their 10 shirt by next season, with recent days seeing Joe Schmidt and the IRFU again stating the case to the Leinster out-half for a move north.
There is also hope that South African back row Marcell Coetzee, who has had an injury nightmare, can continue his progress and be fit for the new campaign.
"Marcell is an absolute monster of a man, so he's going to be really good to have back hopefully next season," said Stockdale.
"It could be easy for him to be annoyed around the club, down in the dumps, but he's always pretty excitable and he's good at bringing a bit of enjoyment around the club."
Before all of that, though, Ulster may have a Champions Cup qualification play-off against the Ospreys on the weekend of May 18/19, where they will hope their recent upturn in form can help them secure a spot in the European competition.
While Ulster may not even be required to play that game if all goes their way this weekend, they have been planning for the task.
"We're already focusing on that game and making sure we're as well prepared as we can be. Whether it happens or not, we have to prepare for it as if it's definitely happening," said Stockdale.
"We need to win it so we're playing in the top tier of European rugby because that's where we want to be and that's where I think we deserve to be as well."
The42 is on Instagram! Tap the button below on your phone to follow us!