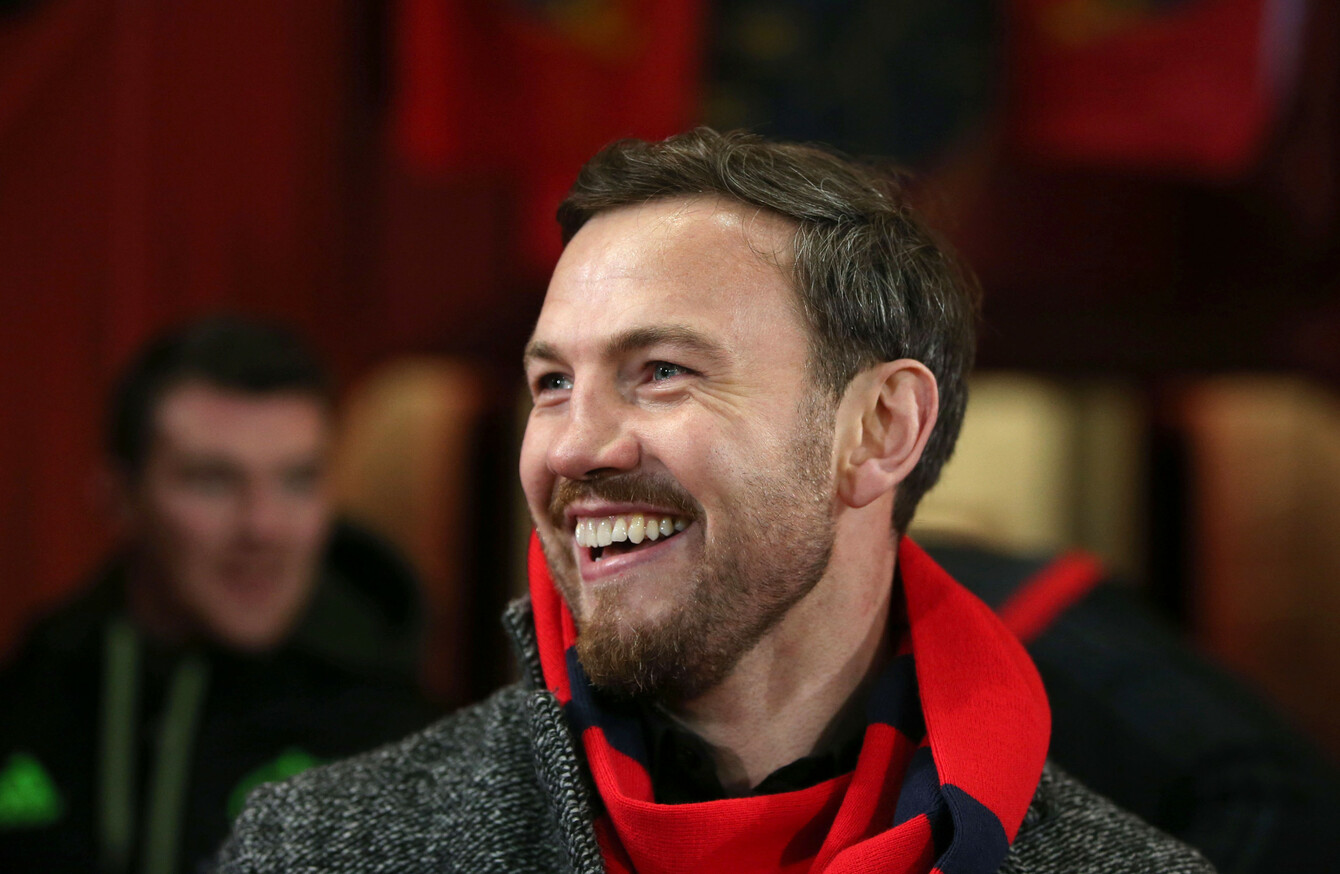 IT WAS AN ABSOLUTE rotter of a day in April 2016, and like every college student who thinks they're a legend, I hadn't a tap done when it came to my final-year thesis.
The general gist: 12,000 words on the future of professional boxing in Ireland, and whether it could ever rediscover its late-2000s heyday. I was mad for pushing the boat out in college.
At wit's end and having reached updating-your-LinkedIn-profile levels of procrastination, I fired a Hail-Mary text to former WBO World middleweight champion Andy Lee:
'Hi Andy, Gavan Casey here. Hope you're well. Any chance you'd be free for a 10-minute phonecall tomorrow? Doing my college thesis on Irish boxing.'
Lee replied:
'How're things Gavan. I'll come out and meet you somewhere for a coffee.'
We met the following afternoon in what was then Mama Fi's on Meath Street – the Andy Lee of cafes: a diamond in the rough; a sprinkling of benevolent charm surrounded by dive-bars, pawn shops and confrontational pigeons halfway down a street brimful of history but seemingly forgotten by modern Dublin.
We spoke for 45-or-so minutes but only about five was usable, thesis-wise – through no fault of Andy's, obviously.
The conversation wasn't two sips deep before I'd unwittingly diverted it from the state of Irish boxing towards his then 38-fight career, and how when he had been felled – hard – by Billy Joe Saunders the previous December, his instinct begged him to stifle the oncoming onslaught by holding, but was overruled by his mind, which said, "Fuck it, let's go"; or how after having lived in the legendary trainer's house in Detroit for five or six years, he'd wake up, look through his open bedroom door across to the adjacent chambers and still get "the pang of, 'Wow, there's Emanuel Steward!'"; or how Steward, who also slept with his bedroom door wide open, would yell across the corridor at the death of night: 'Andy, did you see the fight?!'
But there were pertinent nuggets, too.
"Boxing, for corporate sponsorship, is not attractive," Lee told me. "I was world champion, I have a good image – I was on the front of all the papers, I was on RTÉ and everything trying to get sponsors. Hired a full-time agent and the lot, but boxing is just not attractive.
"But it's not all a hard luck story: it's about fighting. It's just what you choose to do, and you can't be cribbing about not getting the opportunities, because this is the path you've chosen. Nobody forced you to do it. You take the good with the bad.
I'm very lucky: I lived my dream – I became a world champion. Very few people get to do that.
As we rose to depart, he insisted that he pay for the coffee, which despite my protestations was probably just as well, because I had about 12 bob in my Goodfellas pizza-plagued account.
He introduced me to his wife, Maud – lead singer in alternative pop band Maud in Cahoots – whom by chance we bumped into outside, and before we parted ways I asked him if he'd ever consider doing a boxing column of some description, or at the very least more punditry.
"Nah, I wouldn't really be into it," he laughed. "I just don't see people being particularly interested in what I'd have to say. Unless I can just speak and you want to write it!"
I laughed too, then, but you better believe I'm not laughing now that I never chanced my arm further.
Ireland: home to the GAA, Rugby Country, and a great footballing nation with a predilection for producing world-class golfers and rowers, is often described as a boxing hotbed from further afield, but I'm not sure this is the case.
It's a conveyor belt of elite-level fighters, certainly, but boxing is – and likely will remain – the bastard child of Irish sport, its Hunky Dorys-themed heyday a decade ago notwithstanding.
Lee's work on Off The Ball – with whom he's now a panelist – and the near-universal acclaim with which his segments are received, further prove the Irish boxing fan's longstanding hypothesis that the explosive Limerick middleweight possessed more crossover appeal during his 12-year professional career than was facilitated by the Irish sporting paradigm at the time.
Spilt milk, and all that.
But there was gratification – perhaps even vindication – to be found in the public response to his retirement, which he confirmed in conversation with OTB's Joe Molloy last night; at a glance, perhaps the only surprise was the fact that the word 'gent' wasn't trending alongside his name on Twitter such was the plethora of plaudits he received – not merely from all walks of life in Ireland but the boxing community in America, too, from where fighters and writers sent transatlantic well-wishes aplenty.
Lee has always been more cognisant than most that his sport and its frequent, self-inflicted black eyes make for a black sheep in the eyes of the masses, but has never ceased in his perpetual crusade to elevate boxing's standing in his native land, however quixotic a task it may seem.
Even during his own brief front-page status as a world champion (Lee got even less than the proverbial 15 minutes' fame on the Late Late after his title victory in Vegas in 2014, featuring briefly between Francis Brennan and some sort of sandwich museum curator, probably), he championed his fellow Irish fighters.
During an April 2015 appearance on Second Captains Live, broadcast on RTÉ, Lee – still sporting stitches on his brow from a hard-fought draw with Peter Quillin a few days prior – placed then-new IBF World super-bantamweight champion Carl Frampton on Second Captains' 'Good Wall' – a mythical pantheon of all-Irish sporting greats.
The uncomfortable silence which greeted his decision, however trivial, was alleviated only by the scratching of chins and a couple of 'interestings' by Eoin McDevitt, who knew as well as the rest of us that 'The Jackal"s image would be unceremoniously reefed from the wall by a Kerry footballer of some description the following week.
Lee knew this full well, too, but noted at the time that his was a preemptive choice: he predicted that Frampton would in time become the greatest boxer ever to emerge from this island, knowingly steering many viewers who might have missed the bones of his own journey into Frampton's course – which yielded two further world titles and might yet see the Belfast man sling a fourth strap over his shoulder this summer.
Lee, the wily veteran not only of the squared circle, but of the struggle to garner widespread recognition in his homeland, opted to go down swinging rather than pass up the chance to plug a soon-to-be heralded leather tradesman from up the road.
"I'd love to use my time in here to highlight other boxers who deserve a shout-out and a bit of promotion," Lee said during his retirement announcement on Off The Ball last night, suggesting he'll continue to fight the good fight.
As for his illustrious stint as a prizefighter, the 33-year-old added: "I believe that people's boxing style reflects their personality and their character, and if I'm to be remembered as a boxer, I'd like to be remembered as an honest boxer, because that's what I believe I was.
I gave it everything I had. At times when I should have held or ducked or taken a knee, I fought. And it probably was my downfall at times, but I always fought."
As is his wont, Lee sold himself short in his self-assessment. He's an Irish sportsperson who has always gone the extra mile or two, on either side of the ropes.
When he became the first Irishman to win a world title on American soil since the great Jimmy McLarnin 80 years prior, he vowed to fight the best, and Lee wasn't just spouting the usual guff we hear from newly-crowned champions: while a beltholder, he fought the very best opponents available to him at the time.
He defended first against the 31-fight undefeated Peter Quillin in 'Kid Chocolate's Brooklyn backyard, recovering miraculously from three knockdowns – two of them legitimate – before deploying his feared 'Right Hook From Hell' to force-feed Quillin his first ever taste of the canvas. He fought the heavy-handed Quillin, who had missed weight for their enthralling contest, to a draw, but referee Steve Willis would later apologise to Lee for incorrectly awarding the Brooklynite a third knockdown – an error which ultimately cost Lee a famous victory.
Then there was a twice-postponed bout with Billy Joe Saunders, whose two early knockdowns of Lee sweep under the rug what was, in reality, a razor-tight encounter (judge Marcus McDonnell scored it 113 apiece), and one which had it taken place at Thomond Park as initially planned and not Manchester, might well have swung the defending champion's way. Saunders, now rightly regarded as one of the three best middleweights on the planet, is yet to be relieved of the WBO bauble he ripped from Lee, and is primed to give Gennady 'Triple G' Golovkin or 'Canelo' Alvarez a serious run for their money.
Twice Lee agreed to throw down with Golovkin himself – once formally – where 18 (eighteen) other middleweight world champions since 2010 had either slipped out the side door or flat-out refused to do so. His bout with the beast from the east would collapse on both occasions (once due to the untimely death of Golovkin's father), and though Triple G would eventually plot a different route through the middleweight division, the Kazakh and his team continue to hold Lee in high esteem for stepping up to the mark where so many of his peers went hiding.
The Munsterman's conviction, though, has always been equally evinced outside of the ring: there was his unwavering dedication to the late, great Emanuel Steward with whom Lee shared a father-and-son relationship, and who as he laid unwell in a Chicago hospital, asked Lee to leave his bedside so that he could proceed on his path to world honours.
Lee did so, and two years later completed the job in Steward's honour, as the venerable trainer's wife, Marie, roared him on from ringside in victory over fancied Russian Matt Korobov.
And then there are the less profound tales, like how after what would transpire to be his final fight – a points win over KeAndrae Leatherwood at Madison Square Garden last March – the MSG staff wouldn't allow the Irish media backstage to speak with him, despite our seeking our accreditation for precisely that reason.
"Just ask Andy," said one journalist to an event organiser, presumptuously. "He'll speak to us no problem."
Sure enough, after a couple of anxiety-laden phonecalls, we were reluctantly led down several stairways to the bowels of the famous arena. Lee – not minutes removed from the ring – stood outside his dressing room with a smile, hand outstretched as we approached.
He interrupted the conversation which followed only to reach out of the surrounding scrum and wish his old friend Danny Jacobs the best of luck as he arrived for a battle with Golovkin – the bout which Lee had previously been chasing for some time himself.
Jacobs duly removed his headphones to reveal thumping rap music, briefly parting with his howling entourage to embrace the Irishman he once idolised while himself a young up-and-comer.
Less than a year later, it was the fall-through of a high-profile bout versus Jacobs which ultimately swayed Lee in the direction of retirement.
But in truth, if he had told us that he was to call it quits on that New York night when he and Jacobs convened in more cordial circumstances, nobody would have been shocked; as Lee heartily thanked the six or seven assembled reporters for flying over, he was beaming, not at his ring return nor victory, but at the fact that he had just revealed he was to become a father for the first time.
After a professional career spanning 12 years, 39 fights, 35 victories – 24 of them quick – and the fulfilment of a lifelong goal, Lee hangs up the gloves to pursue that new dream, his health intact, and with finances in place and plans in the pipeline to ensure his new family can enjoy the life and legacy he fought relentlessly to build.
The cynic in me suggests boxing, so often rancid, never truly deserved him, but it's difficult to damn to hell a sport which helped to forge a character of his ilk – one who left many adversary flailing on the canvas but leaves behind no enemies in a business built on animosity; one who carried himself with unparalleled dignity in an era where throwing chairs and press-conference pissing-contests fill coffers; one who once took a peak outside his hotel window in New York and put my mind at ease about the blizzard which threatened to leave me grounded at Dublin Airport – this while preparing to make weight for what would transpire to be his final dance under those bright lights.
It's hard to know whether he's sailing off into the sunset or rowing back towards shore, for one suspects his future prominence on our airwaves and screens will see this chapter of his career age well, even for those who suffered the misfortune of missing the boat the first time.