ANNALISE MURPHY IS a name which has become a household one of late.
She captured the hearts of the nation last August in Rio, and returned to our shores an Olympic silver medallist and one of the heroes of the Games.
Despite her London 2012 heartbreaking fourth place finish, and numerous other successes including a European gold in 2013, not everyone outside of the sailing community knew her name before she took South America by storm.
She sailed to a dream start — first place in race one. Day by day, there was more and more talk of Murphy across the country.
She positioned herself as a serious medal contender. Day three saw her top the leaderboard after six races, but people couldn't get too excited. The demons of London never strayed too far amidst the hype surrounding Ireland's big hope.
From there, she never left the top three.
Tuesdsay 16 August will go down as one of the best days of the Dubliner's life. The day of redemption. The day she finally put the heartbreak of Weymouth four years previous to rest.
A fifth place finish in the final race was enough to see her jump from the bronze medal position to silver, and secure Ireland's second medal of the Games.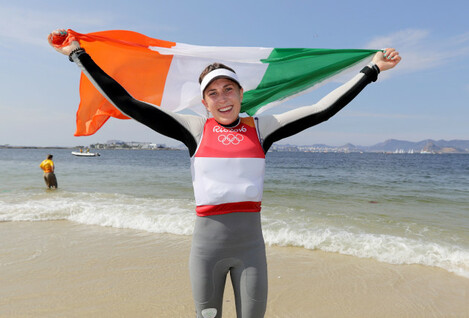 ''What else is possible? Can I do better?' Source: Morgan Treacy/INPHO
Her tweet said it all: "She's done it!!!"
And done it she had.
Murphy chooses not to live in the past though, she's always looking forward to the next challenge, the next opportunity. Life since Rio has been well and good, but she's already relishing what's next.
"It's been great," she tells The42. "It was a bit weird actually, getting home and suddenly I was like 'oh, I don't have to go to the gym all the time and I don't have to watch everything I eat' and be kind of cranky and hungry the whole time.
"That was one of the big things. And then, I guess, being able to go meet up with friends, and live a normal life for a little bit was really nice.
But I want to go and see if I can achieve something else now. When you achieve a goal, you get there and you go 'what else is possible? Can I do better?' And that's what's been in the back of my mind – Can I build on this?"
The obvious target for the Olympian is Tokyo 2020. But Murphy is keeping herself grounded.
There's plenty to focus on between now and then, with her main goal this summer coming in the form of August's World Championships.
"It's kind of daunting as well, there's that small fear in the back of your head – 'what happens if I'm really bad?' which is stupid to think that. But it adds to it, it's not going to be easy.
"That's the thing with an Olympic sport, you put in every ounce of effort that you have and you still won't perform how you feel like you should. It's hard. Everyone's training at such a high level, everyone's so good. A couple of small mistakes and you're at the back.
"I'm taking it one step at a time and seeing how this summer goes."
Of course, Tokyo is still on the brain, but firmly to the back of it.
After 2012, she sent herself into overdrive. Her obsession with the Rio Olympics almost caused her to throw in the towel.
The Rathfarnham native is making sure she doesn't get caught up in the same rut this time around.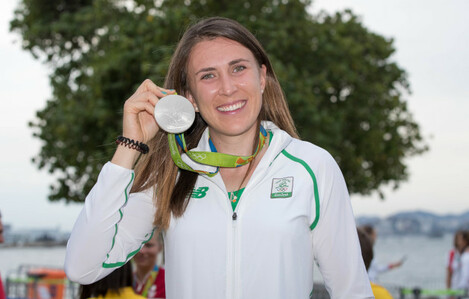 Murphy with her silver medal. Source: Morgan Treacy/INPHO
"I learned a lesson from Rio, where I put so much emphasis on the Rio Olympics after London — it took over my whole train of thought, all I thought about was the Olympics.
Which meant, that there were stages when things weren't going well and I wasn't racing well, that I just wanted to quit.
"There was this massive goal I had set myself, but there's actually so much in between that I had kind of forgotten about and I nearly didn't give them the same kind of importance.
"But because I hadn't given them the same level of importance in my mind, I wouldn't perform as well as I should. It makes it so much harder.
"I'm just taking it one year at a time, and enjoying it. I'm not perfect the whole time, I have bad events and I know that."
But of course, she always wants to do better. She wants to build on her Olympic silver, her biggest achievement to date.
And there's only one thing better — an Olympic gold. It's a natural progression.
"It is," she smiles at the thought. "Another Olympic medal would be amazing."
She doesn't let herself get too carried away though.
"Sailing, trying to describe it as a sport is that it's kind of similar to golf. There's so many variables, so many things can happen, you're racing over five or six days, you're never guaranteed a gold medal.
"Throughout the Olympic sailing competition, there's been people where they should have won a gold medal and they haven't. It's just about preparing yourself as well as possible and hopefully being in with that chance of competing for a gold medal and then seeing what happens."
For now though, the silver will suffice.
Another thing she can take great pride in is her massive contribution towards raising the profile of sailing as a sport in Ireland.
"I often have to explain how physical my boat is as there can be the perception that I'm out drinking G&Ts," she once responded in a Twitter Q&A when asked about its recognition as a 'proper' sport.
Regardless of the Olympic medal, Murphy did a fine job of promoting sailing at the Games, and as a result she's seen her work reap its benefits.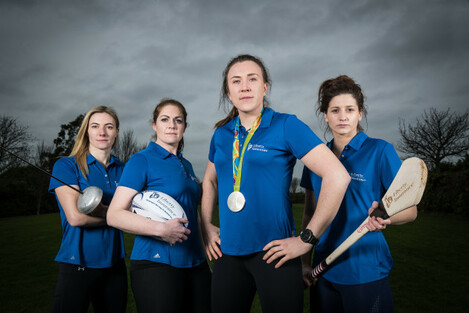 Natalya Coyle, Fiona Coghlan, Annalise Murphy and Mags D'Arcy launching the Liberty Insurance 'A Game of Two Halves' research. Source: Dan Sheridan/INPHO
"In youth sailing, there's really big participation. My sister was down coaching the Optimists in Baltimore for their midterm camp and there was 140 kids all sailing their little boats for the whole week. That's brilliant to see, that amount of kids out sailing and training for an entire week in the middle of winter when it's cold.
"The Irish Sailing Association are running a 'Try Sailing' campaign, they're trying to get more people involved in sailing.
"For me, the thing that's really good to see is all of the youth sailors that I've trained with over the past few years, particularly whenever's in Transition Year, they become my training partner for that year because they're getting half days or they'd be able to miss the odd week of school and come training for me, so them seeing what I've done.
It's really motivated them. They want to go to the Olympics. They're not just talking about wanting to go to the Olympics to compete, they're actually now talking about wanting to go to the Olympics to try and win a medal.
"It's great to see that mentality coming through. I guess up until me, none of us really knew if it was possible for medals or being in that medal zone."
The42 is on Instagram! Tap the button below on your phone to follow us!