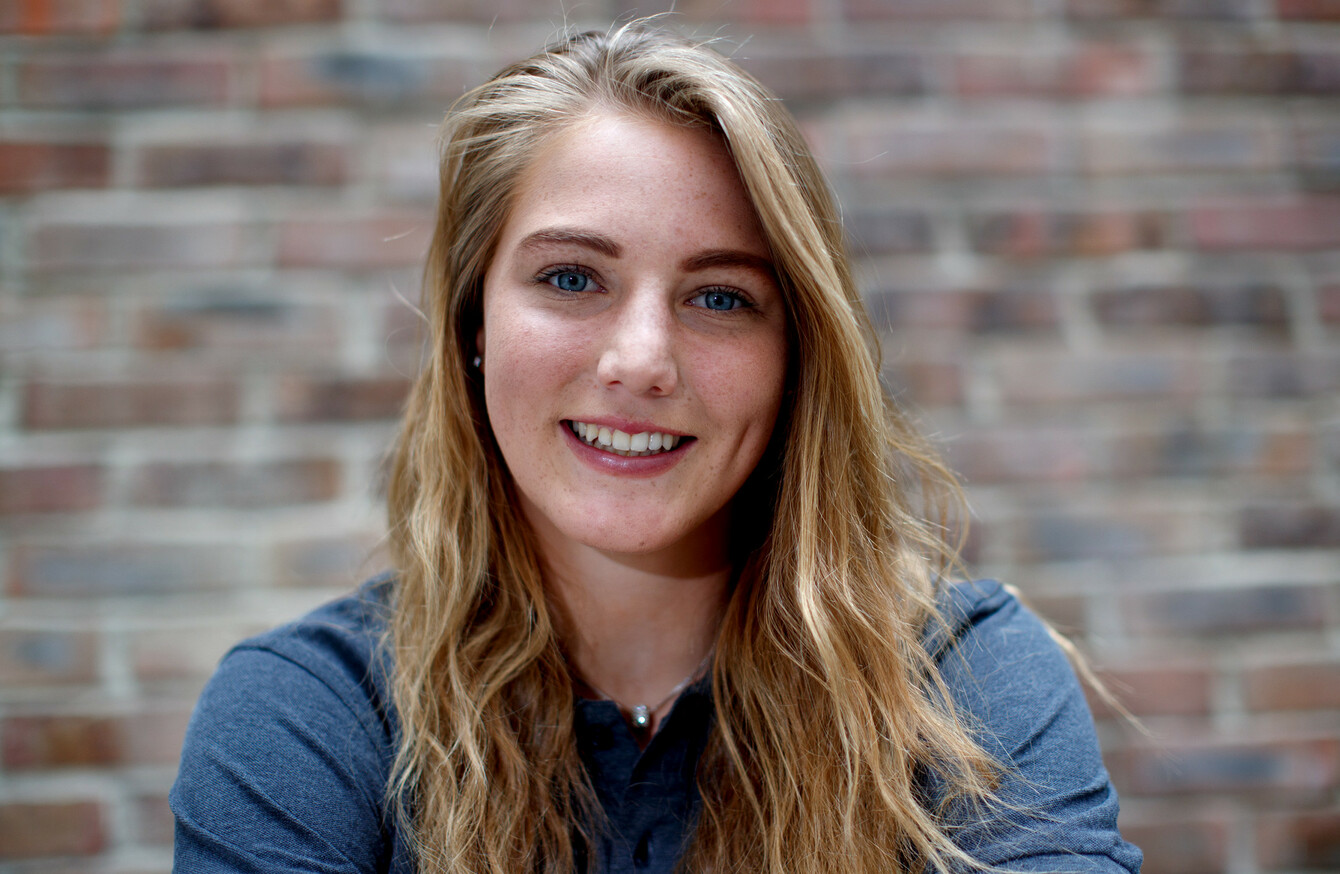 Aoife Hopkins pictured at a recent Irish Sailing team briefing ahead of the World Championships.
Aoife Hopkins pictured at a recent Irish Sailing team briefing ahead of the World Championships.
JUST LISTENING TO Aoife Hopkins describe her schedule for the coming months feels exhausting.
The 19-year-old Irish sailor is briefly stopping in Dublin for five days, having recently been training in both Denmark and Germany. A few days after the interview, she is going to Lake Garda in Italy for a training event. From there, she will go to Aarhus for a test event, return to Dublin for five days, before going back to Aarhus for the World Championships in August. Thereafter, she will return home for four days, before heading out to Sweden for the U21 European Championships. Following that event, she is in Ireland again for four days, before heading out to Japan in September for a World Cup and an Olympic week.
"For the last three years, it's very much been away for two weeks, home for two weeks throughout the year. In the summer, it ramps up in terms of the sailing," Hopkins tells The42.
"Our whole programme is based around the assumption of Olympic qualification, so that's why, even though we haven't qualified the country for the Japan Olympics yet, we're spending a month there in September and just saying we've got to assume that we will [qualify]. So I assume I will be spending a bit of time in Japan as well as 2020 gets closer.
"I love all the travel, it's great. It's gets a little bit tedious at times, especially with connecting flights or whatever. But I get stir crazy if I stay at home for too long, I kind of get itchy feet. Just kind of seeing new places or going to places I've been before, getting out and seeing my friends again [is enjoyable]. It's the same people doing the same things over and over again. We have the same 200 girls competing, so you get to know people really well."
Given the innate restlessness it essentially requires to live that kind of lifestyle, it's no surprise that Hopkins says the worst moment of her career occurred earlier this year, when she was struck down with tonsillitis. The illness flared up while she was in a training camp with the Irish team in Cadiz, Spain last February, and put her out of action for three months, thereby significantly hampering any prior sense of progress or momentum she had accrued.
Every time I thought it was gone, I would go back to training and it would come back," she explains. "That was definitely a big bump in the road."
The infection meant Hopkins missed a number of events as she was laid low, including the European Championships.
Yet she wasn't entirely unoccupied during that period. In addition to being a top-class athlete, the Dubliner is also accomplished in an academic sense. Having achieved 601 points in her Leaving Certificate, she recently completed her first year studying Maths in Trinity.
In addition, shortly after finishing her Leaving, Hopkins competed in the European Ladies U21 Laser Radial Championship in Dournanez, France. Having emerged from the stress of exam hell, she would have been excused for a below-par performance. Instead though, the youngster flourished, winning seven out of her 10 races to triumph. Nenagh native Aisling Keller came second at the event to complete a memorable day for Irish sailing.
"We had three races on the last day, I actually won it after the first one," Hopkins recalls.
"But my coach didn't tell me that… It was like 'two more races, finish strong, I've got to do this'. I won the second race then and he still didn't tell me. So I won the third race and I knew at that stage, it took me long enough to cop on.
"It was the biggest result of my career. Then just being on the podium with the national anthem, the Irish flag, I was suddenly [feeling] very patriotic."
For Hopkins, the Euros title coupled with her superb Leaving Cert results was the reward for a rigorously planned schedule, encompassing five days a week on the water in Dún Laoghaire, as well as three gym sessions and three cycles. Academics, however, always came first.
I definitely prioritised education in school and sailing was second. It was just — get a decent Leaving Cert and then you have options. You can take years out, but you'll always be able to fall back on that.
"By sixth year, I'd settled in, got systems in place. My coach Rory [Fitzpatrick] came into the school, sat down with me, my year head, my vice principal and we kind of worked out where we could maximise study and training time.
"Eoin Rheinisch in the Institute of Sport as well was hugely helpful. He was a three-time Olympian in canoeing.
"Every Sunday night, we'd basically do a weekly plan where the whole week was split into half-hour blocks. It would be colour coded for study, social events, training on the water and I'd put in what I was doing every half hour. It meant we could see where there was an imbalance or an opportunity to get more out of the day.
"The gym we go to is in town, whereas I was in school in Sutton, so commutes into town three times a week for gym became cycles. Then I was getting my cycling in as well as my gym session, not wasting any time."
By 16, Hopkins was already competing in events at senior level. She attempted to qualify for the Rio Olympics for the Laser Radial place that Annalise Murphy ultimately secured.
"The reason I tried to do it in the end was very much for the experience. I improved massively, even just from the first event to the third one."
The Dubliner subsequently watched on in awe, as Murphy, who had been helping with her training since Hopkins was in Transition Year, went on to secure a historic silver medal for Ireland in Brazil.
Be part
of the team
Access exclusive podcasts, interviews and analysis with a monthly or annual membership.
Become a Member
On a related note, it was recently announced that Murphy, who Hopkins describes as a "huge inspiration," will switch discipline from the single-handed Laser Radial to the double-handed women's 49erFX skiff event, pairing up with Katie Tingle in the process.
That decision seemingly opens the door for Hopkins and Keller to potentially fill the void, which Murphy's absence has left in the Laser Radial event from an Irish perspective.
The pressure will consequently be felt in Aarhus next month, with greater responsibility on Hopkins' shoulders to qualify Ireland for the Olympics, though a repeat of last year's performance at the same competition, in which she finished 21st, would certainly be enough to achieve that goal. The Worlds take place between 30 July and 10 August, with 1500 competitors from 100 countries expected. A total of 14 Irish representatives, including Olympians Ryan Seaton and Finn Lynch, will compete.
"In this event, the Worlds in Aarhus, it'll be 18 nations able to qualify in my class in the radial," she explains. "So you could be 25th or 26th and qualify, because you could have four Dutch people in the top 30 and the Netherlands can only qualify once. And it doesn't matter who does that as long as an Irish person qualifies the nation."
There are a few more events thereafter in which Olympic qualification can be secured, though with fewer places available as Tokyo 2020 gets closer, a good performance in Denmark will lift a considerable weight off Hopkins' shoulders. It would not be a stretch, therefore, to suggest that it is the biggest moment of her career thus far, and she doesn't dispute this assertion. However, the talented athlete remains confident of being able to cope with the burden of expectation.
I've been fortunate enough that I have competed in the senior worlds twice now and I've done about six World Cups," she adds. "So I do have the senior experience, which is good. But it will be a massive event."
21st at the Euros secured Hopkins' sports council carding (more info on which can be found here), while such progress has made life easier in terms of funding from other sources as well. Irish Sailing, Irish Sailing Foundation, Howth Yacht Club, Trinity College Dublin Sport and a number of private contributors help the Irish youngster live out her dreams. Positive results have also attracted a number of sponsors — MDL Mercedes-Benz, Team PR Reilly, Eurocarparks, Marqette, Newcastle Systems, Gul and Optimum Nutrition are all on board.
Yet success inevitably comes at a cost in some respects. Relationships can be tricky to maintain given the relentless travelling and competing that life as an elite athlete entails.
"My friends are all completely understanding and hugely supportive, because even last night, I went out for dinner with the girls who I hadn't seen for a while because I was away. I was like: 'Okay guys, it's 10 o'clock, I need to go home to bed.' I was driving home, I wasn't having any drinks, I was giving them lifts home and they were like 'okay, no problem, we understand,' rather than saying: 'Oh go on, have a drink or stay out longer.'"
She continues: "There isn't really an off-season, which is tough, because you're always switched on. You're always looking at your next performance target. I'll be wearing this recovery monitor. I've been wearing it since I got sick, to try to not get me back to training too quickly and get the balance to help me step back and recover when I'm getting too tired, so that I can help my system recover.
"It's funny, it's like Big Brother watching — my strength and conditioning coach in Sports Med Mark McCabe [has access to the results], as does my sailing coach Rory. They both look at the data every morning and it takes what time you're asleep from and until, how many hours, disturbances and things like that. It takes your heart 24-7 at every point in the day, your heart-rate variability as well.
"Then every morning, it gives you a recovery score based on all that data. Then you know how hard to push that day. So we'll actually adapt my training programme for every day based on that data. That also means I can't go too wild, because there's no hiding from the coaches.
It's taken some getting used to, but it just sits there now doing its thing, watching me. It helps me keep focused as well. If my data is in the green, I'm like 'I'm going to push really hard today,' or if it's in a red or orange zone, you're kind of going: 'Listen to your body, take a bit of a rest.'
"It kind of tells you things before you feel them. This slight cold I have at the moment, Monday morning, I had really good data, I was in the green. I woke on Tuesday morning and it was red-orange. I think recovery was like 20% or something. I was like 'oh, that's strange, I feel fine,' then the next day, I had a cold, so it kind of tells you things before they happen as well, which is really good, it gives you a bit of warning."
Given this hectic lifestyle of constant exam assignments and sailing events, I ask Hopkins about the danger of burning out too soon. It is, of course, a pitfall the precocious teenager is keen to avoid, and she does manage to fit some downtime into her schedule too. Despite describing herself as "technologically challenged," she joined Instagram at the behest of her friends and is now a full-on addict. She regularly binge watches shows and is currently one of the many millions of viewers hooked on the hit ITV programme 'Love Island'.
"Some days, you'll be on the water for six hours and you'll be constantly switched on, even if you're waiting between races or something. You still have to be checking the wind patterns to see what's going on, looking at other fleets to see what's happening with their race.
"You'd be absolutely switched on for six hours and you can't even focus on a movie [once you get home]. You don't have the brainpower to follow an actual plot, so 'Love Island' is perfect for that — a bit of mindless watching does the job."
Such guilty pleasures are a welcome distraction for Hopkins from the pressures of elite sport, while the teenager also does work with Kate Kirby, the head of psychology at the Irish Institute of Sport. The next two years will be full of formidable challenges and testing times. Coming from a family steeped in sailing and growing up in Baldoyle before moving to Howth, she has been competing in the sport since the age of nine. Of her two brothers, one sails competitively and the other is an instructor. Both her parents sailed too — her father continues to do so on a regular basis. A member of Howth Yacht Club, the next two years will be vital as she bids to fulfil her potential and represent Ireland at the Tokyo 2020 Olympics.
I wouldn't say [it's] realistic, but I would say [a medal is a] possibility," she explains. "With sport, you can never say never. There is a chance that if I was absolutely on my best game, I could pull that off. But sailing is a development sport, it's very much about gaining experience. That was one of the things that was so phenomenal about Annalise's results in London — she came fourth in her first Olympics and was medal potential. In sailing, everyone does two or three cycles. Your first Olympics is your practice one, your second or your third is your medal one. That's kind of the general idea.
"I would hope Tokyo could be my 'get the Olympic experience' and Paris 2024 would be hopefully my medal [chance].
"Tokyo is still two years away and Paris is six, so a lot can happen. Two years ago, I was in Transition Year, I don't think I'd done a senior event. Six years ago, I was 13, I was in the youth boat, I was in a different class completely and just doing nationals with the odd international stuff thrown in. So two and six years is a long time. We'll see what happens."
The42 is on Instagram! Tap the button below on your phone to follow us!