THE ICONIC AMERICAN golfer Arnold Palmer battled and the players he inspired paid tribute to a beloved figure who spawned the modern big-money era with his charm and skill.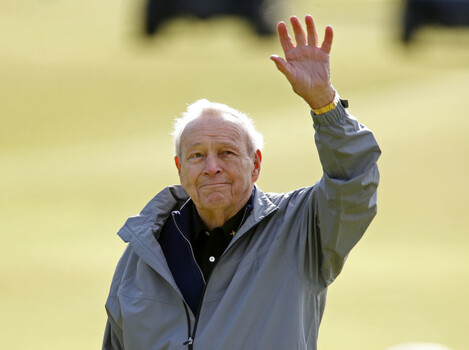 Source: Danny Lawson
Rory McIlroy and Tiger Woods, stars of a newer generation who admired "The King," and Palmer's "Big Three" rivals of the 1960s, Jack Nicklaus and Gary Player, were among those who mourned Palmer's death at the age of 87.
But so was US President Barack Obama, who tweeted a photo of a lesson Palmer gave him in the Oval Office of the White House.
"Here's to The King who was as extraordinary on the links as he was generous to others. Thanks for the memories, Arnold," Obama tweeted.
Former President Bill Clinton called Palmer "golf's everyman."
"We loved him most as the underdog who never gave in and often came from behind to win," Clinton said, while former President George W. Bush said "there has never been a sight quite like Arnold Palmer walking down the fairway toward the 18th green."
Palmer's everlasting legacy is found in the star players and rich events of today, such as Rory McIlroy and the $11.5 million he won Sunday for taking the Tour Championship and FedExCup playoff crown.
"He has meant so much to golf worldwide," four-time major winner McIlroy told The Golf Channel, which Palmer co-founded.
"Arnold wasn't the most successful player ever but he was the player that brought the game to the masses.
"If it wasn't for Arnold Palmer, we wouldn't be playing for these obscene amounts of money we play for every week."
Palmer became the first major US sports celebrity endorsement star, the role made for him in the 1960s. He remained a popular pitchman into his 80s, his "Arnie's Army," fan following unmatched until Woods spawned Tiger-mania in 1997.
"Thanks Arnold for your friendship, counsel and a lot of laughs," Woods said in a Twitter posting.
"Your philanthropy and humility are part of your legend. It's hard to imagine golf without you or anyone more important to the game than the King."
A shocked and saddened Nicklaus, who won a record 18 major titles, mourned one of his dearest friends.
"Arnold transcended the game of golf. He was more than a golfer or even great golfer. He was an icon," Nicklaus said. "He was a legend. He took the game from one level to a higher level, virtually by himself."
Palmer, whose biography "A Life Well Played" is due in bookstores next month, had a design firm that built more than 300 golf courses worldwide.
Be part
of the team
Access exclusive podcasts, interviews and analysis with a monthly or annual membership.
Become a Member
His favorite drink, a combination of iced tea and lemonade, now bears his name in the United States.
"He endeared himself to the people," Player said. "He had charisma. He just fell out of bed with it."
Palmer played 50 Masters in a row before his last in 2004. He had served as a ceremonial starter with Nicklaus and Player in recent years but was too ill to do more than sit and watch the others tee off this year.
Augusta National, where Palmer won four green jackets between 1958 and 1964, was stunned as well.
"Arnold answered the calling for Masters greatness throughout his career," Augusta National chairman Billy Payne said.
"Arnold's bold and daring approach to the game, combined with his citizenship, warmth, humor, humility and grace, were truly the signature of the man that we came to know and will fondly remember, as 'The King.'"
Payne said the club will pay tribute to "our game's finest ambassador" at next year's Masters.
Palmer will also be celebrated at this week's 41st Ryder Cup matches at Hazeltine where holders Europe seek a fourth win in a row over a US squad now motivated to win for Palmer, who played on six Cup-winning sides.
"I'll miss you friend. rip the King," tweeted US standout Rickie Fowler, while US Open champion Dustin Johnson added, "Mr Palmer was truly one of golf's greatest icons. His legacy will live on."
His death became known only hours after the end of the PGA season.
"It's not an exaggeration to say there would be no modern day PGA Tour without Arnold Palmer," US PGA commissioner Tim Finchem said.
The42 is on Snapchat! Tap the button below on your phone to add!