EVER SINCE HE penned his thoughts on Kerry football in The Derry Journal before their recent All-Ireland qualifier against Tyrone, Joe Brolly's views have become a topic of hot debate.
Last night on The Sunday Game, he was asked to speak on the subject and trenchantly defended his position. Pat Spillane was none too pleased about the question marks over his county and particularly their attacking star Colm Cooper. Here's how it unfolded as presenter Michael Lyster refereed
MICHAEL LYSTER: Joe Brolly, you upset a lot of Kerry people recently by comments that you made about the Kerry team, particularly about Gooch Cooper. You described him as a choker. Last night he became Kerry's top championship scorer.
JOE BROLLY: When you're looking at someone like Colm Cooper, who's obviously one of the modern greats, really I was thinking about the Kerry team in general.
ML: Did you call him a choker or not?
JB: No I didn't. I said if a stranger had come to see Crossmaglen playing the Crokes in the All-Ireland club semi-final and watched it, and you said "There's one of the greats of Gaelic Football", they would have said, "No, he's choking". Which he was. It may be because of the great skill that they undoubtedly have, and obviously when you're assessing Kerry it's like assessing Manchester United because you're talking about one of the great teams.
On all occasions, this is a fact Pat, whenever a team, rather than crumbling as say Mayo and Cork did in those four All-Ireland finals, stands and stares them in the face for 70 minutes – Armagh, Tyrone three times and Dublin last year – Kerry have looked down first. You've got to ask yourself that. It's a simple fact.
I don't know what the big deal is. And I'll tell you what the evidence is Pat, against a Division 2 team, that were past their sell by date four years ago, in Killarney last week, Kerry folk were absolutely delirious afterwards. Paul Galvin was in tears. They're obviously one of the great teams but there is a question mark against them on each occasion that a team puts it up to them.
ML: How many All-Ireland's have Kerry won?
PAT SPILLANE: When you're explaining you're in trouble. He's digging, he's digging.
JB: Hold on.
ML: Can we get a bigger shovel for Joe please?
JB: Nobody's digging. It's a fact against Tyrone on those occasions and the Dubs last year.
ML: Were your comments misrepresented or are you now retracting them?
JB: I'm not retracting them. I'm interested in a fact of like. One explanation is that Kerry don't have to go to the well that often, cruise control is enough to burn off 90% of teams. I have yet to see a Kerry team in the face of adversity coming through a game.
ML: Yes or no, is the Gooch a choker?
JB: I have never said that about him.
PS: You did.
JB: It's a simple point.
PS: Three facts Michael. One, he called Gooch a choker and I read that article.
JB: That's not true.
PS: The second fact, Gooch has now scored 19 goals and 240 points, the highest scorer in championship history. And fact three, and people talk about choker, the place to perform is in championship in Croke Park. Gooch's scoring record in Croke Park is averaging over five points. There are two types of people in the world, people who don't know and that's me, and people who don't know they don't know and Joe falls into that category.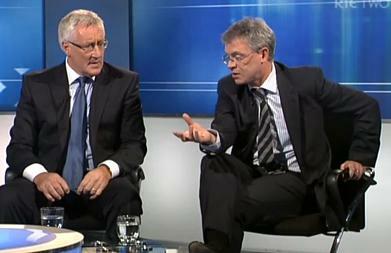 ML: Let's ask you about another aspect of last night's match…
JB: He's a great player. Let's put this into context, I have always admired Colm Cooper as everyone else has. He's one of the great players. But I have to ask the simple question, when you're looking at someone at that level, you're saying to yourself, let's see him lead his team in adversity.
PS: You asked the question when an average Crokes team were playing a superb Crossmaglen team. Sometimes when you're playing against a team that's far superior…
JB: Pat, I'll tell you something else…
PS: He's digging.
JB: Hold on. The big complaint about what I asked, the debate point was this is a lack of respect for Kerry etc, etc. I mean this is the man sitting beside me who described Tyrone as the purveyors of puke football. And who only after people saying this was beginning to sound like sour grapes, damned them with faint praise. The sort of faint praise that he damns Donegal with now. You're very, very sensitive when someone asks a question about Kerry.
ML: Last comment on this.
PS: To paraphrase one of the gospels, forgive him Lord for he knows not what he says or writes many times.
JB: Well, it's an absolute fact and we'll see next week against Donegal.
Watch the footage here on the RTÉ player>