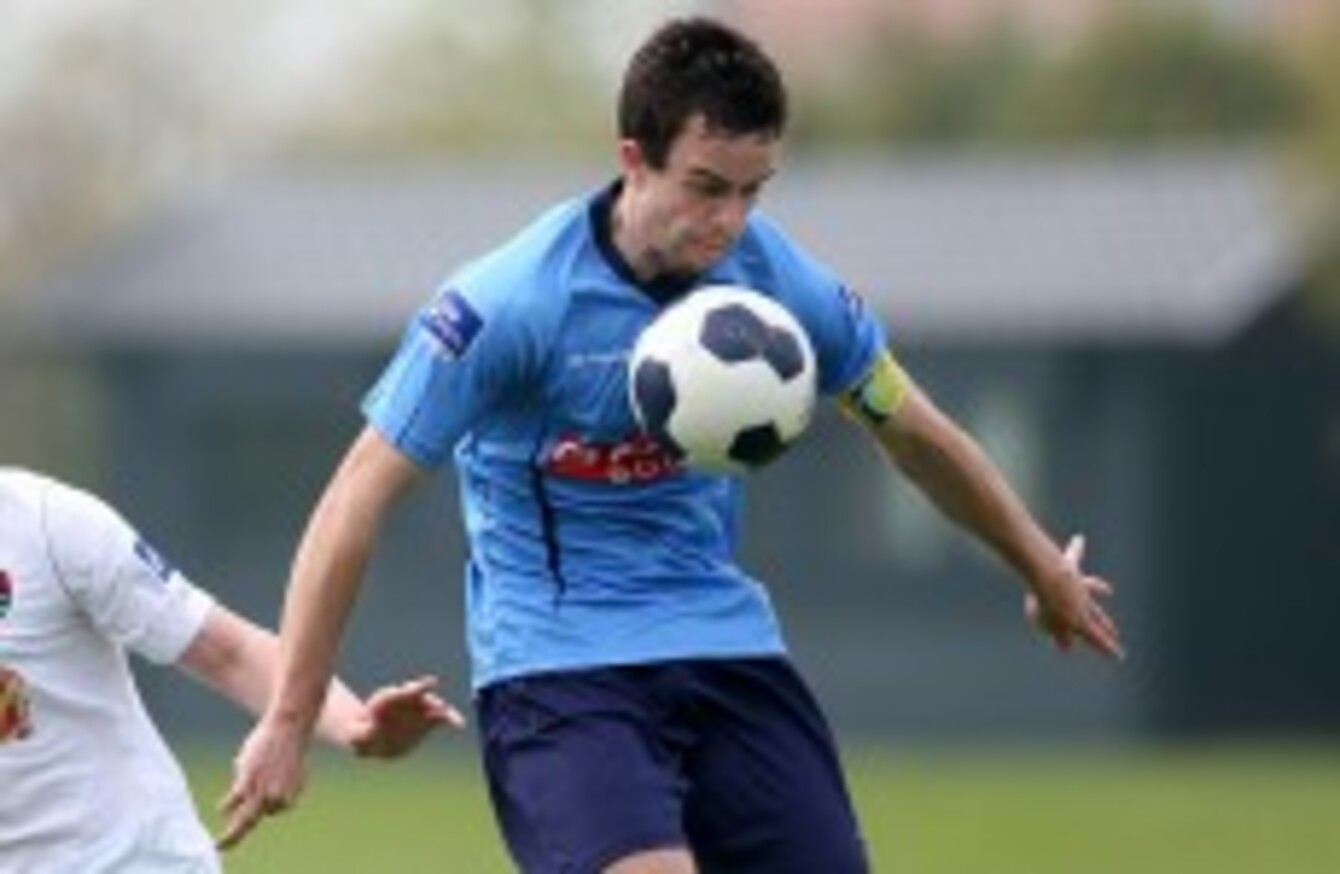 Benson is this year's UCD captain.
Image: Donall Farmer/INPHO
Benson is this year's UCD captain.
Image: Donall Farmer/INPHO
THINGS ARE BAD enough for Athlone Town at the moment, not to mention two of their finest ever academy players are travelling home tonight in the hope of sustaining their imperfect season.
UCD Captain Robbie Benson will lead out his team at Lissywollen tonight, alongside another local lad Tom O'Halloran. The pair go in search of a win that will keep their side out of the relegation zone, but equally so maintain their old club's win-less streak.
Robbie began his Athlone Town senior career at just 16. The recently turned 22-year-old now captains UCD in his fourth season with the club.
Benson though was a plane journey away from a very different career path when as a teenager he was offered a trial with Newcastle United.
"I was heading over with Stevie Folan on the plane, and it was after a month of me being at a tournament abroad and I had been at a training camp with the Irish team, and the plane got in to a bit of difficulty and it had to come back in to Shannon.
"Stevie ended up going back and signing with Newcastle because he got on the plane then the next day, but I didn't.
"Just with different things with the decision for me at the time I never ended up going and Newcastle never had me back, and Stevie ended up signing. You know you think about what might have been when someone brings it up but it's not something that weighs heavy on my mind and I'm happy where I am now."
Robbie stayed, going on to earn a scholarship in UCD after not only playing for Ireland at U15, U16, U17 and schools level, but he also achieved 600 points in his leaving certificate.
"It was the right decision for me to make whether there was an offer or not. To stay and do my leaving that would of been the best decision and things are working out well. I'm playing as well as I ever have and I'm happy."
Source: Colin O'Neill/YouTube
Last season Robbie was in the top 10 goalscorers in the league, and the former Manchester City trialist says it's a huge honour to captain the club.
"I think when people think of a captain they think of somebody who might rally the troops and give motivational speeches," he said, "but things like that don't work for me or the players, and I think it would be a bit hypocritical if I was going around trying to be someone I wasn't. So I just try and make sure everyone's as relaxed as possible so they can perform at their best on the pitch, and liaise through the management to make sure everyone is happy."
Robbie will be looking to add to his two goals so far this year tonight, as he continues to increase his reputation within the league and beyond.
"I'm sure there might be one or two fans to give a bit of stick, as fans do, but no the fans were always very good to me there so I've a lot of respect for them. I'm sure the majority will have the same for me.
"When the fixtures came out at the start of the season it was the first one I was looking for. I had nothing but good times at Athlone and moving to UCD was just something I had to do, but I've been down there whenever I can watching them and it's nice to see guys who you'd have been involved with in the past. So I'm really looking forward to the game."
Robbie's schoolboy teammate Tom O'Halloran is another Athlone lad who transferred to UCD in his teens. O'Halloran had an equally impressive underage career, being capped at U15, U16 and U17 level. He left Belvedere to join Athlone town at 18, where he impressed the UCD scouts with his performances on the left wing.
"I got my break with Athlone in the first division and they're not doing the best at the minute but they've been unlucky and although they haven't got the points, if you get a win in this league it's easy to go on a run. But we're looking to get a result down there."
Since Tom joined the club in 2010 he has been plagued by injuries. The 22-year-old has undergone operations on both of his groins and on his knee.
He made his return this year and according to his captain he is in great form. Although Tom started in the team's last game, their home draw with St Pat's, he may miss out on a starting place tonight. He's struggling with a groin niggle.
"To be honest I'm just happy to be playing and to not be injured but no I don't want to see them go down either. But at the end of the day we're in around the same battle so obviously we want us to stay up rather then them – if someone has to go down.
"I'm sure I'll be getting a few phone calls and texts after the game but during it I'm sure the fans will be fine."
The Westmeath underage Gaelic footballer had the assist in Samir Belhout's first half goal against St Pat's and as he plans to begin studying a Masters in the University next year – he will have plenty of opportunities to make up for lost time in a UCD jersey.
But some day down the line will he ever be back in the Athlone town colours at Lissywollen?
"I have to see how I get on I'd never write anything off. I'm just focusing on staying in the team at the minute and getting as many games as I can. I'm firmly a UCD player at the moment and loving it."