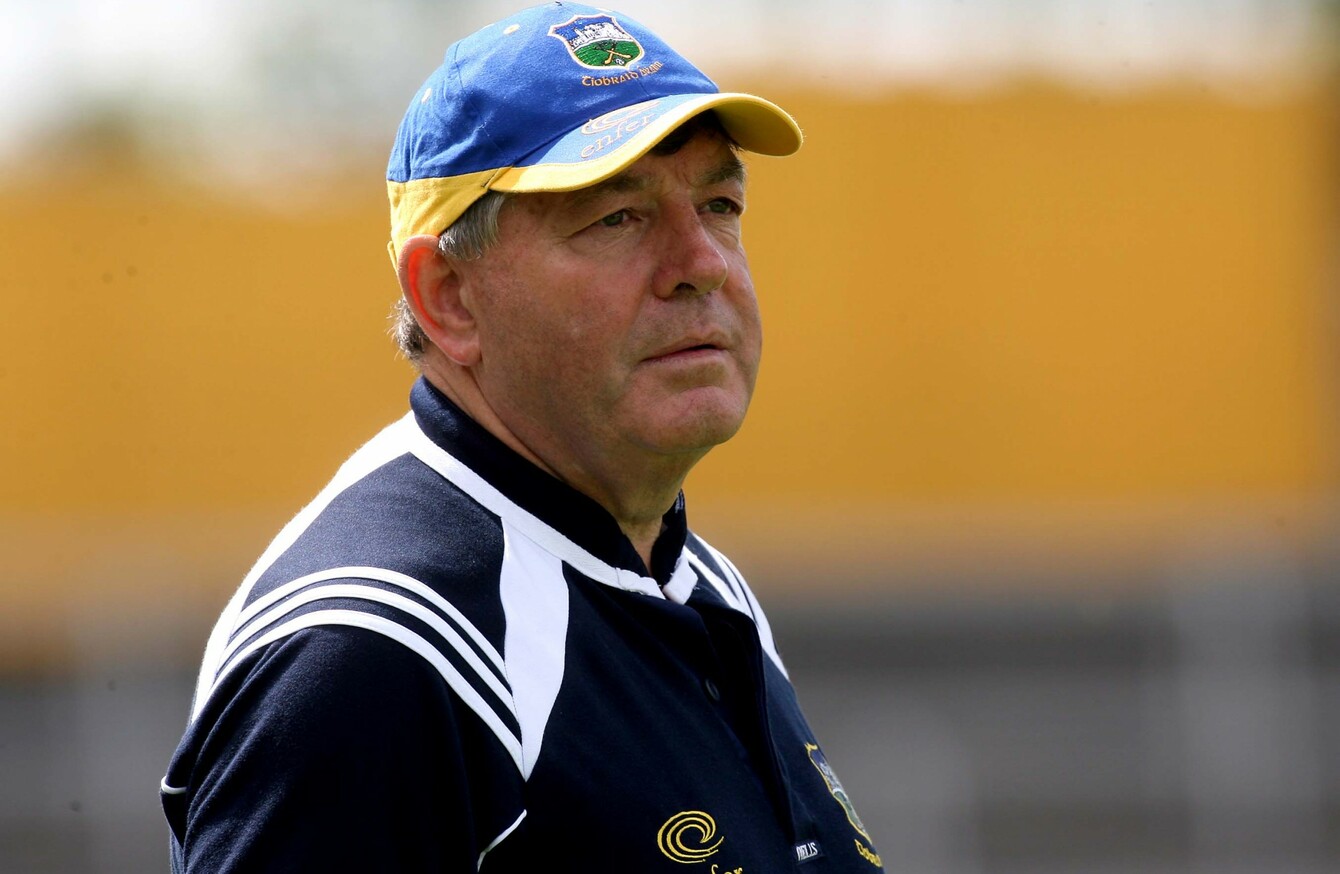 Image: Lorraine O'Sullivan/INPHO
Image: Lorraine O'Sullivan/INPHO
HE OVERSAW A disastrous second coming as Tipperary senior hurling manager and it seems that Michael 'Babs' Keating just can't let it go, if a remarkable rant aired on Newstalk last night is anything to go by.
Keating took aim at the Tipperary county board for refusing him tickets to the 2015 All-Ireland senior hurling final and also lashed former stars Brendan Cummins, Eoin Kelly and Lar Corbett.
Keating dropped Cummins and Kelly in 2007 but the pair returned better than ever to win an All-Ireland title under Liam Sheedy's guidance in 2010.
Despite the fact that they're renowned as two of the finest players in the history of the game, Keating questioned the credentials of Cummins and Kelly.
In his recently published autobiography, Standing My Ground, Cummins lifted the lid on the 'dysfunctional' team environment when Keating returned for his second stint in 2006.
But Keating claimed that he could not get through to Cummins when trying to implement a puckout strategy and questioned Kelly's application during his time as manager.
Here are the main elements from last night's interview on Off The Ball…
Regret returning as Tipperary manager? 
"I do, I do. I'll always remember having a chat with Nicky English, and he had met (former Cork football boss) Billy Morgan, and Billy went back.
"Billy's words to Nicky were, you'll not be dealing with the same people you dealt with in the years beforehand.
I found a huge difference between the type of players I had in the dressing room in the last few years that was there in the previous time. The fun we had in the old days, with the old squad, no matter who you sat beside, you enjoyed it.
I found a different bunch. I can't find the right word but at the end of the day, when you think of the interview I had with county board for the job, 90 per cent of the interview was devoted to discipline so if county board saw it that way, obviously there was a problem with that bunch of Tipperary players. I said 'I'll deal with this provided you stand by me.' I dealt with the discipline but unless your county board stood by me…"
Being refused tickets
"I write an article for The Sun, and upset somebody by some of my comments. I still stand by anything I wrote because I think I'm fairly sensitive to constructive criticism in that area. But I was dealing with a county secretary in Thurles who didn't know what happened back in '86. When I started in '86, Tipperary hadn't a shilling.
"I got the job and the county secretary Tommy Barrett said 'you're county manager now but we don't have a shilling to buy a hurling ball.' Tipperary had hosted the All-Ireland in '84 but unlike today where there's Government grants coming and different handouts from the provinces and Central funds, they weren't available.
"Tipperary basically contributed to the full development of Semple Stadium and I was part of that. I walked the streets in Dublin in the early 80s, collecting money to support the All-Ireland.
"And when I came back then as manager, guys who I referred to, Mr. Quinlan, who looked after Fox, fellas that wouldn't take a shilling for Tipperary hurling, the same way the guys I got jobs for because we were in a recession in the late 80s, the same as the last eight years.
"Employment was a huge issue and lucky enough I had guys on the committee, men of influence that were able to give jobs but some of these guys came back to me for tickets.
"They didn't know the county secretary. So that's the fix I was in this year and previous years, to look after guys that looked after us. But look, he refused me and life goes on.
"I think it was their mistake, if the texts and phone calls I got in support reflect the attitude of the people out there against county board, I think the county secretary made a huge mistake.
Criticism of Tipperary
"It's my job to give a fairly honest analysis as I see it. Having been there myself as a player and manager, I'm not going to hold back if I see something wrong.
"I've been very critical…I'll give you one particular situation – the Monday night before the All-Ireland in 2014, management dropped three of the best young lads in the county. For some reason, county board covered that up.
"Young (Colin) O'Riordan was one of them, who's gone off to Sydney Swans, young (Michael Breen) Breen was another one, I can't think of the other one.
"To do that…I started the Supporters Club so that a situation like that would never happen, with any Tipperary player but particularly to do it to three U21s, who are the future of Tipperary hurling. More than myself would suggest that some of them should be on the team and they could certainly do with them now.
"They said they were surplus to requirements but that's not good enough to me, they were outstanding in the U21 campaign that year and they were on the panel.
"To bring guys on the panel that are never going to contribute to Tipperary hurling…if I'm going to be criticised for having a go in that area, i'll stand by it.
"This year I criticised the team…they went to Dubai on their holidays, they went back to Malaga training in Spain two months later, and they came back to Kilkenny to play Waterford in the League semi-final and were atrocious.
"Cork were already in a League final…everything is about finance in a county like Tipperary, we don't have the luxury that Dublin have with sponsors that are going to deliver millions.
"A League final against Cork in Thurles would have been worth about €120-130,000 to the county and yet we went to Malaga after being in Dubai, and then we went to Carton House for a couple of days and nights. I'm the guy who got huge support from the hotel people in Tipperary. That's why areas I criticise, the management for, and I'll stand by that.
The 2007 season
"They certainly didn't cooperate with us and the rules that John Leahy and Tom Barry and myself laid down were the rules that wouldn't have Tipperary in the situation they're in today.
"Eoin Kelly got injured playing Dublin (qualifier) out in Parnell Park, he came off after ten minutes. We played Wexford the following Saturday, I had an arrangement with White's Hotel, who had the ah, ah, the, am, you know the ice baths and all that?
"I had an arrangement where we used…and I suggested to Eoin Kelly that he should go there immediately to get himself right.
"I checked on Monday and he never turned up. He came on and told everyone he was fit to play. At the end of the day, Eoin Kelly was on for 53 minutes against Wexford (All-Ireland quarter-final) that day and didn't deliver because he wasn't fit to deliver.
"The same way with Brendan Cummins, nobody got more warnings about the way we wanted to play hurling than Brendan Cummins, and he just didn't cooperate with us.
"We had a young keeper who I still think should be on the Tipperary panel, Gerry Kennedy, he was exceptional but because of his association with me, he was never heard of again.
Brendan Cummins
"If you're training and spend the kind of money in training that Tipperary county board spent, it's not unreasonable to expect that everybody in the field know where the puckout is going.
"Now, I played left half forward with Tipperary and John O'Donoghue was in the goal, I knew that I was getting his puckout, we had an arrangement. When Tony Wall was taking a free from the half-back line, everyone in the forward line knew.
"That's not unreasonable to expect from management, that you'd have those kind of signals. Could I get through to Brendan Cummins? Certainly not.
Eoin Kelly and Lar Corbett
"Eoin Kelly knows exactly his commitment to Tipperary hurling under our regime.
"If you take Lar Corbett, Lar Corbett came to me one night at training, I couldn't get him to train and he said to me that his doctor told him that if he kept training he wouldn't be able to walk when he was 30.
"How did I cope with that? I'm not in a position to take on any medical doctor in that situation.
"Lar Corbett never trained with us, that was the situation for two or three years. I was around long enough to know that you cannot compete in the game we're at unless you're superbly fit.
"I was after experiencing the best Tipperary hurlers, the Jimmy Doyles, the Liam Devaneys, the Donie Nealons, I had played with those guys. I had gone through with Declan Ryan and John Leahy, superb leaders.
"I had all the experience, I wanted Eoin Kelly to be up there with the best, that they be remembered as the best. I think he will but he could have been so much better, that's my opinion.
He's as skilful a player as I've ever seen but he wasn't able to back it up from a fitness point of view.
Relegation woes? 
"They were obviously very unlucky last year but I did say when Johnny O'Dwyer missed that free that Johnny O'Dwyer might never see an All-Ireland.
"And unless there's a radical change to Tipperary hurling, my words might come true because at the end of the day, you saw those retired from the panel in recent times, nobody can name the squad that's going to play for Tipperary.
"It's going to be a difficult League campaign for Tipperary and the last thing Mick Ryan and his management team want to be facing is relegation."
Recent retirees
"James Woodlock hadn't delivered at centre field, that's my opinion.
"The county felt it was time for him to go. Go on to Shane McGrath, he's been in and out, a few poor years since the All-Ireland in 2010.
"He was in and out of play this year, he didn't contribute against Galway, Galway owned centre field. If Seamus Callanan got any help at all, Tipp would have played in the All-Ireland.
"The writing was on the wall for those, the writing was on the wall for Lar. I think Conor O'Mahony was hard done by."