Liveblog
Result
All-Ireland senior club hurling final
Cuala 2-19 Ballyea 1-10
************************
Good afternoon all and welcome to today's liveblog.
Here's how both teams will line-out:
Ballyea
1. Kevin Sheehan
2. Joe Neylon
3. Jack Browne
4. Brian Carrig
5. Gearoid O'Connell
6. Paul Flanagan
7. James Murphy
8. Tony Kelly
9. Stan Lineen
10. Niall Deasy
11. Gary Brennan
12. Cathal Doohan
13. Pat Joe Connolly
18. Damien Burke
15. Pearse Lillis
Cuala
1. Seán Brennan
2. Oisin Gough
3. Cian O'Callaghan
4. Simon Timlin
5. Seán Moran
6. Paul Schutte
7. John Sheanon
8. Jake Malone
9. Darragh O'Connell
10. Cian Waldron
11. Colm Cronin
12. David Treacy
13. Seán Treacy
14. Con O'Callaghan
15. Mark Schutte
Close to throw-in here, both clubs appearing at this stage for the first time.
Tipperary's Fergal Horgan is the referee.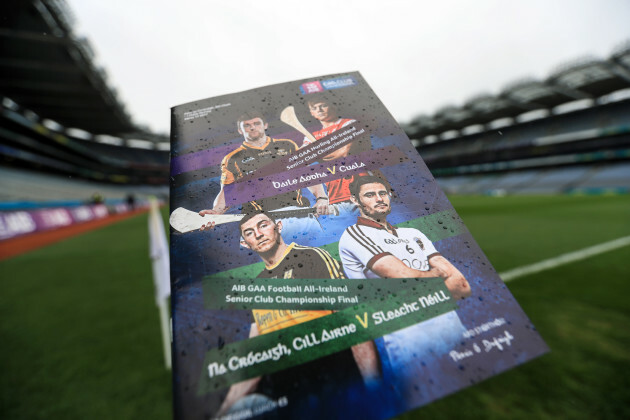 Source: Donall Farmer/INPHO
Game on in Croke Park between Ballyea and Cuala.
Paul Flanagan picking up Cuala danger man David Treacy, while looks like John Sheanon is man marking Ballyea's Tony Kelly.
Clare senior Jack Browne picking up Con O'Callaghan, who has been in terrific form for Cuala.
Ballyea 0-1 Cuala 0-0
3 mins – First blood drawn by Ballyea. Niall Deasy slots over a free from 20 yards out.
First shot of the day for Cuala's David Treacy, difficult one from the right wing from play and the ball tails wide.
Deasy floats in a sideline from the Hogan Stand side for Ballyea, great effort but it goes wide.
Great move by Ballyea is nearly capped off by a point but Tony Kelly's shot comes back off the upright and Cuala clear to safety.
Gearoid O'Connell making a real impression for Ballyea so far in the half-back line, he's caught a couple of superb puckouts.
Ballyea 0-1 Cuala 0-1
8 mins – David Treacy brings Cuala level, launching a great point over his shoulder.
Cuala 0-2 Ballyea 0-1
9 mins – Treacy sends Cuala in front from a free, Jack Browne penalised for a foul on Con O'Callaghan.
Kelly off target again for the second time today for Ballyea and at the other end, Treacy also notches a wide for Cuala. 11 minutes gone here.
Flag
Goal for Cuala from Colm Cronin!
Cuala 1-2 Ballyea 0-2
15 mins – A decisive strike as Colm Cronin gets in behind a bunch of players challenging for the ball and fires to the net. Ballyea defence caught there with players focused on preventing Con O'Callaghan winning clean possession. The Clare side quickly bounce back though with Deasy pointing a free.
Cuala 1-2 Ballyea 0-3
17 mins – Ballyea's first point from play arrives and it's courtesy of wing-back James Murphy who gets forward to score.
Cuala 1-3 Ballyea 0-4
19 mins – Goalscorer Cronin is fouled and Treacy obliges from the free to push Cuala back ahead by three. That score is quickly cancelled out by Ballyea corner-forward Pearse Lillis, his first point of the day.
Really hard-hitting encounter so far. Doesn't look like this will be like the one-sided routs that we've seen in previous years in All-Ireland club hurling finals.
Cuala 1-4 Ballyea 0-4
23 mins – Treacy swings over a free from distance and then Con O'Callaghan nearly strikes a marvellous goal, charging through the Ballyea defence and clipping a shot that goes over the head of goalkeeper Kevin Sheehan but comes back off the bar.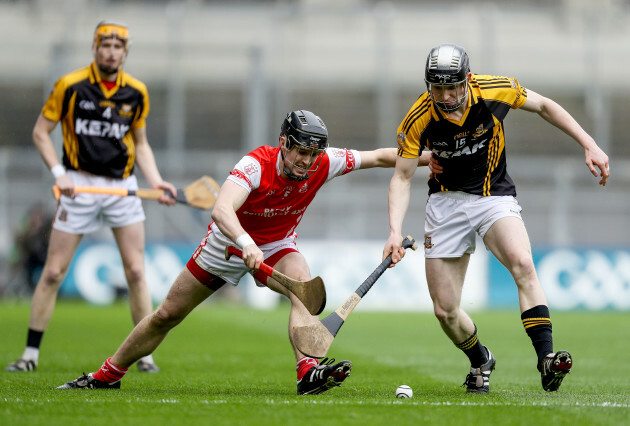 Cuala's Sean Moran with Ballyea's Pearse Lillis. Source: Tommy Dickson/INPHO
Cuala 1-5 Ballyea 0-4
26 mins – Great work by Mark Schutte and when he lays it off, John Sheanon does really well to engineer the space to point. Cuala four clear now.
Yellow card for Tony Kelly after he fouled Sean Treacy.
David Treacy misses the resultant free from a good position.
Cuala 1-6 Ballyea 0-4
30 mins – Super point by Cuala's Darragh O'Connell, splits the posts from midfield.
Cuala 1-7 Ballyea 0-4
32 mins – First of the day for Con O'Callaghan, a classy score from the Cuala attacker.
Flag
Half-Time: Cuala 1-7 Ballyea 0-4
Game on here for the second half in Croke Park. Cuala in control.
Huge goal chance for Ballyea but Pearse Lillis shoots from close range and sees goalkeeper Sean Brennan produce a really good save.
Wides on either side from Ballyea's Gearoid O'Connell and Cuala's Darragh O'Connell.
Play has been brought back for a Cuala free, yellow card for Gearoid O'Connell.
Cuala 1-8 Ballyea 0-4
34 mins – And David Treacy fires over the free.
Cuala 1-9 Ballyea 0-4
35 mins – Con O'Callaghan knocks over another and now Cuala are gone eight points clear.
Cuala 1-10 Ballyea 0-4
36 mins – Treacy again from a free and Ballyea are in trouble here.
Sub: Ballyea bring in Martin O'Leary for Pat Joe Connolly.
Cuala 1-10 Ballyea 0-5
38 mins – The Clare side grab a point in response courtesy of Gary Brennan.
Cuala 1-10 Ballyea 0-6
38 mins – Two in a row now for Ballyea. Pearse Lillis knocks it over after they had pressurised Cuala in defence.
Cuala 1-11 Ballyea 0-7
39 mins – Lovely point for Cuala from Colm Cronin, then Ballyea hit back with Deasy scoring a free after Gary Brennan was fouled.
Sub: Ballyea draft in David Egan for Damien Burke.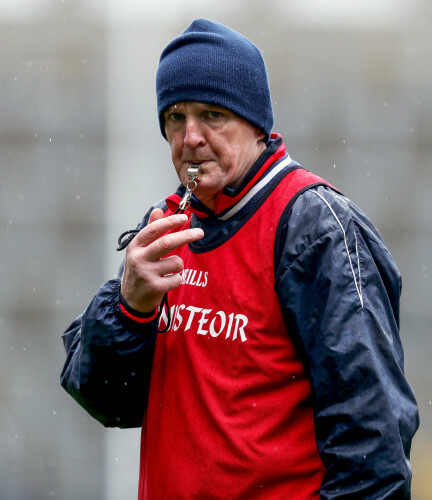 Cuala manager Mattie Kenny Source: Tommy Dickson/INPHO
Cuala 1-12 Ballyea 0-8
45 mins – Treacy and Deasy swap points from frees.
Cuala's defence has been so impressive today. If they keep a clean sheet in the final quarter, they should see this out.
Cuala 1-12 Ballyea 0-9
46 mins – Great score from a free by Deasy for Ballyea.
Sub: Colum Sheanon is on for Cuala as Cian Waldron makes way.
Cuala 1-13 Ballyea 0-9
47 mins – Treacy's frees continue to keep daylight between the sides.
Cuala 1-13 Ballyea 0-10
49 mins – Deasy again from a free but Ballyea need a goal here.
Cuala 1-14 Ballyea 0-10
50 mins – The Treacy brothers combine, Sean is fouled and David points the free.
Cuala ten minutes away from becoming the first Dublin club to win this title.
Flag
Goal for Ballyea by Niall Deasy!
Cuala 1-15 Ballyea 1-10
52 mins – A lifeline for Ballyea, Niall Deasy billows the net after gathering a delivery from Pearse Lillis. At the other end, Darragh O'Connell sprints clear and fires over a point. Could have been a second goal for Cuala.
Yellow card for Niall Deasy after a wild pull.
Flag
Goal for Cuala from Jake Malone!
Cuala 2-15 Ballyea 1-10
55 mins – And that should be that. Malone drills home Cuala's second goal after being set up by Con O'Callaghan.
Sub: Brian Murphy in for Ballyea for Joe Neylon.
Sub: Mark Coughlan comes on for Ballyea for Stan Lineen.
Cuala 2-17 Ballyea 1-10
58 mins – Excellent points for Cuala from Darragh O'Connell and Mark Schutte.
Cuala's Darragh O'Connell is the man-of-the-match.
Sub: Cuala bring in Ross Tierney for Simon Timlin
Cuala 2-18 Ballyea 1-10
62 mins – Colum Sheanon with the latest Cuala point.
Cuala 2-19 Ballyea 1-10
63 mins – That's really impressive again from Colum Sheanon. An outstanding display by Cuala today.
Flag
Full-Time: Cuala 2-19 Ballyea 1-10
That's it from us here, thanks for joining in today's coverage of the hurling final.
Contribute to this story: