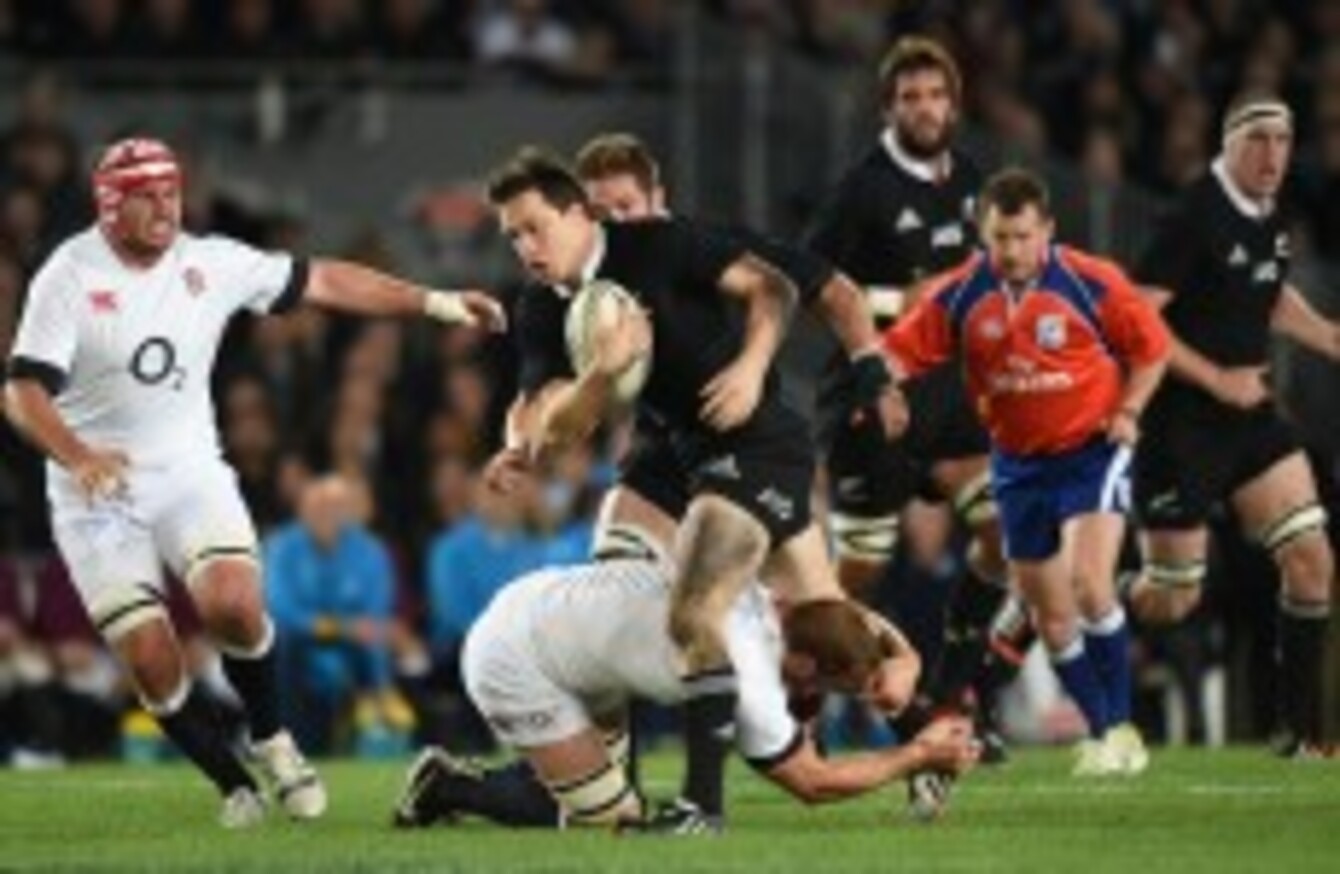 Smith was at his sublime best against England on Saturday.
Image: Photosport/Andrew Cornaga/INPHO
Smith was at his sublime best against England on Saturday.
Image: Photosport/Andrew Cornaga/INPHO
BEN SMITH TURNED in another excellent performance as he inspired New Zealand to a 28-27 victory over England in Dunedin on Saturday.
While Israel Dagg is a world-class player at his best and the injured Charles Piutau provides another interesting option in the long-term, head coach Steve Hansen cannot deny Smith the 15 shirt this season. The Highlanders man is in stunning form and combines incredibly effective attacking play with dogged defensive effort.
The covering tackle and turnover on Manu Tuilagi just before half time was a clear highlight, as were Smith's pass and support line in the sweeping New Zealand counter-attack that ended with him touching down in the 43rd minute.
The 28-year-old does the basics of the game excellently, tackling well, passing competently, fielding high kicks with dominance and consistently working hard off the ball.
But Smith possesses lots of extraordinary skills too, such as the ability to slip his legs out of tackles even when defenders seem to have a strong wrap of the arms with which to haul him down.
His centre of gravity and ability to continue to move forward on his feet when other players would stumble and go to ground marks Smith out as special. Those same physical abilities lend themselves to another of the little skills that Smith has added to his repertoire.
Twice in the game we saw the Kiwi fullback go to deck under a tackle, immediately release the ball, get back to his feet, pick the ball off the ground and continue forward, all in the space of less than a second. It's something we've seen him do in Super Rugby this season too.
It's a peculiar skill, but one which appears to becoming increasingly common in the game. Referee Jaco Peyper was happy with Smith's actions, shouting "play on!" both times the fullback carried out this action.
As we see above, Smith doesn't make too many yards on what is essentially his second carry of the ball, but the intention is to buy his teammates a crucial extra second in which to secure the breakdown.
That said, Smith does claw his way a few extra metres up the pitch in the example above, as he recognises the lack of players immediately around him after Dave Wilson 'completes' the original tackle.
Later in the game, we saw a second example of the skill from Smith, although this time he made even less headway on his 'second' carry of the ball.
Get exclusive
lions analysis
Get members-only video analysis and Insider reports from The42's Murray Kinsella
Become a Member
Again, we see that the English tackler [this time Dylan Hartley] doesn't fully complete the tackle, or at least doesn't hold onto Smith for that crucial split-second on the deck. That allows the New Zealander to pull off the same trick.
As Smith goes into contact, he is already thinking about keeping the pill alive as best he can. He places the ball on the ground – thereby releasing it – as he is using that phenomenal core strength of his to bounce back up to his feet.
On this occasion, Smith can't get his legs back out in front of himself to get meaningful strides in, but he does manage to roll another metre up the pitch, allowing Brodie Retallick, Richie McCaw and Sam Whitelock to ensure swift, clean ball at the ruck.
On the very next phase, New Zealand score wide on the right through Ma'a Nonu, benefiting hugely from that quick possession.
It's worth stressing that this little skill of Smith's is not something that is suited to over-use; no player would look to carry it out every time they go into a tackle situation. Furthermore, some referees may be less willing that Peyper to accept it as a legal movement.
We have seen the skill intelligently used this season after attacking players make big linebreaks and become isolated from their teammates; this release of the ball and immediate 'pick and go' buys a crucial second or two for the support to arrive.
If Cian Healy had managed to pull off such an action in the clip below, could he have come away with a try, rather than a penalty against him for not releasing the ball? The circumstances are clearly different, with more bodies around the attacker, but it's worth a quick thought.