BOWING OUT WITH an All-Ireland medal in the back pocket would be a fitting end to a stellar career but Bernard Brogan insists his brother hasn't made a decision about his inter-county future just yet.
Alan Brogan contemplated retirement 12 months ago but decided to play on for another year and helped Dublin to lift the Sam Maguire for the third time in five years.
Speculation has since been rife that the 0-12 to 0-9 win over Kerry was the 33-year-old's swansong in blue and Bernard admits it would be a nice time for Alan to hang up his boots.
"I've half mentioned it to him but he's standing firm at the moment," Bernard said. "During the year he was gone and that was it, done. It was his way out, 'One more year and please God we get the All-Ireland'.
"I'd say, just the way it ended he would have liked more time and would have liked more involvement but just it was a fairytale ending.
"There's positivity in his mind when he thinks of Dublin at the moment and I've said it to you before, when you can't offer any more as a player, if you think there's somebody beside you that can offer more or the young lads coming up, that's when you step away.
"But if you still think you have something to add to that team you owe it to the others to keep going. It's difficult for a fella like Alan, who would have played 13 years, every game first name on the sheet, captain, all the works, to play in that bit-part role, it's a very difficult thing to do mentally for someone like that.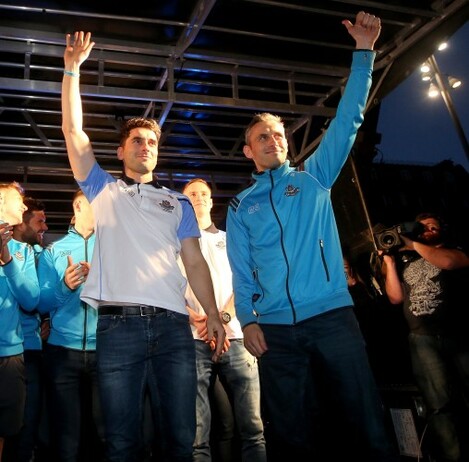 Bernard and Alan Brogan at Dublin's homecoming parade on O'Connell Street. Source: Ryan Byrne/INPHO
"So that's a challenge that he'll have to make, would he be willing to do something similar and for the team. I'd definitely say he has something to offer.
After coming on in the 66th minute in the triumph over the Kingdom, Brogan demonstrated his enduring worth with a late cameo to see Jim Gavin's men over the line.
And while his body is still up to the task of inter-county football, Bernard admits his older brother now has additional commitments which will play a big part in his decision.
"He has a career to go after now, he's getting a little bit older and a family to look after. As much as we love the GAA, when you have a family there's other things to think about as well.
"I'm sure he'll make a decision but at the moment he's very much just enjoying the ride. It's been a really nice way to finish it for him but hopefully not.
"It's just whether the appetite is there and whether he has the commitment from the family. I'm sure he will have a chat with Jim before any of us know… well, I might know but I won't tell any of you."There has been no word of it yet. He's just enjoying it and rightly so."
Dublin players, including Bernard Brogan, were at AIG Insurance's offices in Dublin for a reception to mark their GAA Football All-Ireland Championship success.