GOOD HUSTLE, READERS. It's been a long, wet and cold week but your contributions made us feel all warm and fuzzy on the inside.
Here are some of our favourites.
There were many pieces of insightful analysis after Aidan O'Shea's super-sub role in an under-10 fixture, but Hank Scorpio spotted the mind games from the bainisteoir. 
Some serious trolling by the manager there. Gives the young lad the number 2 jersey and then sits him on the bench."
We don't know how serious Ken Pepper is, but we'd certainly like to hear a few chapters of The Da Vinci Code read by the Notorious
Love his voice…he should do every audiobook imaginable."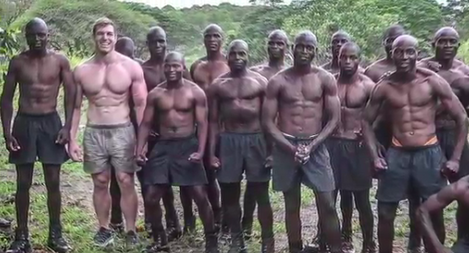 The sight of David Pocock's torso pretty much made readers stand up and give the man a round of applause
"Even his pecs look like they're checking out his abs," said Rugby Champions Cup, while Fr Tod Umshus was veering towards impure thoughts.
"Starting to question my sexuality a bit looking at that photo"
The unfurling of the first comical Euro 2016 flag got N o'Huallaigh's mind jogged.
My fave t-shirt at the last euros was one that said "Thanks Fiona for letting me go"!!
Back to Mayo,and the Old Moore's Almanac is predicting a victory bus in Ballyhaunis next September. Jack Strong will have his wallet locked, loaded and ready.
Start saving for September so lads, just imagine the session whenever we finally get over the line…
Jimmy Murphy put it best with a simple message on Tuesday night.
So long Jonah. Legend."