BOB CASEY IS used to fighting for London Irish having claimed about 10,000 lineouts during the decade where he represented the club in the second row. But all the Premiership set-pieces in the world can't ready you for a role behind-the-scenes, which is where the former Irish international now finds himself as the recently appointed director of operations at the club.
It's like going from a knife fight in the trenches to pushing soldiers around on a map in the war room.
But Casey is well-prepared for the role, having had a few years of experience in the business world after retiring in 2012 as well as his rugby acumen.
His first task was to do a complete review of the rugby side of London Irish – an area that has seen significant drop-off in the last few years. In the latter part of Casey's Irish career the club made a Heineken Cup semi-final, a Premiership final and also beat Leinster in the RDS in Europe.
However they finished 9th and 10th in the two seasons since Casey retired and are currently 10th again this term so after being appointed by the club's new owners – they were bought by a consortium of Irish businessmen in December 2013 – he had a lot of work on his hands.
"I came in and did a root and branch review of the rugby side of the club," Casey told The42.
"I started a committee with ex-players like Barry Everitt, Nick Kennedy and Joe Ansbro because I don't believe one man has all the answers and we looked at what had been going wrong. We looked at the top six clubs in the Premiership, Pro12 and Super Rugby to see what we could be doing better,"
"We didn't look at France because that is not the model we want to follow," he adds with a laugh.
The role Casey now occupies doesn't have a whole lot in common with the one he filled on the pitch for ten years. He says matchday is still a workday for him but instead of making a nuisance of himself at the breakdown he is out schmoozing with fans and sponsors.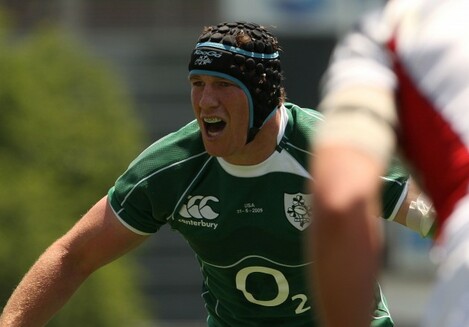 Casey won seven caps for the Irish team. Source: Billy Stickland/INPHO
He has only held his current role for a month – before that he was a rugby development officer with the club – but he has already outlined the steps that need to be taken for London Irish to ascend the table once again.
"I have a five-year plan for the club," Casey said.
"This year is about laying the foundation and forming the spine of the team. We already have a £12 million training facility which is one of the best in the Premiership,"
"There certainly will be pressure next season, I'm under no illusions about that," he continued.
Be part
of the team
Access exclusive podcasts, interviews and analysis with a monthly or annual membership.
Become a Member
"We are actually on target for this season because we moved a lot of players on last summer and we are building our squad for next year."
Adding talent for next year is a big part of Casey's new job and Irish have already shown they have some money to spend, signing up World Cup-winning All Black Ben Franks, Scottish flyer Sean Maitland and appointing highly regarded Chiefs assistant Tom Coventry as head coach for next season.
Casey's recruitment drive has seen Maitland join the club ahead of next season. Source: Inpho/Billy Stickland
From an outside perspective that would appear to be the funnest part of the job, as Casey gets to draw up fantasy rugby-style longlists and shortlists as he assembles his dream team of galacticos on paper.
Casey laughed at that suggestion and explained that the recruitment process isn't as easy as just picking a player and snapping him up.
"If you are Leinster, you can just pick up the phone to people because you've won Heineken Cups and players know what you are about," Casey said.
"It is more challenging for us because our performances haven't been as good the last couple of seasons. You draw up a database of players and then you get out to agents to see who's available. You put together a depth chart of players at different positions based on their work rate and how they fit the system you want to play. The problem with drawing up shortlists – which I found out very early – is that you need to have a Plan A, Plan B, Plan C and Plan D because there will always be guys who you miss out on."
Given the club owners are Irish, the team has the word in its name and that Casey played seven times for the national team, it is no surprise that the club are looking to increase their Irish support base by bringing a few more players across the water.
Ex-Leinster flanker Conor Gilsenan joined last summer and Casey is hoping to create a dialogue with the provinces (Leo Cullen was a team-mate both in school at Blackrock and with Leinster) and the national team with the hope of getting some more Irish talent to come over.
Casey hopes to bring more young Irish players, like Conor Gilsenan, to London Irish.
"We've been developing our relationship with the provinces and with Joe Schmidt with the idea of maybe taking on some players who otherwise wouldn't be getting regular game time," Casey said.
"Somebody like Conor Gilsenan is a great example. Would he be playing at Leinster ahead of Jordi Murphy? Maybe not, but he is playing regular rugby here and he is thriving. Me, Leo [Cullen] and Girvan [Dempsey] sat down and talked about him last season."
Getting more Irish players in the squad is one way to attract some of the ex-pat community to games and one of Casey's priorities is to tap into that fan base to a greater extent. There were rumours that Declan Kidney would be brought in as the director of rugby but Casey says they were just that.
And while he laments the fact that he missed out on signing a couple of talented Irishmen ahead of next season, Casey is determined to emphasise the latter part of his club's name.
"There are Irish fans going to our games but not enough of them," Casey said.
"There is such a big Irish population in London and we need to reconnect with them. I think the club lost their identity over the last few years and we need to make sure the matchday experience is great so that fans want to come. Unfortunately some of the players we missed out on were Irish guys. One way to get Irish fans to come down is to have some Irish players and we will continue to work with the provinces and Joe to see if we can bring in the right players."