"I wonder if it was a dream".
THERE WAS A seismic transition that hit Irish football at the tail-end of 1995 as the Jack Charlton era came to a rather limp climax.
A comprehensive 2-0 play-off defeat to the Netherlands at Anfield saw the senior side rather tamely fall short of qualification for the following year's European Championship. After a decade in the sun, the clouds rolled in and a darkness fell on the fortunes of the team.
It stayed for a number of years.
There were more play-off defeats, embarrassing away days and lots of almosts.
But what kept us going through such an unforgiving and tumultuous period was the exuberance of a group of fearless young players that stepped up and delivered.
In the space of two months in 1998, the Republic of Ireland were crowned champions at Under-16 and Under-18 level.
But by that stage, we'd already got a taste for it.
What kickstarted it all occurred between June and early July the previous year as Brian Kerr and Noel O'Reilly – in their first tournament in charge of the youth team – oversaw a momentous achievement.
In the golden summer of 1997, a group of Irish teenagers went to the other side of the world and came home with a bronze medal.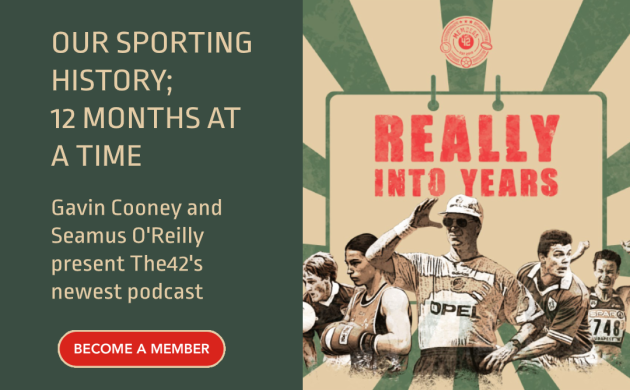 Captained by the calm, composed and meticulous midfielder Thomas Morgan, anchored by the imposing and intimidating presence of Colin Hawkins in the centre of defence and with the intoxicating wizardry of a blonde 18-year-old called Damien Duff ensuring a sprinkling of stardust, it was a richly talented group.
Over the next week, The42 will commemorate an historic moment in Irish sport with a collection of articles devoted to Malaysia '97.
We hear from the players involved, the coaches, the (very few) journalists who were there and explore the finer details with an in-depth oral history.
Over the last two decades, there have been plenty of feel-good football stories related to our national team.
But, there remains something remarkable about a collection of young players achieving the spectacular. Maybe it's the innocence of youth and the romanticism that goes with it. Before the money, the fast cars and the litany of other cliches, there's a purity, a rawness that will probably never be matched again.
What happened in Malaysia twenty years ago is something that deserves to be lauded and celebrated indefinitely. It's something to cherish, always.
Over the next seven days, we hope to do the story justice.
The42 is on Instagram! Tap the button below on your phone to follow us!