BRADLEY WIGGINS HAS won the Tour de France, while his compatriot Mark Cavendish won the final stage to the Champs-Elysées in Paris on Sunday.
The 32-year-old took overall victory from Chris Froome, another Briton, as he completed the 120-kilometre 20th stage from Rambouillet to the French capital.
It was Wiggins' 13th day in the yellow jersey and he finished with a lead of three minutes and 21 seconds over his Team Sky colleague.
Cavendish, meanwhile, won the final stage for the fourth year in a row.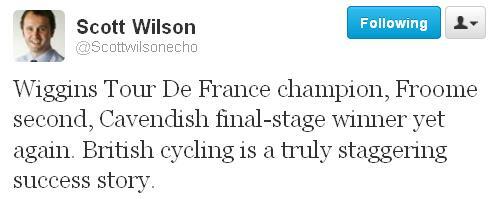 Wiggins rode alongside the 2011 winner Cadel Evans, the man that the Londoner watched closely after crashing out last year with a fractured collarbone.
"I just want to say thank you to everyone for the support all the way around," Wiggins said after receiving the ceremonial yellow jersey.
"It has been a magical couple of weeks for the team and British Cycling. Sometimes dreams come true and to my mother over there, her son has now won the Tour de France. Have a safe journey home and don't get too drunk tonight."