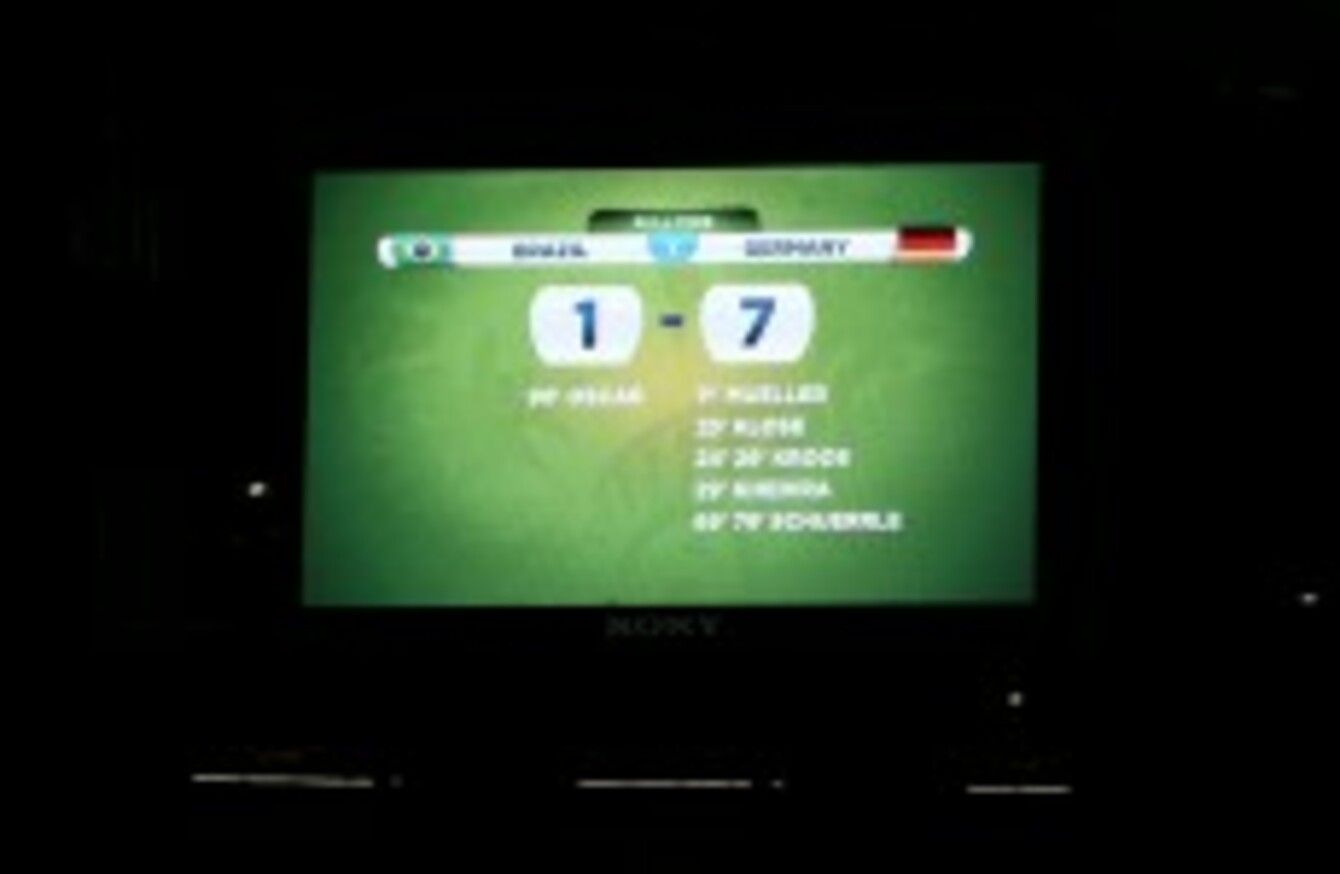 A view of the scoreboard showing Brazil 1 Germany 7 after the FIFA World Cup semi-final at Estadio Mineirao.
Image:
PA Wire
/Press Association Images
A view of the scoreboard showing Brazil 1 Germany 7 after the FIFA World Cup semi-final at Estadio Mineirao.
Image:
PA Wire
/Press Association Images
NOT SO LONG ago, there was an insulting and unsubstantiated phrase bandied about if ever Brazil conceded a soft goal.
On the specific occasions that happened, a British or Irish commentator might suggest that the most culpable player in a yellow shirt "defended like a Brazilian".
The implication being that Brazilian footballers were hopelessly impulsive and inept in comparison to their highly sophisticated, tactically astute European counterparts when it came to the more gritty aspects of the game.
Such sentiments fit into the unsatisfactory and stereotypical narrative that Brazilian players, while being extremely skilful, were also all brutish Neanderthals brought up around depressive back-alley streets and favelas with little intelligence, education or ideas about the game's finer subtleties.
In reality though, all teams make mistakes at the back, yet when Brazil erred in this regard, it seemed to be perpetually highlighted for the reasons above.
Yet contrary to these unthinking assertions, Brazil at their best were invariably defensively strong. For instance, during their first-ever World Cup win in 1958, they conceded just four goals in total and none up until the semi-finals, in a run encompassing a decidedly unglamorous hard-fought 1-0 victory over Wales, among other distinct examples of pragmatism.
Similarly, when they won the tournament in 1994, while their team boasted excellent attacking stars such as Romario and Bebeto, they also accommodated midfield work horses including Mazinho and Dunga. Moreover, they went one better than their counterparts 36 years previously, conceding just three goals in total over the course of the competition.
So contrary to the common myth that the great Brazilian sides were focused on entertainment rather than success, while they boasted some talented flair players, such stars did not come at the expense of defensive solidity.
(Brazil's Oscar [on floor] has to be consoled by teammate Dani Alves as he shows emotion after the final whistle)
Yet paradoxically, last night, for once it genuinely seemed as if Brazil did not give a damn about defensive discipline. The inexplicable 7-1 loss to Germany was in fact a stark anomaly in their footballing history. Previously, the most goals they had conceded at the World Cup was in a 6-5 win over Poland in 1938. Their prior worst margin of defeat in the tournament's history was a 3-0 loss to France in the 1998 final, while they had only ever been beaten by the same margin once in a competitive fixture, losing 6-0 to Uruguay in the 1920 Copa America while still a fledgling footballing nation.
Consequently, the events of last night were more or less unprecedented. There are almost too many incredible moments to mention. The cryptic olés every time Germany strung a few passes together in the dying stages (were the home fans being sarcastic, genuinely appreciative of Joachim Löw's side's fantastic play, or both?). The 22-year-old young Chelsea star Oscar weeping inconsolably at the conclusion. Thiago Silva — their seasoned and tough-as-nails captain — doing the same. The Germans almost apologetically putting the ball into the net so regularly and with such composure that they might as well have been playing in their back gardens.
Moreover, whereas Germany were once routinely seen as cold, cerebral and cynical in footballing terms, the Brazilians this time took on the villainous role owing to the near-pathological fouling they demonstrated in their scrappy quarter-final victory over Colombia. Joachim Löw's men, meanwhile, gave a footballing exhibition of which the great Brazilian teams would be proud, and even the home fans showed their appreciation at one point, solemnly applauding Schürrle's exquisite seventh, thereby showing some commendable altruism amidst an increasingly funereal atmosphere in Estadio Mineirao.
(Brazil's star player, Neymar, missed the game through injury)
It was therefore perhaps fitting that the effervescent Neymar was spared any direct involvement in this brutal spectacle. Despite his youthful exuberance, the 22-year-old is a reminder of Brazil's past, with his penchant for the spectacular and casual brilliance that characterises his on-field efforts. Instead of Neymar though, it was as if 11 pretenders took to the field and proceeded to make a mockery of Brazil's incomparably rich footballing history. Surely we were witnessing Ragball Rovers in action — to use one of Eamon Dunphy's favourite expressions — and not the most successful international side ever.
The intense pressure on Brazil going into this tournament, of course, has been well documented — anything other than outright victory would lead to vilification, particularly with ill-feelings and cynicism already stirred up among the natives, owing to a mixture of numerous organisational calamities and a febrile political atmosphere in the build-up to the supposedly beautiful game's most cherished event.
This near-unbearable environment in which the players were expected to operate was already starkly evident in their early matches. Unconvincing group stage successes over ordinary sides were followed up by similarly error-strewn knockout wins — the tears of Brazilian players in the wake of their shootout victory over Chile encapsulating relief rather than joy, as if they just endured 120 minutes of unrelentingly painstaking purgatory rather than succeeding in a mere football match. The panic became more prominent amid their quarter-final date with a James Rodriguez-inspired Colombia — albeit with one moment of majestic release in the form of David Luiz's unstoppable Roberto Carlos-esque 68th-minute free kick.
They thus survived temporarily, but the mourning had already begun. Neymar, the one symbol of hope — the diamond amidst a deluge of Freds — was crudely (or unwittingly depending on who you believe) taken out by a stray Juan Zuniga knee. A nation cried foul, yet unsympathetic neutrals pointed to Brazil's own policy of rough justice in dealing with opponents.
(A Brazil soccer fan cries as Germany score against her team)
And when a misty-eyed 22-year-old superstar appeared on Brazilian television, the country cried in solidarity, perhaps all too aware that their footballing heartbeat was no longer beating so fervently.
Instead, the workmanlike-but-ill-equipped Bernard took his place, and Brazil, deprived of their star man, were overcome by expectation and paralysed by fear built-up from 12 months of constant, nagging World Cup talk and the gaze of 200 million-plus sceptics who positively dared them to come a cropper. The grateful German side duly ran rampant, only offering sympathetic hugs to their crestfallen opponents after the massacre had been ruthlessly executed and the final whistle had sounded to the disbelief of millions of expectant soccer obsessives. 'No words,' read the headline of the ensuing edition of leading German newspaper Bild. No words indeed.