THE LEAGUE OF Ireland has featured a number of top players down through the years, but few are held in the same esteem as Brendan Bradley.
With 235 goals, he is Irish football's all-time top scorer. Cabinteely's Jason Byrne is currently 14 off his record, though at 39, the chances of the Dubliner beating Bradley's tally now look remote.
In March 2015, the Derry-born footballer topped an Irish Examiner list of the greatest League of Ireland players of all time.
And like many legendary Irish stars, he learned the game on the streets during routine kickabouts with friends.
In those days, when we were young, there was no television (in any of the houses) on our street," he tells The42.
"I found myself playing football in the street a lot and that's where you pick up a lot of skills. You'd throw two coats down (for goals) or whatever.
I always wanted to play an organised match and I got the chance at school. The teacher who was in charge of sports put on a trial match one day and he asked me to play."
By the age of 15, Bradley was playing in the Derry and District League. And surprisingly, given how prolific he went on to become, the youngster started out as a defender before being moved into midfield. After joining Derry City aged 16, he was finally put where he rightfully belonged — in attack.
Yet for all his talent, Bradley had to be patient in his bid for first-team football. In three years with the Candystripes, he made just four senior appearances, scoring one goal in the process.
Danny Hale was the club's main man at the time, and so the youngster was left on standby for the majority of his tenure there.
Bradley subsequently joined Finn Harps for a fee of £100 in 1969, after their manager Patsy McGowan happened to see him play a match in Buncrana.
It was the 1969-70 season and Harps had only just gained entry to the League of Ireland. Their campaign began disastrously, as they were beaten 10-2 by Shamrock Rovers in their opening fixture, thereby seemingly giving legitimacy to suggestions that the Donegal side were simply not good enough to play in the top flight.
A few weeks later, however, Bradley signed, and Harps gradually began to silence the critics.
There were already boys there that I knew (at Harps)," he says. "It was a very homely club, everybody was very friendly. At 19 or 20, you're getting a bit stronger and my game was improving.
"Patsy put me in the team straight away and I just started to score regularly. Year after year, it just took off for me.
Patsy believed in me. He saw something when he first saw me playing in Buncrana. 'That's my centre forward there,' he said.
"The goals came — it was a natural thing I had and I didn't actually realise it. I never took penalties or anything like that. If I had taken penalties, you're talking probably another 30 goals added on to my tally. But Charlie Ferry was the penalty taker then. He had a good left foot and always tucked the penalties away, so that's the way it was — he was the penalty taker."
Having been written off originally, Harps finished a respectable seventh out of 14 teams during their debut season in the League of Ireland.
From there, the situation improved further. The club won their first trophy at senior level — the Dublin City Cup — during the 1971-72 campaign, and it was almost inevitably Bradley who scored the decisive goal in a 1-0 win over Cork Hibs at Dalymount Park.
During the 1970s, Harps finished runners-up on three occasions in total, time and again making a mockery of those critics' initial suggestions that the club were out of their depth at that level.
Meanwhile, Bradley's brilliance was not going unnoticed across the water. In July 1972, he joined Lincoln City, a Division 4 side at the time, for a fee of £6,000.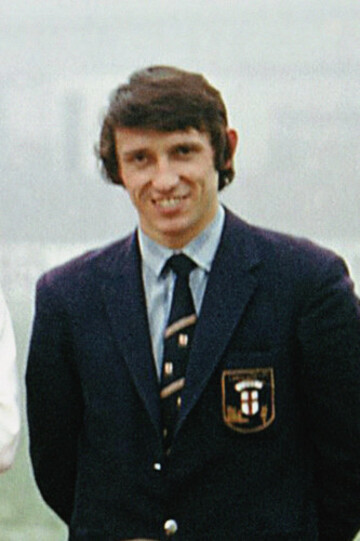 Graham Taylor pictured during his time as Lincoln manager in 1972. Source: Peter Robinson
This stint began promisingly. Under manager David Herd, he had scored 11 goals in 18 appearances by January. But after Herd was sacked, Bradley's form tailed off under Graham Taylor, as the Irish striker registered just a single league goal once the future England boss took over.
I wasn't one for moving, I was a homebird. Patsy said: 'Lincoln City have made an offer for you, are you interested in going?' I said: 'Well, I'll give it a go.'
"It worked out alright. I only stayed one season. I started to score regularly for a while. I scored 12 and one in the cup.
But the goals dried up and I got a bit homesick, so I went home then.
"I did pretty well. I should have actually stayed, but at the time I was happy coming back to the League of Ireland."
And despite their lack of success together, Bradley retains fond memories of the late Taylor, who was just a young manager starting out at the time before ultimately going on to greater heights in the game.
You could see he was a very good coach when he took over after David Herd got the sack," Bradley adds.
"He always had a great big cheery smile and he just lived up the street from myself. I liked Graham, and I wasn't surprised really that he managed England (in the early-to-mid 1990s). He had that sort of push on him.
I couldn't believe it when he passed away a few months back. It was very sudden, I never heard he was in ill-health or anything. I'd seen him on the television a few times."
Had the situation panned out differently, Bradley might have enjoyed a sustained career in English football, but he ultimately became a League of Ireland legend instead.
Spurs were interested at one time, although nobody ever said to me over there: 'Spurs are interested in you.' I would have been away like a shot.
"It's only when you come back that you hear these things. I'd say: 'I wish you said that while I was over there.'
But I came back here, I had a great career, I was happy. So there's no sense in being down all the time.
"You do regret not staying longer, but it's over and done with now."
Source: retroloi/YouTube
So after a season in England, Bradley returned for a second spell at Finn Harps, re-signing for a fee of £4,000.
In his first full campaign back at the club, the Derry native was a pivotal part of what remains their greatest triumph to date — the 1974 FAI Cup final win. He scored a brace in the final against St Patrick's Athletic, after Ferry had registered the opener amid a 3-1 victory.
That was Finn Harps' biggest win and they've never got to any great heights since," he says. "It was their biggest day. There must have been 15-20,000 Harps supporters there. It was a big highlight (of my career)."
It was an emotional time for the club. The previous January, midfielder Jim McDermott had died after being hit by a falling tree while driving the team minibus.
So, ahead of the season finale, McGowan declared: "Let's go and win this for Jim McDermott."
"I still remember those two goals as if they were yesterday," says Bradley. "The ball landed out to Jim 'Chang' Smith and he put a cross in. I said I'm going to have to go and reach for this — I think I jumped as high as I ever did in my life when I look at it now. I got my head onto it and the big centre-half tried to keep it out, but he couldn't.
The second goal was a cross from Peter Hutton and it was pretty easy to bang it in."
There were bonfires and celebrations aplenty in Donegal that night, though Bradley "wasn't a drinker really," which is perhaps one reason why he managed to still play and score prolifically well into his 30s.
There was many a player that had too much alcohol and it affected their game," he adds. "I took the odd glass of wine, but I wasn't a great drinker."
During the 1970s, Finn Harps played in Europe on four occasions in total — against Everton, Derby and Aberdeen in the Uefa Cup, while facing Turkish team Bursaspor in the now-defunct Cup Winners' Cup.
Source: FinnHarpsFC/YouTube
Bradley describes the 1976 Derby County games as his lowest moment in football. They were beaten in both legs by the English side in humiliating fashion — 4-1 at home and 12-0 away.
"That was a real low point for Finn Harps at the time," he remembers.
But they had a great side, Derby. They had 11 internationals — Colin Todd, Archie Gemmill, Roy McFarland was the centre-half, they had a Welsh winger Leighton James, who was a flying machine. Charlie George had played for Arsenal, he was with Derby then, and a wee fella called Kevin Hector. We had a great side but they were far too good for us. It was so disappointing to lose by so many, but there you are."
In addition, the Bursaspor game during the 1974-75 season was an adventure like nothing Bradley had experienced before.
After drawing the first leg 0-0 in Ballybofey, they faced the daunting prospect of a return fixture in Turkey.
I always remember this bus that we were travelling in, my God. There were no handbrake on it. Every time we stopped, there were two boys sitting at the front of the bus, one of them got out, it wasn't that big a thing, but they put a big wedge under the wheel. This was a handbrake. We said: 'My God almighty.'
"I don't know what all the policemen were doing (at the game), what they were expecting, because there weren't many Harps supporters at the match when we played them. I thought: 'They must be expecting a bit of trouble.'
We lost 4-2 in the away match, but it was a good experience. It was played at night. We weren't used to it. That was our first time playing anywhere like that.
"You see all these foreign faces looking at you and police with helmuts on. There was no trouble, it was just a big change from running out in Ballybofey on a Sunday evening."
The following season was arguably the best of Bradley's career. He scored an incredible 29 goals in 26 games, including all six in a 6-1 victory over Sligo Rovers. He consequently topped the scoring charts for a fourth time in his career and was named the Soccer Writers' Association of Ireland Personality of the Year for 1976, as Harps finished runners-up in the top flight, four points behind Dundalk.
Yet frustratingly, Harps and Bradley failed to build on this success. The next season, they finished in a disappointing eighth position in the table, with the talented striker only registering 11 goals in this campaign.
"Harps had a very good team that year (1975-76). I was scoring nearly every game. But it's hard to keep it a good team all the time, players leave and whatnot.
The team isn't as good (once players leave), which means they're not making the chances for you like they were. So that's the way it worked out. I was always scoring, but I never had 29 again, that was my best season."
After that memorable campaign, Bradley agreed to a three-month loan stint with Toronto Metros during the League of Ireland's off-season.
When I think of it now, I couldn't sit on a plane for seven hours or whatever it was," he laughs. "But the things you do when you're young."
Source: fiebremundialista/YouTube
It was in Toronto that Bradley got to meet one of his childhood heroes, the Portuguese footballing legend Eusebio.
One morning in training I see this player, he was at a distance and he was coming out. I said 'that looks like Eusebio' and sure it enough it was.
"I said: 'My God, this is a great thing for me playing with someone like that, a world-famous player.
He didn't speak much English. He was coming near the end of his career then. He was still a very good player, but he just didn't have the same speed.
"The North American Soccer League was alright, but it wasn't a great standard.
But it was still great to play with somebody like that, so it was.
"A player of that calibre, you're watching him at training. But it was weeks before I realised that it was actually Eusebio.
I remember watching him the year England won the World Cup in '66. I was only a young fella. I was watching him against North Korea. They were 3-0 down, Eusebio scored four, and Portugal won 5-3. I always remember that match."
After returning from Canada, Bradley spent two more years at Finn Harps, before ending a spell at the club that encompassed 82 goals in 115 appearances overall.
The striker then joined Athlone Town — the side he scored his first-ever Harps hat-trick against — in 1978, but lasted just one season there. For once, his overall tally was unspectacular, as he hit just six goals in 21 appearances. The preparation for these games, tellingly, was far from ideal.
My wife and I drove down (to Athlone) every week," he recalls. "It was just one season I was there. The travelling down got a bit tiring, so driving down for about three-and-a-half hours, it just wasn't the right preparation."
In 1979, Bradley was reunited with former Harps boss McGowan, who was by then in charge of Sligo Rovers. It was there that the striker rediscovered his prolific form, hitting an impressive haul of 44 goals in 90 appearances overall.
Patsy was a down-to-earth fella," says Bradley, of the man who had arguably the biggest influence on his career. "Not only was he a manager but he would have helped with the ground or done what needed to be done. He was on the go all the time for the good of the club. He was that sort of a manager.
"Everybody got on with him. I can remember very few arguments with players. He was good for me, that's all I can say. I had a successful career under him."
Source: DFCTRUST/YouTube
Bradley also managed to reach a second FAI Cup final of his career in 1981, though unlike the previous occasion, it ended in disappointment this time around. His Sligo team were beaten 2-0 by Jim McLaughlin's Dundalk side, as Bradley got little change off the Lilywhites' formidable defensive pairing of Dermot Keely and Tommy McConville.
They were just a better team than us," he adds. "Sometimes you have to throw your hands up and say it."
Consequently, the one disappointing aspect of Bradley's League of Ireland career is that he didn't win more silverware. For a player of his high standards, to have only claimed one FAI Cup, a Dublin City Cup and a First Division Shield is less than satisfactory.
I don't regret it," he says. "I scored the goals playing for Finn Harps, Athlone and Sligo, so I suppose if I played for Shamrock Rovers, or the great Waterford team or Cork Hibs, I would have scored more maybe, but I never really thought about it."
Bradley was eligible to play for both the Republic of Ireland and the North. At his peak, there was talk of an international call-up, though it never materialised — another frustrating outcome, but not something the former star says he loses too much sleep over.
After his time at Sligo came to an end, Bradley went back for three more years at Harps, maintaining a remarkable scoring rate of 41 goals in 74 appearances between 1982 and 1985. His love of the game, however, was dwindling.
I went back to Finn Harps for about two or three years, but they didn't have a good side then.
"I just sort of dropped away from the game, I hadn't actually retired. Then Derry City had applied to get in the League of Ireland (in 1985) — they were successful.
Noel King was the manager and said: 'Would you be interested in joining Derry City?' I saw the big crowd — there were 10 or 15,000 going to some of the games. I said: 'I'll give it a go, playing for Derry City where I started. And that's where I ended my career in the League of Ireland."
His second spell at the Candystripes, like his first, was brief and short on game time. He did help them win the inaugural League of Ireland First Division Shield, as they earned an emphatic 6-1 aggregate victory over Longford in a tie played over two legs.
Bradley then retired with 309 goals in all competitions — a remarkable record, particularly considering that, as he points out, League of Ireland sides played far less games then than they do nowadays. In addition, unlike many of Ireland's top domestic stars now, Bradley had to work and could only play part-time.
I was a painter and decorator," he says. "You came home from your work, had a few sandwiches, had a cup of tea and away you went. You couldn't eat a big dinner, because you were going out to training.
"You were coming in from your work at five or half five and the training would be at six or seven in Ballybofey. You just had to grab something and go down the road for training. That was just the way it was.
When you see full-time footballers, they don't know they're living, as the old saying goes.
"I remember when we were full-time at Lincoln City, the training was 10 o'clock and you were finished at 12. This is every day, and you had the rest of the day off. It wasn't people working before their tea.
You'd lead a completely different life to people who have to go out to work — it beats standing on a building site. Full-time footballers are living in a completely different world. I had to stand for eight hours a day — you'd be freezing in the winter.
"But when you've a talent and you're getting well paid as a footballer, good luck to them. It's unbelievable the money they're getting paid nowadays too. Fair play to them, but it's hard to take in, the wages that they're getting."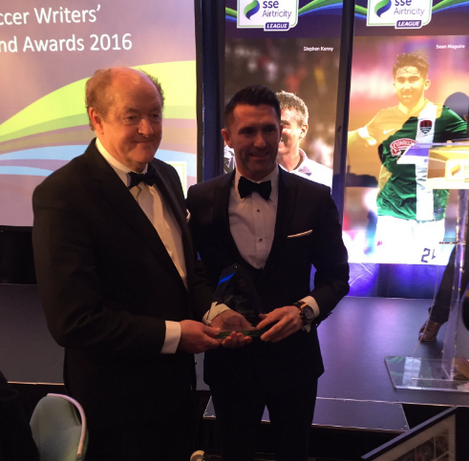 Bradley and Robbie Keane were both honoured by Ireland's soccer writers back in January.
Bradley remains a keen follower of football and can still often be seen at Derry City and Finn Harps games these days. Both clubs' managers, he adds, are doing a good job given their limited budgets.
It's so strange watching the games, because it seems so recently that I was out playing myself. You say: 'My God, was it really so many years that I was running about there?'
"When you go up to Ballybofey some nights and the sun is shining, there's a lovely green pitch, and aye, you just want to be out there again."
Bradley says he was offered the Finn Harps job once, shortly after retiring as a player, but the club's most famous former footballer refused it on the basis of a lack of managerial experience.
He reluctantly agreed to manage the Finn Harps reserve team for a season or two and even played up front himself when they were short of a striker, but Bradley was never really interested in management and admits "nothing takes the place of playing".
Before ending the conversation, I have one last question for the 67-year-old former star that seems quite straightforward, but leaves him sounding slightly perplexed and uncertain. 'What advice would you give to a young striker?'
In hindsight, however, his confusion seems natural. After all, Bradley himself seldom needed much advice nor did he ever think intensively about the game. Like all great street footballers, he played purely on instinct.
If there is such a thing as a gift, I must have had it, because I never tried to improve my game that much, I just played and went to training.
"Even after training, I didn't stay on to shoot or anything like that. With me, it was a sort of a natural thing, and I was glad for it."
The42 is on Instagram! Tap the button below on your phone to follow us!