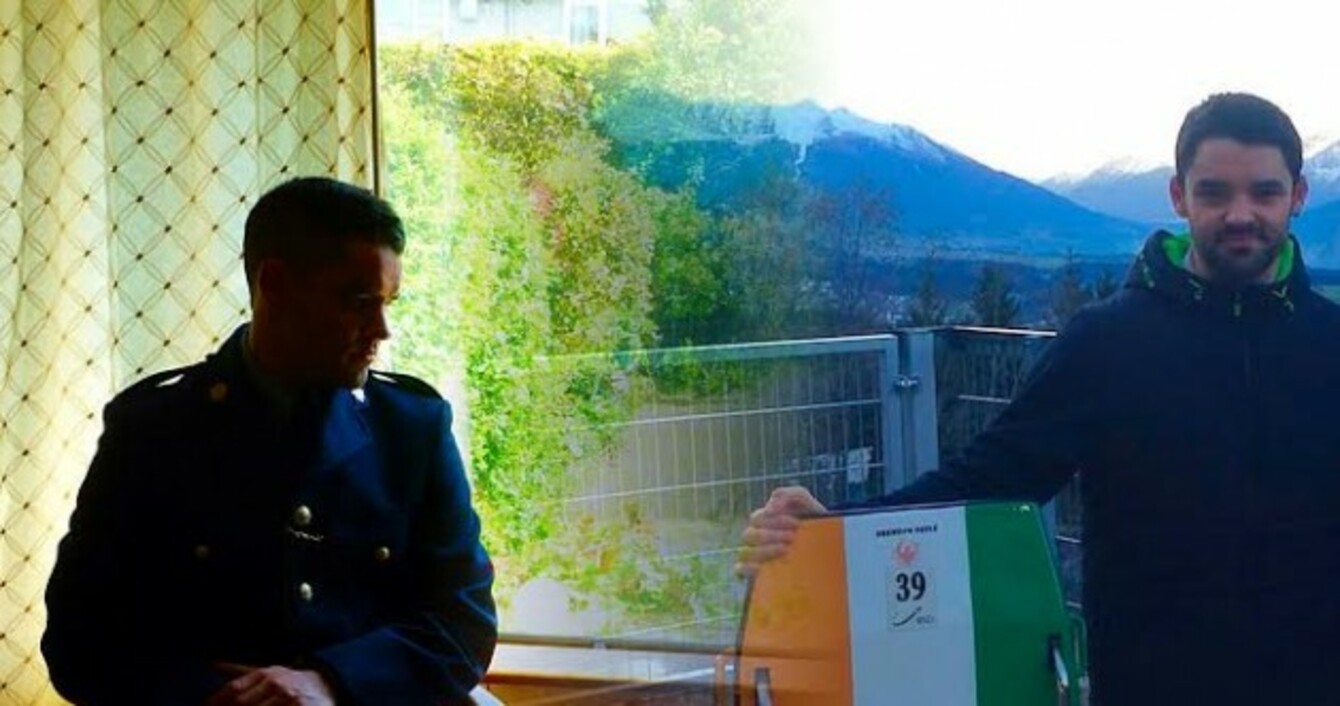 Brendan Doyle, once a member of An Garda Síochána, now hopes to represent Ireland at the Winter Olympics.
Image: Brendan Doyle
Brendan Doyle, once a member of An Garda Síochána, now hopes to represent Ireland at the Winter Olympics.
Image: Brendan Doyle
A LITTLE OVER six years ago, Brendan Doyle's life was changed in an instant.
Working as a young Garda one day, he was called to investigate a report of domestic abuse in a house in Dublin.
Doyle arrived to find an aggressive man and a frightened woman, and attempted to apprehend the former.
Unfortunately, it was during the ensuing altercation that Doyle's hand was slashed by the knife-wielding man in question, and permanently damaged in the process.
As a result of the incident, his baby finger and thumb no longer function, while countless hours of skin grafts and corrective surgery followed.
Furthermore, the psychological trauma caused by the attack ultimately forced Doyle to quit his job as a Garda permanently, as he regularly began to suffer from depression and panic attacks, and struggled to deal with the anxiety, which inescapable memories of the incident continually prompted.
He was diagnosed with post-traumatic stress disorder, becoming an insomniac and having to get by on just two hours of broken sleep a night for a sustained period between 2009 and 2013.
However, Doyle is now feeling substantially better. While he still struggles to a degree with sleep, rarely falling unconscious until 2am at the earliest, he no longer wakes up in the middle of the night at regular intervals.
"In terms of the depression, it got very dark," he tells The42. "Sport and exercise was the one thing I could fall back on. I never drank in my life, I don't have anything to fall back on other than the gym. I was in really bad places. Using the exercises, I've got back to where I am now."
And in relation to the insomnia, he adds: "It's just the way my mind is, it doesn't switch off. It's still something I try to fix, but I've learned that I have limits and my body is approaching those limits. I'm aware of what's going on, it's not a sudden thing, so it gives me the ability to be able to handle it better. Much like if you see a car pull out in front of you, you can break and adjust for a new scenario.
"So yeah, it's still there, but I'm dealing with it in a much healthier manner and I'm sleeping through the nights, that's the main thing."
From this incredibly dark experience, there emerged a silver lining, however.
Before he became a Garda, Doyle had been an athlete at a high level in some capacity since the age of 13, when he began to train intensively as a sprinter.
"We'd all train up in Morton Stadium in Santry," he recalls. "I'd see the girls who were doing bobsleigh training. It always caught my eye.
"I was just training one day and they asked me if I'd give it a go. I jumped at the opportunity, so what happened was I got a skeleton sled. It's kind of like in Cool Runnings, we have wheels on it. It's just a normal athletics surface.
"I did a few push runs, trained with them for a couple of months, I was about 16 at that stage. They sent me off to Austria, where I had to go to a school and get my driving licence [for the sport]."
(Doyle pictured in action)
Having shown initial promise at a competitive level, an unfortunate twist of fate meant that Doyle was effectively forced to quit the sport before he could ever make any real impact on it, as the Irish Bobsleigh Skeleton Federation's money was cut in conjunction with the collapse of the Celtic Tiger.
As a consequence, Doyle reluctantly left life as an athlete behind, and proceeded to focus on his career with the Gardaí. And of course, fate intervened again, preventing him from pursuing this path in the long term ultimately.
However, his departure from the Gardaí eventually enabled him to return to his previous life as a skeleton (bobsleigh) athlete. By now, thanks in part to the success of Sean Greenwood at the most recent Winter Olympics, the Irish Bobsleigh Association is in a far healthier position. Greenwood's performance at Sochi 2014 means that Ireland are the highest ranked of the smaller nations in terms of seedings.
And while Doyle may dream of emulating Greenwood at the 2018 Winter Olympics in Pyeongchang, there is a long way to go yet if he is to fulfill this ambition. That said, his return to action emphasised Doyle's considerable potential.
"The sport I'm doing is skeleton, so it's like bobsleigh, except I go down head first [at speeds of up to 130 km/h]. It's a toboggan basically, and there's two main aspects to that sport — the acceleration phase and the drive phase. I've got a lot of power and a lot of acceleration speed, so that translates perfectly into skeleton.
"I have completed a training camp in Igls, which is just outside of Innsbruck Austria, and it went really well — I posted competitive times. Myself and the federation are trying to get as much track time as possible for me… There will be training camps in Calgary and Salt Lake City, European Championships in Austria and Slovakia, and a North American Championships in Calgary."
Nevertheless, the main issue is still finance. In order to compete at a high level, he estimates he'll need over €20,000 in funding.
"This year is going to be a fairly expensive year. I need to upgrade my sled. I have a sled in Switzerland, but that was bought back in 2002, so it's weathered. The technology of the sled now has come on tenfold, so to be competitive, I need more equipment."
But while the Winter Olympics is currently still a distant prospect, he remains undaunted by this uphill task, insisting: "I have never faced a challenge I couldn't overcome." For instance, he once tore his calf so badly in training that he was at risk of losing his foot at one point, and yet, it did little to quell his passion for the sport.
Source: facedoyle/YouTube
Doyle is hoping to raise funds through his PledgeSports account, and describes himself as an "athlete/agent"
"I'm training full time for this," he explains. "Both my parents are sick, so I'm also looking after them. In terms of effort and energy, it is full time. I'm training six days a week, I take Sundays off… I'm trying to do everything I can — it's an awful lot because my training sessions can be four hours, and then after that, I would do some recovery sessions. So I could be gone five or six hours a day, and then come back and try to hit up the emails and applications to here, there and everywhere.
"I'm going to be putting any little money I do have into this. If I need to sell the car, I'll sell the car. I'm going to put everything into getting to Pyeongchang in 2018.
"We've got a lot of track knowledge and track coaches to get us there. All we have to do is build up competition in track time. We were in a position this year to get to the World Championships for team events — the only issue is that the other slider I would need to go with me has just got a new job in Bath and he can't get time off.
"So we can't actually do the World Championships this year, but next year, it's on the cards."
Nonetheless, to even get to this point, where Doyle is contemplating representing Ireland on the world stage, constitutes a remarkable achievement, given that he was seriously depressed and struggling to sleep as recently as two years ago.
"If the accident never happened, I'd still be a Garda out in Crumlin," he says. "I wouldn't be possibly getting to the Olympics. I've been training hard since I was a 14-year-old, with goals of getting in the Olympic Games in my chosen sport, which was sprinting [initially].
"As soon as I got a taste for skeleton, I was put on an Olympic development squad for Turin in 2006, but one of the older lads got a spot. So once it was turned away from me, I just kind of turned to work. I've given myself an opportunity, which is once in a lifetime. I'm just grateful for it. It's not easy and it's a lot of work and there are a lot of 'what ifs'. It was a silver lining and in hindsight, it's not as bad as it seemed. The way I see it, life put me back on the track I was supposed to be on."
Doyle emphasises that for anyone who might be suffering similar problems to those which he encountered in the aftermath of his accident, being prepared to discuss these troubles with a close friend or relative is vital.
"Communication is key. I was in a job where you're expected not to feel these things. We all know what happens, but when you put on that uniform, you're expected to be almost like Captain America. Get in, get the job done. The lads would have drinks and that would be that.
"The main thing I can say is that when you're in the moment, things seem so much worse than they actually are. It wasn't until I got that phone call from the skeleton association that I realised it wasn't actually as I thought. I had suicidal tendencies. The lowpoint for me was when I was actually rationalising those thoughts. It wasn't having those thoughts.
"To deal with depression actually shows you've an awful lot of strength. If you've got a leg injury, you get a set of crutches, but there's no set of crutches for depression. You just reach out, talk to people. There's one or two lads, if something happened, I'd reach out straight away and talk to them.
"Looking back at it now, it takes an awful lot of mental strength to beat and live with depression. So you take solace in the fact that you're still waking up every morning and wanting to get better, that's the main thing."
You can follow Brendan on Twitter here and on Facebook here. You can donate to his PledgeSports campaign here.
*************************
If you have been affected by any of the issues mentioned in this article, please contact one of the following helplines:
Samaritans 116123 or email jo@samaritans.org
Teen-Line Ireland 1800 833 634
Console 1800 247 247
Aware 1890 303 302
Pieta House 01 601 0000 or email mary@pieta.ie
Childline 1800 66 66 66