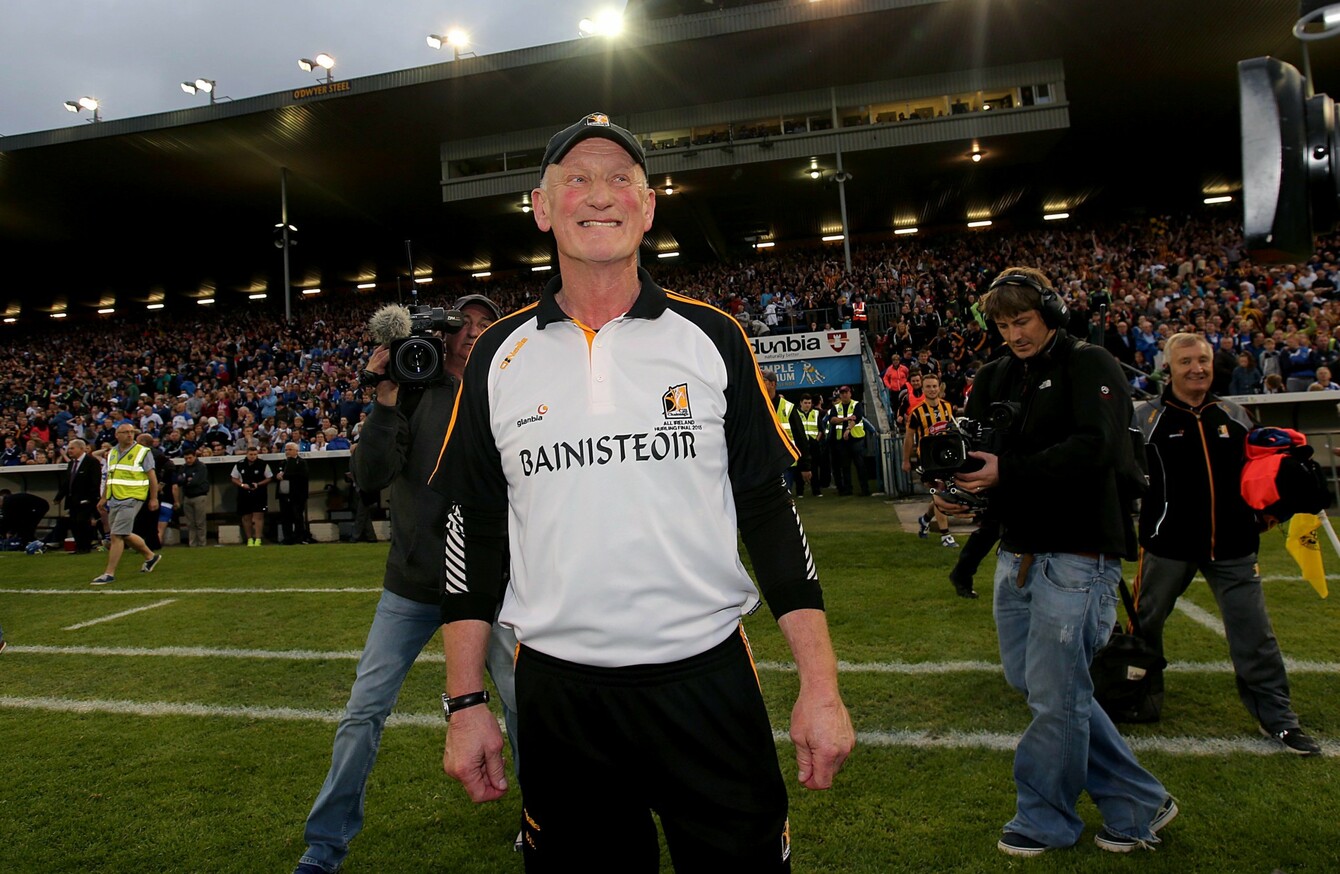 Image: Donall Farmer/INPHO
Image: Donall Farmer/INPHO
KILKENNY MANAGER BRIAN Cody suspected that Brian Gavin would be confirmed as referee for next Sunday's All-Ireland senior hurling final against Tipperary.
Offaly whistler Gavin was the hot tip to take charge of the big game even before the respective finalists had booked their spots in the 4 September showpiece.
It's the fourth time in six seasons that Gavin has been given the nod, as he was the man in the middle for the Kilkenny-Tipperary clash in 2011, the drawn Clare-Cork game in 2013 and the Kilkenny-Tipperary replay two years ago.
Gavin has already taken charge of three massive matches already this summer – the Dublin-Kilkenny clash in Leinster, the Tipperary-Waterford Munster final and Galway's victory over Clare in the All-Ireland quarter-final.
No Munster referee has handled an All-Ireland final since 2010, when Waterford's Michael Wadding was appointed for the clash Kilkenny-Tipp game, and that's caused some disquiet among top whistlers in the province.
Cody, for his part, is happy with Gavin's appointment and with him in charge, Kilkenny's record against Tipperary is good, with big-game wins in 2011 and 2014.
"I would be happy with whoever is refereeing it because I can't do anything about it," said Cody.
"If we were to start saying, 'Oh my God, we don't want him refereeing the game', that leads to a sense of you're taking your eye off the ball. I think it wasn't a surprise.
Source: Conor Ryan/YouTube
"I think it was speculated that he was probably going to referee, I didn't know.
"Usually the lads who do the semis don't do the final, I think, I don't know. But Brian is doing it and that's fine."
All-Ireland final referees and quarter-final correlation:
2009 – Diarmuid Kirwan (Waterford v Galway quarter-final)
2010 – Michael Wadding (Cork v Antrim quarter-final)
2011 – Brian Gavin (Dublin v Limerick quarter-final)
2012 (first game) – Barry Kelly (Waterford v Cork quarter-final)
2013 (first game) – Brian Gavin (Clare v Galway quarter-final)
2014 (first game)  – Barry Kelly (Limerick v Wexford quarter-final)
2015 – James Owens (Galway v Cork quarter-final)
Meanwhile, Cody has laughed off the 'masters of intensity' label applied to Kilkenny by Tipperary manager Michael Ryan.
Just minutes after Tipp saw off Galway in a gripping semi-final, Ryan was already looking forward to a September date with Kilkenny.
In his post-match press conference, he described the Cats at the 'masters of intensity' – and admitted that Tipp must go up a few levels in this regard to match a team going for three-in-a-row.
Cody was asked for his assessment of Ryan's label at Kilkenny's pre All-Ireland final briefing and when the question was thrown at him, he smiled, reclined in his seat and exhaled.
Ooh… I suppose he's saying that, you know, for the craic, like, you know, really.
"I think that's what has been a hallmark of Tipperary, not just this year.
"Intensity is a huge part of any team sport, but how many times have we been on the receiving end of that intensity from various counties? We certainly have.
"And if we didn't have an element of that or if we can't bring that to a very, very decent level, we're going to be blown away.
"That's one of the fundamentals of the game as well.
"It's like people speak about intensity as if it's something negative about it. It's a hugely positive thing.
It's probably what allows you to express yourself as a hurler, to try and dominate your area and dominate your position but they (Tipp) do that on such a regular basis and they've done it many, many times over the years as well, as have all the other top hurling counties who are in the frame the whole time."
When asked for his definition of intensity, and what it means in a hurling sense, Cody was succinct in his response.
"In terms of intensity, all you expect is that everybody gives everything they have really.
"They give everything for the team. You give yourself to the team, essentially, is what you do.
"That's the requirement because it's a team sport and the same hold true for all sport.
"If a player is going out just to play his own game and try and do things that'll make him look good, that's not going to get you anywhere.
"No real team player does that so it's a question of everybody contributing to the team and you can contribute in different ways.
A player will do some terrific things that'll be seen but another player could make a 40 or 50-yard run to cut out danger for your team and that's a phenomenal thing to be doing. That's a requirement from everybody as well.
"Intensity is just trying to dominate your position I suppose. You see it every game, each team gets a period in a game where you have a period of domination, where you seem to be on top, and your intensity is working then.
"Then there's parts of the game for certain where you're under pressure and you're hanging in there and you have to have those levels again that will allow you to hang in.
"What you do in those situations are crucially important as well just to even survive there. It's a combination of lots of things."
Expect more of the same from Kilkenny next Sunday.
The42 is on Snapchat! Tap the button below on your phone to add!