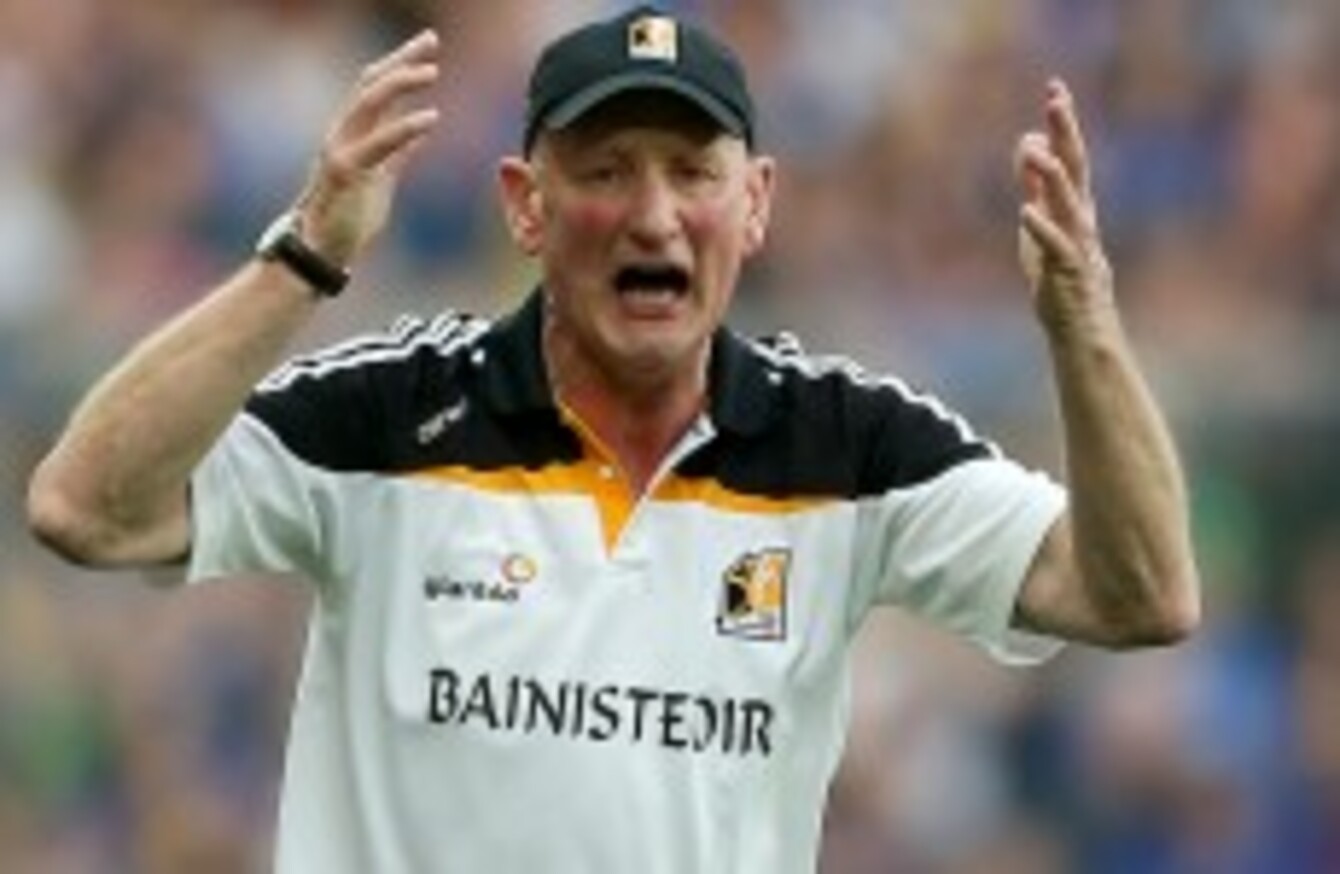 Brian Cody wasn't happy about the referee's decision.
Image: James Crombie/INPHO
Brian Cody wasn't happy about the referee's decision.
Image: James Crombie/INPHO
BRIAN CODY HAS blasted referee Barry Kelly for his decision to award a late free that nearly yielded a winning score for Tipperary in the drawn All-Ireland final earlier this month.
Cody's charges got the better of Tipperary at the second time of asking on Saturday as he celebrated his tenth All-Ireland senior hurling title as a manager.
But this morning at the team's base in the Citywest Hotel, Cody revisited the closing stages of the drawn game. Westmeath referee Kelly awarded a free against Brian Hogan when the teams were level but John O'Dwyer's effort to nail an injury-time winner drifted wide.
Wrong
Cody insisted it was 'criminal' and 'wrong' to make the decision.
"They were handed an opportunity which was a complete wrong decision. We didn't speak about it the last day but it was criminal what was done the last day. And people can say that I am whinging and moaning all they like but I am telling the truth.
"Decisions can happen during a game for all sides, maybe we got the call different times but if you are saying to a team, "we are going to give you a free, even though it is not a free, put the ball over the bar with five minutes to go and win the game, that is wrong, that is wrong, no other way around it."
Two years ago, a decision by Kelly prompted an annoyed reaction from Cody when he judged Jackie Tyrrell to have fouled Davy Glennon with Joe Canning nailing the resultant free to hand Galway a draw in the All-Ireland final."
He was adamant that he was telling 'the truth' when expressing his grievances on this occasion.
"If he had said play on I would have said fair enough. I would say maybe it might be a free for us but I wouldn't have worried about it. If the ball broke and they put it over the bar I would say fair enough, but you don't hand a team a free puck and say "lads, there you go". It was like that. It is the truth, it is the truth."
Be part
of the team
Access exclusive podcasts, interviews and analysis with a monthly or annual membership.
Become a Member
Cody also criticised former Kilkenny players who had questioned the team's spirit in recent weeks.
"This year we were absolutely surging, even though our spirit was questioned the last couple of weeks. That's rubbish, by some of our own geniuses as well. By former greats and so-called greats. So called greats yeah.
"They felt that there might be a bit of disharmony in the camp because they wanted to pick the team. Like I said yesterday, we do what we like with the team because we pick the team. We're in charge. To question our spirit is rubbish."
The Kilkenny boss also revealed he was 'amused' by the consensus after last season's hurling championship that a new era was dawning for hurling. Clare lifted the Liam MacCarthy Cup for the first time in 16 years but the season was also characterised by breakthrough provincial final wins for Limerick and Dublin.
"I was amused at the time, to be honest. I have seen it before, I have heard it before and people get excited when they see something as if people were not scoring goals before or as if they had not hurled before.
"The participants were not (to blame for this), the media came up with all sorts of novel ideas that had been thrown out over the years. I've seen four or five new types of hurling since I've come into this job in people's minds.
"But the fundamentals of the game can't change. It's impossible to change the fundamentals of a team sport like hurling. If you think you can, then you might start winning All-Irelands.
"If we want to be serious about our sport, our participation in the championship we just have to plough on and do our job. People who want to speculate on it can speculate on it, have their preferences. Some people said this was the greatest championship of all time, the president of the GAA said it was the game of the century…maybe."