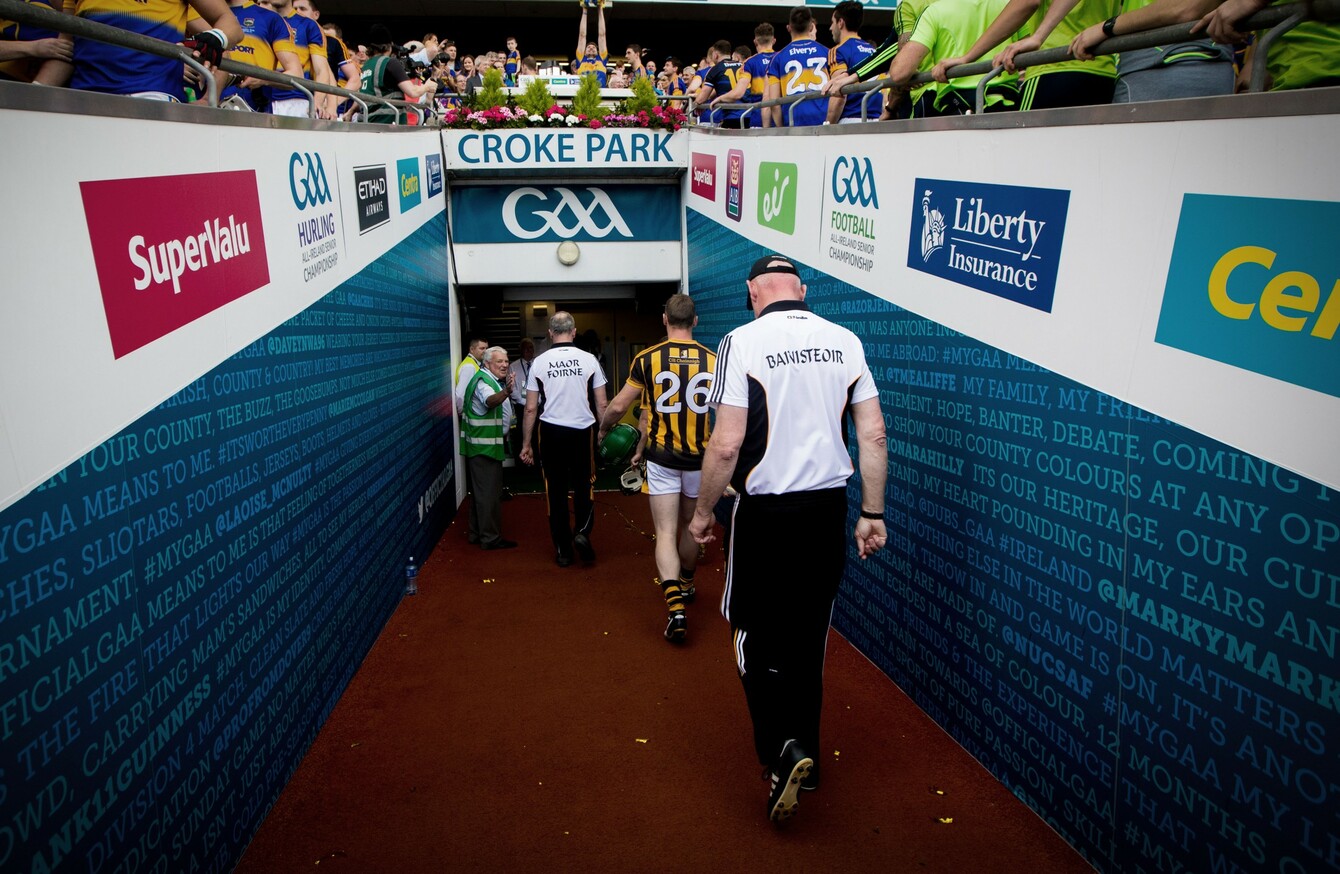 Brian Cody leaves the Croke Park pitch after the game.
Image: James Crombie/INPHO
Brian Cody leaves the Croke Park pitch after the game.
Image: James Crombie/INPHO
BRIAN CODY HASN'T often had to reflect on a losing All-Ireland final performance but the Kilkenny boss was making no excuses this evening.
Tipperary blew his Cats side away in a memorable second half at Croke Park and Cody was quick to congratulate them afterwards.
"The better team won; the better team always wins as far as I'm concerned. But it was comprehensive," Cody told RTÉ's Clare McNamara afterwards.
"We went in after the first half two points down, well in the game. We got a good start to the second half, got the goal but you know they didn't blink, they came back at us and they got some terrific scores.
"We were out-played through the second half and there's no argument that the better team won the match."
Kilkenny lined out without the injured and influential Michael Fennelly, but Cody refused to make excuses.
"The simplest thing in the world is to talk about someone who wasn't playing," he said. "We had 15 players, they had 15 players. We had our team, they had their team. Their team was better on the day and that's it.
"They're excellent hurlers and have been for a long, long time,2 he continued. "They're top class players and today they just really flowed and got some terrific scores. But right throughout the field — the attackers will always get the lights, but throughout the field they're were excellent today and totally deserved their win."
The Kilkenny line was slow to make changes despite Seamus Callanan in particular making hay against the Noresiders' defence.
"You see what's happened there," said Cody went asked about his decision not to change things earlier. "We did what we and didn't do what we didn't do. Again you can talk about ifs, buts or maybes but there are no ifs, buts or maybes about results. The other team won the match and that's it."