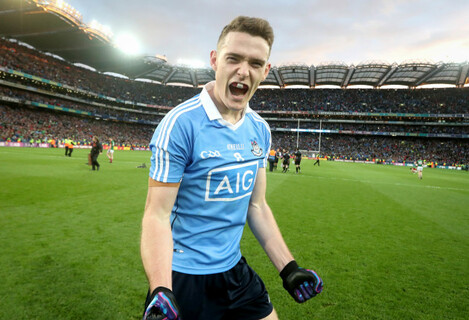 Raheny club man Fenton's winning run shows no sign of ending. Source: Ryan Byrne/INPHO
ON SUNDAY 5 April last year, Brian Fenton made his starting debut for the Dublin senior footballers.
He made his mark that day in Clones, striking a goal as Dublin saw off Monaghan and it has kick-started an incredible run of success for the 23 year-old.
In the 18 months since that start, Fenton has made 24 appearances for Dublin. Remarkably he has yet to lose a match since with 22 victories and two draws to his credit.
He came on as a substitute in the early 2015 league defeats to Cork and Kerry but since his first start, Fenton has not experienced the pain of a loss.
This year the Raheny man was sidelined for the O'Byrne Cup action in January and the early rounds of the league, before returning to the fold on 27 February against Monaghan. Since then Fenton's winning run has shown no sign of grounding to a halt.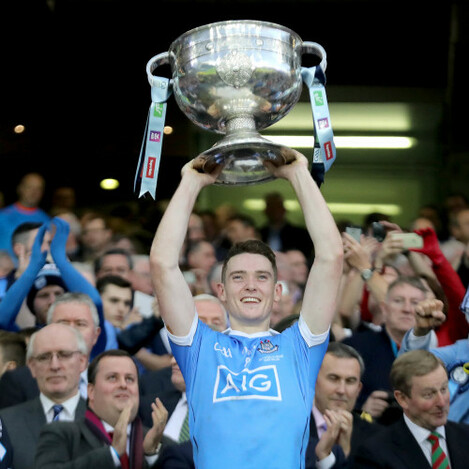 Brian Fenton gets his hands on Sam Maguire Source: Ryan Byrne/INPHO
Brian Fenton (Dublin)
2015
National league – Monaghan (W), Monaghan (W), Cork (W).
Leinster championship – Longford (W), Kildare (W), Westmeath (W).
All-Ireland championship – Fermanagh (W), Mayo (D), Mayo (W), Kerry (W).
2016
National league - Monaghan (W), Cork (W), Down (W), Donegal (W), Roscommon (W), Donegal (W), Kerry (W).
Leinster championship - Laois (W), Meath (W), Westmeath (W).
All-Ireland championship - Donegal (W), Kerry (W), Mayo (D), Mayo (W).
Fenton has accumulated a stunning collection of honours. Two National league medals, two Leinster senior medals, two All-Ireland senior medals, an All-Ireland final man-of-the-match award (2015 v Kerry) and an All-Star last year.
He looks a certainty to be an All-Star midfielder again this year and is the front-runner to be crowned Footballer of the Year.
"It's insane, it's madness. 18 months ago (I made my starting) league debut and I was just hoping to last the year. Now look at us.
"Two Sam Maguire's, two All-Ireland's, couple of Leinsters, it's incredible. But to be fair a couple of those lads have four All-Ireland's now at this stage, so it's only something I can aspire to and hopefully achieve.
"It's special, special times. The success won't last forever. For now I'm enjoying the wins and enjoying the draws and enjoying these special occasions really.
"I know they won't last forever. Just delighted. That'll definitely sink in, in the next days and weeks. To do two in a row, it's very special no doubt and very hard done."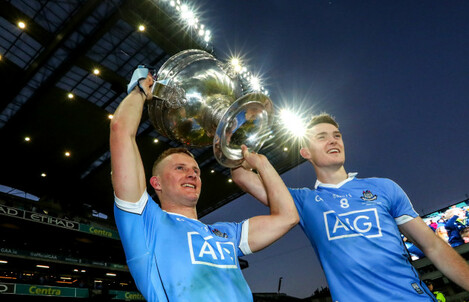 Brian Fenton (right) and Ciaran Kilkenny get their hands on Sam Maguire. Source: James Crombie/INPHO
Fenton's glory days are in contrast to the barren spell Ciaran Whelan, his Raheny club mate and midfield idol, endured in a Dublin jersey.
"Ciaran was one of the best players and played in such a barren period. Someone said it to me last night just as we were having our meal that some of the best players who ever played for Dublin played in that time and didn't get an All-Ireland.
"Listen I won't take it for granted. It's very special. We'll just enjoy these days."
The42 is on Snapchat! Tap the button below on your phone to add!