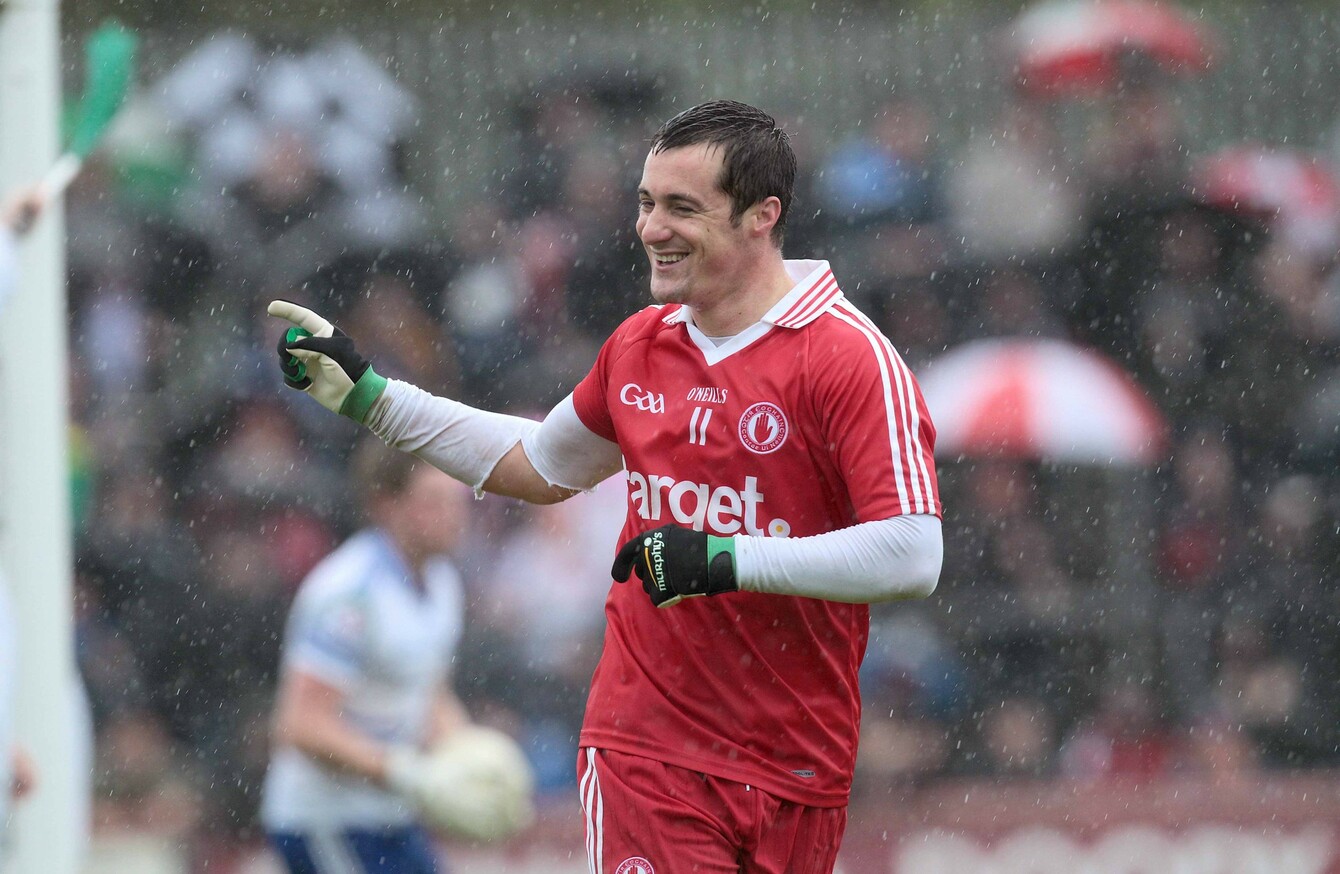 Brian McGuigan celebrates
Image: Morgan Treacy/INPHO
Brian McGuigan celebrates
Image: Morgan Treacy/INPHO
BRIAN MCGUIGAN HAS hailed the physical conditioning of the Tyrone players but suggested that the 'fun has gone out of it' as they chase peak fitness and, ultimately, another All-Ireland title.
McGuigan, a three-time All-Ireland medalist in the mid-2000s, revealed that he used to enjoy a Chinese take-away the night before games and often a pint afterwards but said the present players adhere to strict dietary protocols.
That dedication is clearly paying off because Tyrone are Allianz league Division 2 champions and favourites to beat Cavan on Sunday to return to a first Ulster final since 2010.
But McGuigan, who will go down as one of the county's greatest forwards, said it appears to him that their relentless pursuit of success has stripped much of the joy from the game.
"I was at an event last Saturday night and there were five or six of the current Tyrone players at it and even what they're eating and drinking at these events is different," said McGuigan. "It's as if football is everything.
"They were just sipping away at the water and maybe had their own water bottles with them. Whenever the food was set out on the table they weren't eating it, they must have had their prep food with them or already eaten.
"I was actually talking to Sean Cavanagh one day and one thing we always prided ourselves on was that after we played matches we always liked to go for a drink, after a good Championship match, and Sean says that doesn't happen now.
"It's back to recovery and into the pool session and away home. Like, there's no spirit at all. Even on the bus, we always would have had great craic on the bus but now everyone has their headphones on and there's no talking or communicating at all.
"So I think the fun has gone out of it but if you want to keep up with the best, I suppose that's what you have to.
"There'd certainly be no Chinese food on a Saturday night, or pizzas. I always would have loved getting a carry out the Saturday night before a match. I just can't see it any more.
"It's just something I would have done. But you look at the likes of Mattie Donnelly now, he's just a pure machine. He eats, sleeps, breathes football."
McGuigan, 36, who retired at the end of 2012, said the product of the players' huge work rate is a panel of players that is in supreme physical shape.
He said their unique ability to overrun and overpower teams means that they won't necessarily have to rely on a talented set of forwards to win big games. The suggestion was made after Tyrone's low scoring All-Ireland semi-final defeat to Kerry last year that a lack of forward talent cost them and may ultimately prevent them from regaining the Sam Maguire Cup.
"I honestly don't believe that Tyrone need the firepower," said McGuigan. "The likes of Owen Mulligan and Stephen O'Neill, I don't think that Tyrone need that now with the way they play because they get so many scores from their half-backs, their midfielders and their half-forwards. And the other big advantage they have is that Ronan O'Neill has promised so much since he was 16 years of age and is starting to deliver now.
"Against Derry, I was on the sideline and from looking at the players I couldn't believe the way they've physically improved.
"Peter Donnelly is working on that with them and he has obviously done a massive amount of work there. Don't get me wrong, you still need the footballing ability to make that next step but, physically wise, Tyrone are up there with the best.
"The last day against Derry, I was watching Darren McCurry from the sideline. I'd know him since he was a wee cocky light kid. But I could see the change in his physique. It's as if Peter Donnelly has squeezed every last piece of muscle into those lads."
McGuigan said he fancies Tyrone to beat Cavan on Sunday.
"I think Tyrone are a wee step above Cavan in their development," he said. "A lot of the Cavan players have just won their first Ulster championship game in many years. Yes, they talk about a lot of different options they have up front but a lot of their threat comes from deep and they're really going to rely on two lads up front, Givney and Argue.
"As we've seen in the past, Mickey always seems to come up with a plan to counter two big men inside. We saw it against Kerry in 2008. I don't think that's going to be a big weapon for Cavan. I don't think if they keep pumping high ball in that it will work this time."
McGuigan was speaking at the launch of the 2016 Bord Gais Energy Legends Tours which take place at Croke Park