"YOU CANNOT WRITE your own script. Other people write it for you."
So says Brian O'Driscoll in his excellent column in the Telegraph today. The Lions centre is searing and honest in his reflection of a tough week in his life; the first time in his professional career that he was dropped. The first time, too, that he can call himself a Lions Test Series winner.
O'Driscoll watched from the sidelines as 23 of his teammates thumped Australia 41-16 to take the best-of-three series and end a 16-year wait for glory. He played a big role in the first two Tests and made 23 tackles, missing none, as the Lions and Wallabies split the fierce encounters.
Speaking to Sky Sports today, before he went to rejoin his teammates, O'Driscoll said Lions coach Warren Gatland backed his decision to recall Jamie Roberts and move Jonathan Davies into the outside centre position.
He commented, "People are entitled to their opinion. You're always going to have, in anyone's tour or your career, ups and downs, disappointments or contentious decisions to make. Leaving certain people out or including other guys.
"The team that Warren picked went out and scored 41 points against and Australian team so you stand by your results, I guess.
"I suppose knowing that Jamie was coming back from injury and Manu [Tuilagi] was back [on the bench], that there was always the chance of being omitted and the fact that he went with a combination that has played together a lot of times, you have to just suck that up. It wasn't an easy thing to hear but life goes on."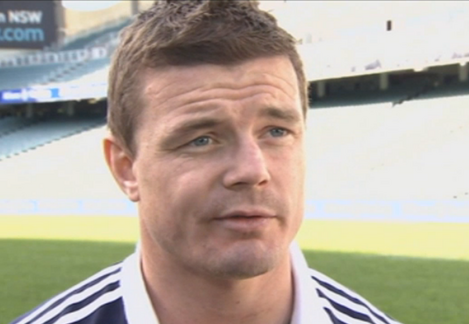 O'Driscoll talks to Sky Sports in Sydney.
The television cameras often swung to O'Driscoll during a tense game that the Lions eventually ran away with. Fittingly, the Irishman looked uneasy as the Aussies fought back in the second-half and overjoyed as Jonathan Sexton, George North and Roberts sealed the series.
"This is never about one person," O'Driscoll added. "For you, you're the only one that really cares when you are excluded from the team. The other guys that are in the 23 have to be able to get on with the job and worry about it themselves."
The had my full support, of course. This is never about one person; other guys that are in the 23 have to be able to get on with the job and worry about that themselves. It was a disappointment but it's the guys that don't make the 23 that make or break the tour. You can't mouth words and then not live them when it's your turn."
O'Driscoll's desire is to go out on further winning notes with Ireland, then Leinster as, similar to the 2005 tour to New Zealand and his shoulder injury, the country's leading try-scorer hates Lions hangovers.